Written: 10.7.06
Acquired: 9.14.06
Status: Cart only
Price: $10

| | |
| --- | --- |
| Publisher: HUMAN | Released: 11.18.94 |
| Developer: HUMAN | Scarcity: 4 |
Monday May 29, 1995 was a day I'll never forget

It was Game 4 of the Eastern Conference Finals pitting the young uprising Orlando Magic vs. the Indiana Pacers. I was at the local mall and walking past Radio Shack when I saw they had the game playing on ten TV screens. There were 3 people standing there, watching in angst and talking in-between plays. I joined, making it a crowd of 4. The game was in the final 3 minutes, and as the drama unfolded, the crowd grew from 4 to 8 to 12. Even the employees stopped working and huddled around

These are the moments you live for as a sports fan, and to boot it was one of the greatest finishes in NBA playoff history

With under 15 seconds to go, this improbable sequence took place:

Brian Shaw's 3 pointer gave the Magic the 1 point lead
Reggie Miller answered with one of his own, putting the Pacers back up by 2 causing the Indiana crowd to erupt in a frenzy
Mere seconds later the player many then believed would carry Jordan's torch and the NBA into the new millenium, Anfernee "Penny" Hardaway nailed a heart breaking 3, giving the Magic a 1 point lead with 1.3 seconds and left the sold out capacity crowd in stunned silence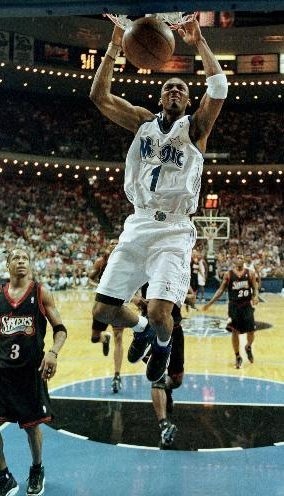 As the game went to its final commercial break there was a deafening buzz within those small confines of Radio Shack. I was right in the middle of it and the adrenaline was indescribable. I felt like I was at the game myself!

I still can hear that infamous, classic NBA theme, being played on no less than TEN television monitors, mind, reverberating throughout the store and the entire mall

Suddenly, we were no longer just a bunch of strangers, no, this playoff basketball game had brought us together. We were basketball fans, enjoying and living up the moment

I never really *especially* cared for basketball, but in mid 1995 I was beginning to get into it. That fateful Monday.... pushed me over the edge

I saw the game in a new light -- the likes of which I hadn't viewed it with before. There was strategy, there were tactics. Beyond that, I started appreciating the concept of teamwork and five working as one

That day, I developed a much deeper appreciation for basketball in general

Speaking of basketball....

In October '94 EGM previewed a Super Famicom-only basketball game. The unique street ball look instantly intrigued me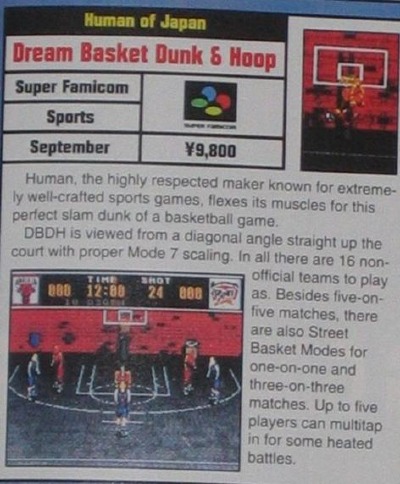 Like many of the other obscure SFC games before it, I was recently able to play this game, effectively ending the 12-year curiosity streak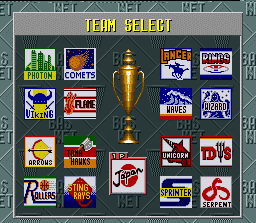 There are 16 "non-official"
teams to select from, plus
a "Japan" team

Though, oddly, if you look in the EGM preview you'll see SPURS and BULLS. So I looked at the teams closer. The subtle not-so-hidden parallels are definitely there. For example check out the Wizards (keep in mind in 94 today's Wizards were known as the Washington Bullets). Their court is the same color as the Orlando Magic, and they got a starting center with incredible stats who wears # 32 (Shaquille O'Neal) Besides... Magic... Wizards... hmmmm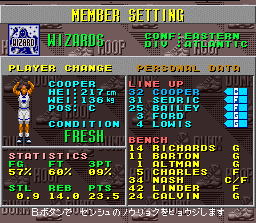 Shaq's 93 stats in bold, the Cooper guy's stats in italics, as comparison:

23.4 points per game
23.5 ppg

13.9 rebounds per game
14.0 rpg

56% field goal
57% FG

59% free throw
60% FT
Hmmmmmmmmmm......

I guess you can say there are real players in this game. Just like the classic Ken Griffey Junior Presents Major League Baseball on SNES, the jersey numbers are the same as well as their stats (or very close anyhow, as seen with the Diesel). They just have different names. Sneaky

The 3-on-3 halfcourt mode is good fun. Here 3 point shots count as 2, and 2 point shots as 1, just like streetball rules. You can pick from 3, 6, 9 or 12 minutes and any 3 of 12 players from the team you selected

There's a different court you can choose for the 3-on-3 mode, as well as 4 different basketballs, some being quite outlandish, like this blue basketball as seen below

Play in exhibition or Round Robin. In RR you're given a password after each victory. At the end, you'll face your clones and then the USA Dream Team

The 5-on-5 mode is highly reminiscent of Konami's Run 'N Gun, and plays faster than the SNES game NBA Give 'N Go. The CPU can be cheap on Normal difficulty, and on easy is too easy. But with 2 players, it's loads of fun. Modes in 5-on-5 include exhibition and Tournament, also with passwords provided. There's no season mode but that's OK, as it only adds to the game's whole YMCA (and street ball) feel/atmosphere

I've played a lot of basketball games... none has mastered the beauty of making a simple 18 foot jump shot quite like this one. In too many bball games making a jump shot is easy but here you really have to earn it. The ball must be released at the VERY peak of your jump. Any slight miscalculation and it'll be a brick. What else do you expect from Human, the Fire Pro makers who are notorious for testing the timing of a gamer?

At first it may frustrate as you shoot 3 for 18 in practice mode. But pretty soon you get the timing down and there's no sweeter looking jump shot in town. Nor one that is as satisfying to make, because you truly have to earn it in this game. Other basketball titles even if you're not at your jumping peak, you still have a chance of making the shot. Not so here

MISC
-----

I'm a sucker for the players' ratings. Reminds me of the ole '91 Marvel trading card series. Ahhh those were the days...
The players' stats are imperative to look carefully over so you know their strengths and weaknesses. A player with a high shot rating will have better success making shots than a player with a low shot rating, no matter HOW perfect you time the ball's release
The 3 on 3 mode is good for quick arcade thrills, but the full-court 5 on 5 mode has a lot more strategy thanks to the bench and stamina factor. Players are rated fresh, OK or tired. You'll have to do some managing throughout the 4 quarters to keep your players away from fatigue
My personal favorite team are the Photons. In the 3 on 3 mode I call upon Rogers, Davidson and Feguso
I love playing the sport in real life too. I don't play any more these days, but my peak
was 2001/2002. Starting college, I suddenly developed a burning passion for playing basketball. Was I good? I was OK. Wasn't the most athletic kid around, the tallest or the quickest. But the game is more than that -- it's about being efficient and using your head.
I was a smart player who could shoot the lights out. I took a beginning and immediate basketball class my freshmen year, and had a bunch of great stories and memories. Maybe one day I'll log some of 'em in my MISC. section. At any rate, I used to bring my own ball around with me on campus, hitting the gym twice a week to play pick-up games. It was so different from high school... I really felt independent and it was a great time. I met a lot of cool cats and more importantly, I really challenged myself. Basketball is a great game
CLOSING THOUGHTS


If you like basketball (video games), you'll probably get a good kick out of this. To a non-fan, this is meh. To a fanatic like me, this is freaking sweet. The different modes and 2 to 5 player options make it a great multiplayer affair

And if you're wondering what happened in the final 1.3 seconds of that Pacers-Magic game... well....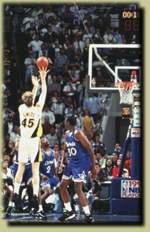 Rik Smits sent the Pacer
crowd home happy