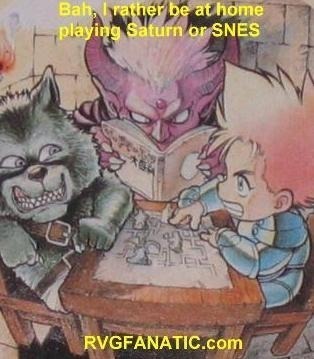 Back in December 2006 when I was on the brink of getting ready to launch my brand new website, I had some difficulty deciding on a site name. An old buddy suggested Retro Fire and I almost went with it... but didn't because it just didn't feel right. The same guy also suggested RVGFANATIC which I am very thankful for as right away I knew it was the one. Still, Retro Fire maintains a special spot in my heart. Now here's a new section on RVG that needed a name and I struggled to think of one that I liked. Initially named MISCELLANEOUS II, it hit me one night why not Retro Fire and thus, here we are!




Now MORE than JUST Sega Saturn and SNES!
(... yes, this was the site's original banner!)

You know, when I first launched RVGFANATIC January 7, 2007, my main goal was always to have the Super Nintendo as my main focus, and the SEGA Saturn as a secondary. Well, there were many other games that touched me in one way or another over the years, and I needed a place for those games, so welcome to that section! You never know for sure what might pop up in these ol' neck of the woods. Anything from the 8-bit Nintendo to the 128-bit Dreamcast. Some pieces here will be reviews, and others will be short takes, mini-reviews, reflective articles, really, who knows. It will be a hodge podge of games from all systems that I feel deserves a voice here on RVG. Basically, anything gaming that isn't SNES or Saturn-related... here's where you'll find it. Once again my friends, it's time to RELIVE... REMEMBER... REPLAY... RVG-style baby!

Enjoy! :)
-Steve

Blaster Master (NES)

Commemorating Contra (NES)

Karnov (NES)

Mike Tyson's Punch-Out!! (NES)

Rampage (NES)