Written: 9.8.08
Acquired: 1.18.06
Status: Cart only
Price: $6

| | |
| --- | --- |
| Pub: Nintendo | March '94 |
| Dev: Software Creations | 16 MEGS |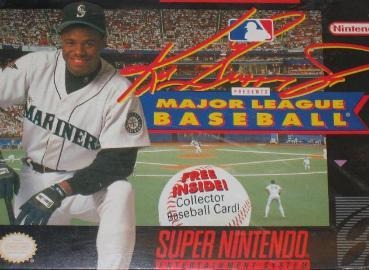 The smell of the fresh cut grass, the sound of the crowd rising to their feet, the crack of the bat, the energy of a stadium rocking in the bottom of the 9th. BASEBALL... once America's national pastime. Today it's been corrupted by owners, steroids and the list goes on. Some pundits even firmly believe the game has yet to recover from the strike in '94, and may never. Video game baseball fans received a nice consolation prize that same year, in the form of Ken Griffey Junior Presents MLB
[Free card, sure... AFTER you've paid $59.99! -Ed.]

THE DOG DAYS OF SUMMER...

While the proverbial dog days of summer have recently ended, baseball marches on. And even after the Fall Classic in late October, you can still live, breathe and crap baseball in the form of Software Creations' Ken Griffey Jr. MLB. I've logged massive hours into this one; having played easily over one thousand Griffey games in my career. The following review is based on my near 15-year experience of Griffey, as well as the latest 162-game season I had. To all the GRIFFEY
fans out there who have enjoyed this game as much as I have, you'll probably nod at a lot of the things you are about to see. To those of you who missed out on this game, or may have simply overlooked it, I hope this encourages you to give Griffey a shot, as so many fans can't be wrong



See you at the ballpark ;)

FIELD OF DREAMS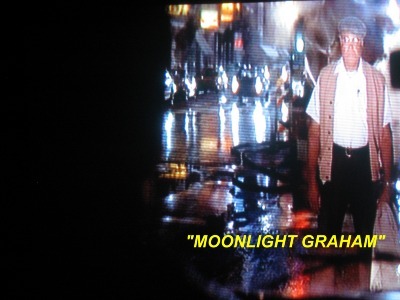 I grew up a baseball fan. I enjoyed playing it in real life, playing it on TV, or watching the pros go at it. Field of Dreams is one of my all-time favorite films, and I even used James Earl Jones' riveting moving monologue during the film finale for my first ever University play audition some odd six years ago. Well.... mine wasn't as riveting; I went uncasted you see, but I had a blast nonetheless! I also have fond memories of the 5th grade softball tournament where my Bulldogs team endured, record-wise, one of the worst seasons ever in school history. But, in our final game of the '94 season, the game helped teach us some of life's most valuable lessons. Lessons which go beyond standard testing, rote memory or anything that we could have been told. We had to live it for ourselves, and boy, did we ever. Yup, baseball has meant quite a bit to me over the years. It has been entertaining, and even, enlightening. There's nothing like the tingle you feel in your arm when you swing and the bat connects with the ball, or flopping into 3rd base, wrapping your arms around the bag, stretching a double into a triple. Squinting at a sky so blue it hurts your eyes just to look at it... *breathes in* smell that? That's baseball my friend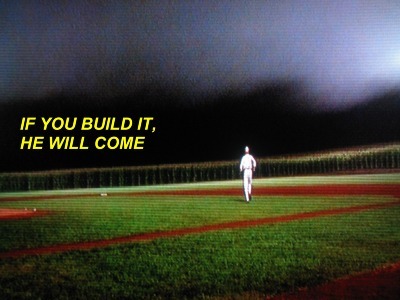 I have plenty of fond memories of the game of baseball indeed, as well as I do with Ken Griffey Jr. Presents MLB. Played in '94, bought in '96, and then rebought ten years later in 2006; between then and now I have played at least six (!) 162-game seasons, and have easily logged over 1,000 games of experience. Some folks might deem that absurd, amazing or downright sad. With the game as great as it is though, call it what you want, I could just as easily play six more seasons "There are others, you know..."

(For more on the 5th grade softball tourney, see Field of Dreams)

BIRTH OF THE NATIONAL PASTIME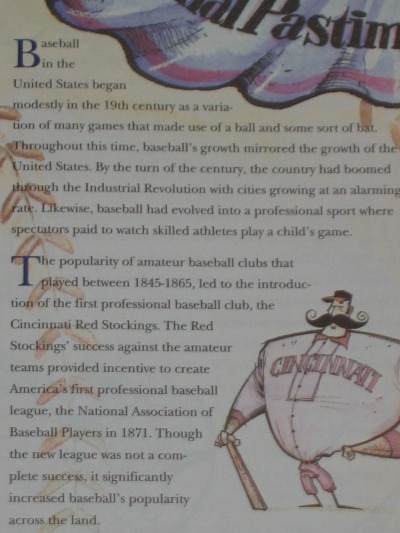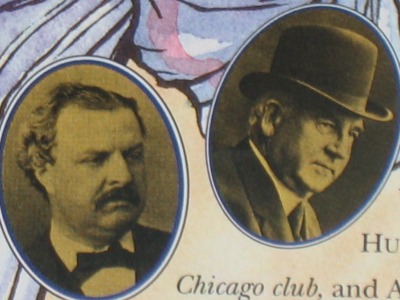 William Ambrose Hubert, President of the Chicago club, and AL SPALDING, a pitcher in Boston, believed that reforms were needed to protect baseball from the corruption and instability that surrounded the National Association. At a meeting in Louisville in 1876, Hubert, Spalding, and representatives of the St. Louis, Cincinnati, and Louisville baseball clubs designed a set of guidelines for a new league, named the National League of Professional Baseball Clubs

The National League contained eight charter clubs, however, between 1876 and 1900, only Chicago and Boston fielded a team each year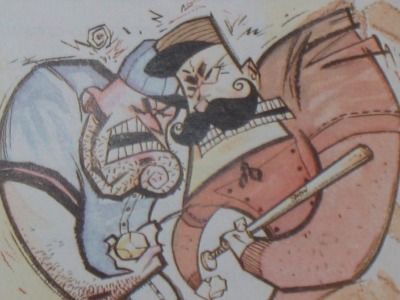 During the first two decades of its existence, the National League withstood threats of competition from newer professional leagues. In the 1890's, the National League's dominance weakened after growing to twelve teams, an unmanageable number
for that period. Although baseball remained the country's favorite sport, it was gaining a reputation for rowdiness and dirty play that didn't match the era. This prompted Byron Banford "Ban" Johnson and Charles Albert Comiskey to found a league based on strong leadership and good virtue. In the American League, games were not played on Sunday and women were well encouraged to attend ball games. Johnson and Comiskey set a goal to establish a new image for the game

Recognizing that its power had declined partially by managing too many teams, the National League sold four clubs to the new league in 1900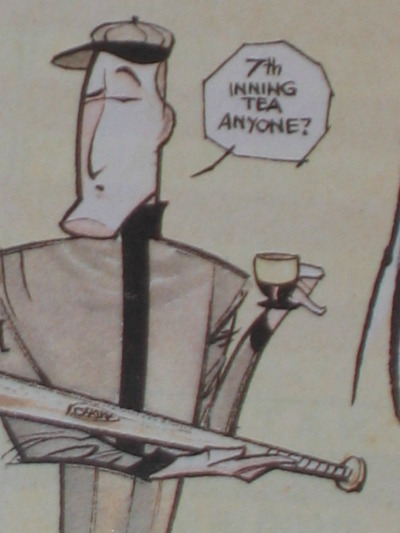 Following this transaction, National League officials still scoffed at the new league when it began play in 1901. However, after luring many premier National League players with higher salaries and running a "kinder, gentler" league, American League attendance exceeded National League attendance by 600,000 fans in 1902. Early in 1903, the National League granted the American League status as a Major League. With this, came
a consistent scheduling system, player contract regulations, and playing guidelines that the two leagues would share. Another product of this agreement was the World Series, which pitted the American League Champion against the National League Champion in a nine game series (later shortened to seven games) that would determine the World Champion of Baseball. In 1903, 16 franchises competed for the first World Series Championship. Though some of these teams have since moved to new locations or changed their names, the modern era of baseball began in 1903 with the same goal that exists today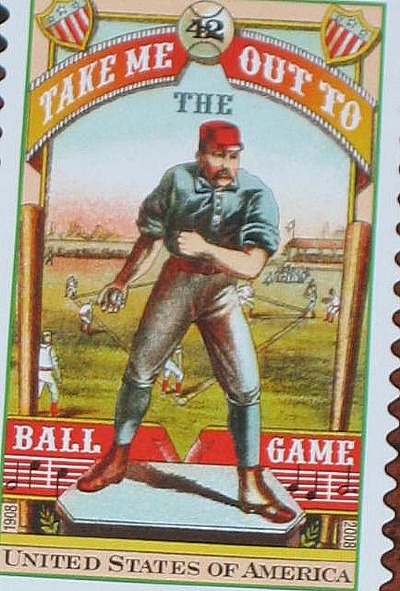 Since then baseball
has become a part of America's fabric. As James Earl Jones once put it eloquently: "This field, this game, is a part of our past. It reminds us of ALL that once was good, and that could be again." The USPS put
out a stamp this year to commemorate the 100th anniversary of "Take Me Out to the Ball Game" written by Jack Norworth. To this day it is still growing in popularity

Take me out to the ball game.
Take me out with the crowds;
Buy me some peanuts and Cracker Jack,
I don't care if I never get back.
Let me root, root, root for the home team,
If they don't win it's a shame.
For it's one, two, three strikes you're out
At the old ball game

Happy Centennial, ye ole baseball song ye!

THE GAME

Lovely little intro... with a dramatic touch to it

RIGHT IN HIS WHEELHOUSE, BOB! DID HE EVER CRUSH THAT BABY GOODBYE!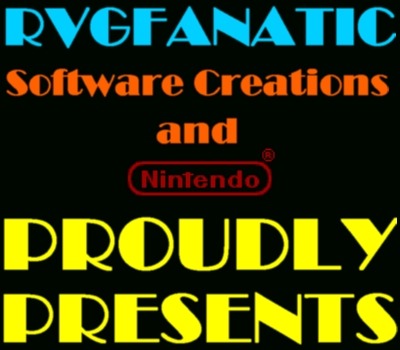 One of the best baseball games ever....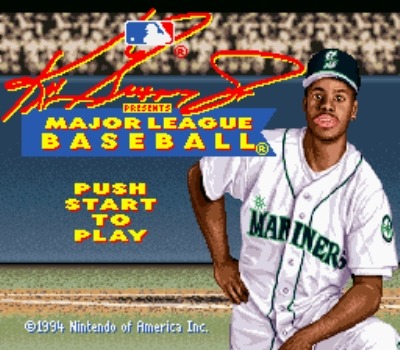 Choose from single game, World Series (best out of seven, battery backed of course, with a money back guarantee), All-Star Game, Home Run Derby (where you go up against The Kid himself), or play a Season (26, 78 or the full monty, 162 games)



WHO IS "THE KID" KEN GRIFFEY JUNIOR?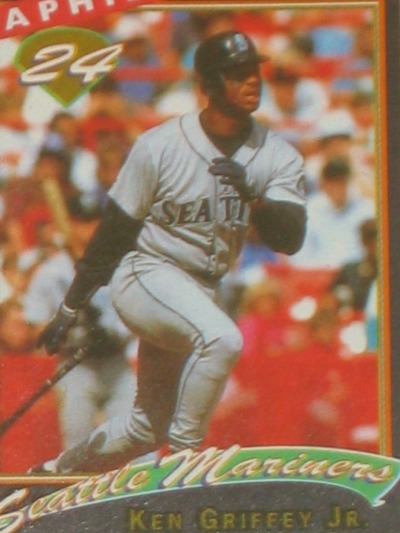 As a kid, Ken Griffey Junior, the son of a Major Leaguer, was fortunate to have the opportunity to shag fly balls and take batting practice with the game's best players. This experience paved the way for a smooth and early beginning of his own big league career. In 1989, at age 19, Junior's lively bat and dazzling defense helped him make the Mariner opening day lineup. In Junior's Major League debut, he showed the poise of a veteran, doubling off Oakland ace Dave Stewart in his first at bat. Throughout his first season, Ken's stellar defensive achievements drew immediate comparisons to the original Kid, Willie Mays. Junior's love of the game was handed down from his father, Ken Griffey Senior, who played 19 seasons in the majors and won two World Series rings with the Cincinnati Reds

Ironically, many moons later, Junior played for the Reds as well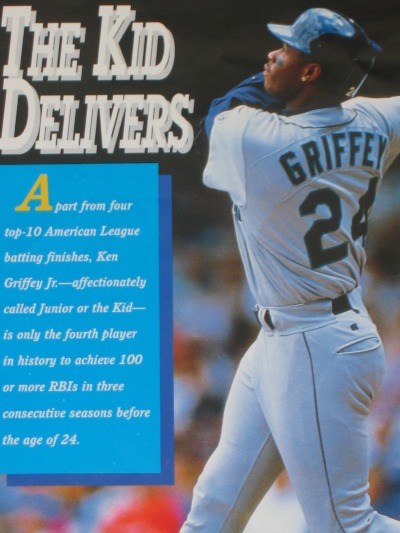 In 1990, Junior and his father, Ken Sr., made Major League history as the first father and son to play together on the same team. Later that season, the Griffey duo smashed back-to-back home runs in the first inning of a game against the California Angels. Following the 1990 season, Junior won his first Gold Glove to become the youngest American League player to receive that honor


Not satisfied with being described as a potential star, Ken stepped forward in a big way in 1991 and 1992. In 1991, the 21-year-old set a team record by hitting .327 and in 1992, Junior led the Mariners with 27 homers. He also drove in 203 runs during that two season stretch and was named the MVP of the 1992 All-Star Game in San Diego

The 1993 season was the year that translated Ken Griffey Junior from a star on the horizon to a legitimate League MVP candidate. En route to clouting a career high 45 home runs (2nd highest in the American League), Junior tied a MLB record by hitting at least one home run in eight consecutive games. In 1994 -- a season cut short by the baseball players strike -- Junior had broken Mickey Mantle's record of 20 home runs through May on May 23. He was in reach of breaking Roger Maris' home run record of 61, which no one had come close to challenging since Maris met the record more than 30 years ago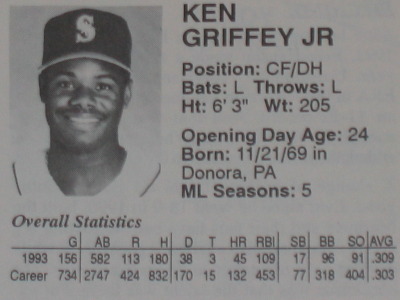 The Kid's stats in the '93 Major League season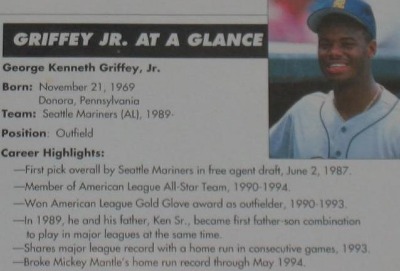 "Junior is a tremendously gifted young man who truly enjoys coming to the ballpark and playing this game," says Mariners' manage Lou Piniella




















"My dad always told me to have fun, no matter what," says Junior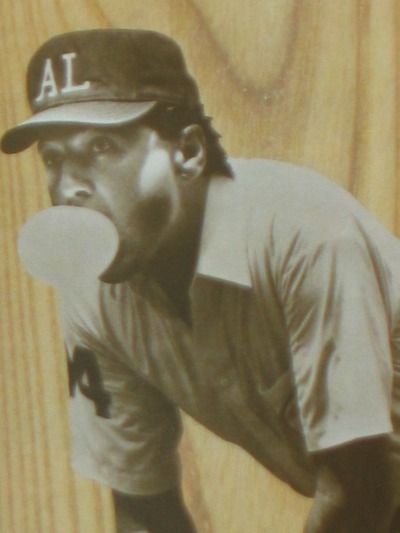 The voice you hear in Ken Griffey Jr. Presents Major League Baseball belongs to American League Umpire Steve Palermo. Since breaking into the league in 1977, Steve has received many accolades and been involved in hundreds of big games. Throughout his career, Steve has appeared in
five American League Championship Series (1980, '81, '82, '84, '89), 1 All-Star Game (1986), and 1 World Series (1983). Other historical events include the 1978 playoff between the Red Sox and the Yankees featuring Bucky Dent's unlikely, but timely, home run and working home plate during Dave Righetti's no-hitter in 1983

THE KID AND ME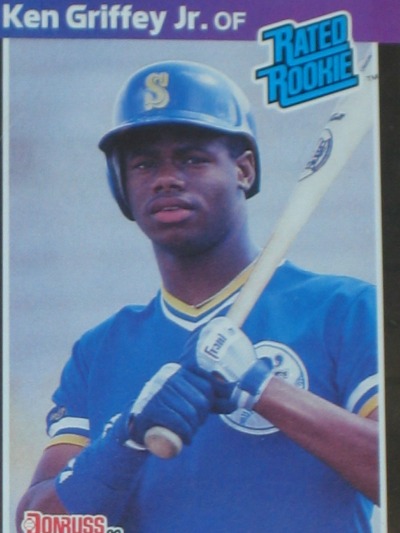 In early '96 my family moved towns. I was 12 and in the middle of my 7th grade school year. It was a difficult adjustment for me. The kids in my new town were nice to me, but they were never like the ones "back home." Moving away from my
best friend Nelson was particularly hard. Anyway, one quirky memory I have of those first couple early months in my new town involved "The Kid." After school let out one day in March of '96 or so, I was walking out when I saw a card lying by the bushes. The kids were rushing to the buses all around me as I made my way to see what the card was. Ken Griffey Jr. rookie card, Donruss '89. First thing that came to mind was the Griffey SNES game I had rented two years earlier. I took the card home with me and to this day I still have it. The card is worth about a grand total of six to eight bucks, as '89 was the year rookie cards oversaturated the market, similar to '94-ish and 2D fighting games. So I'm definitely not hanging onto the card for monetary terms. Not to mention a couple corners are a bit knicked up. Nope, I've hanged onto the card because... well, it's Ken fukken Griffey Jr. Sorry, no grand epiphany or life changing (money) revelation... just a momentary 'woo-hoo!' in an otherwise difficult time of change and uncertainty

REAL MAJOR LEAGUE PLAYERS!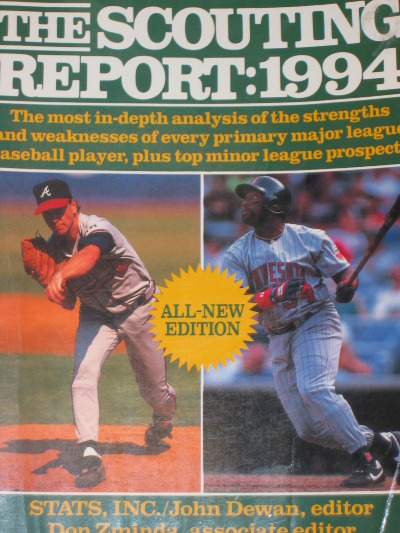 Sharp baseball fans realized that while Ken Griffey was the only real-named player in the game, the whole game was based on real players' stats but with fake names. All the players' stats in the game are based off the 1993 Major League pro season. Cleverly using a name edit feature, one could edit the game to have all the real players' names! In 1996, my older brother and I were at this mom 'n pop clearance book store where we
found THE SCOUTING REPORT: 1994. For five measly bucks, my bro and I now had high-end access to all the real players and we went to town with the edit feature to make our Griffey MLB game 100% authentic. Damn did we love that book. I still have it to this day, albeit in less-than-stellar condition. It was, bar none, the ultimate companion to
a Griffey fan back then

Good times, good times























You can have the Real McCoy in one night, brilliant!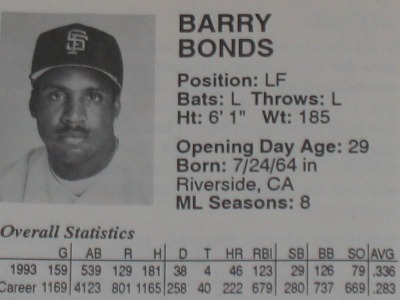 The stats match those found in the game to a tee... "NIIICE!"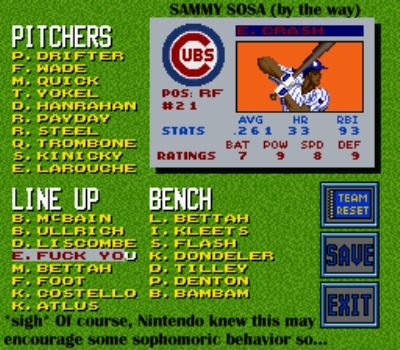 They built in a fail-proof system to thwart such antics...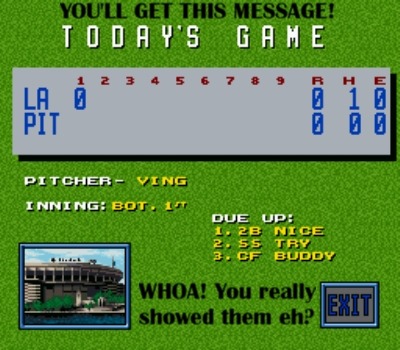 Just kidding, you won't really get that message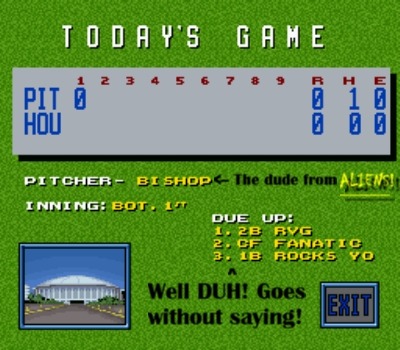 [Yer kiddin' again, aren't you? -Ed.]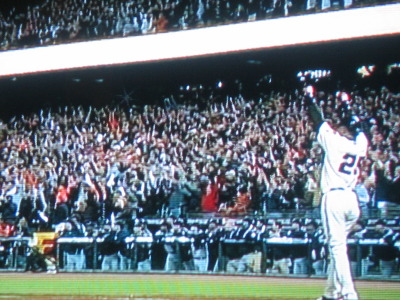 Barry Bonds, before he cheated y'see, was one of the game's very best pure ball players. Long before he broke Hammerin' Hank Aaron's home run record of 755 bombs, he was already a major force to
be reckoned with. Many considered him and Griffey to be the top two talents throughout the early-mid '90s. His bio in THE SCOUTING REPORT is fun to look back on when he was still a skinny kid


Barry's reaction to hitting #756 (August 8, 2007)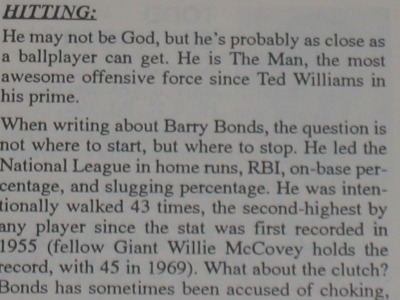 but he put that to rest in the 2002 World Series vs. the Angels!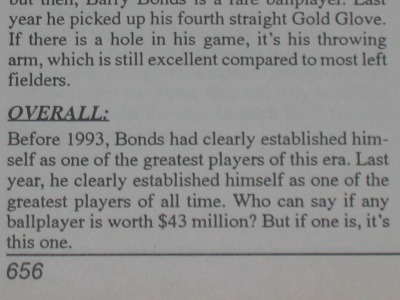 Wow, 43 million. How times have changed. That's now money for a journeyman!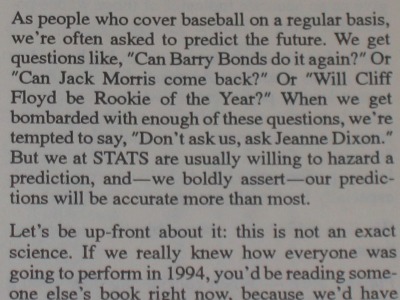 The book was so well written and wonderfully laid out, in addition to
it being an oasis for a couple of kids who didn't yet have access to the internet y'see. When my bro and I weren't busy editing the fake names to real ones, we enjoyed flipping through the book for their takes and two cents. Here is the book's excellent intro, as well as some extra shots of their analysis and stats GALORE!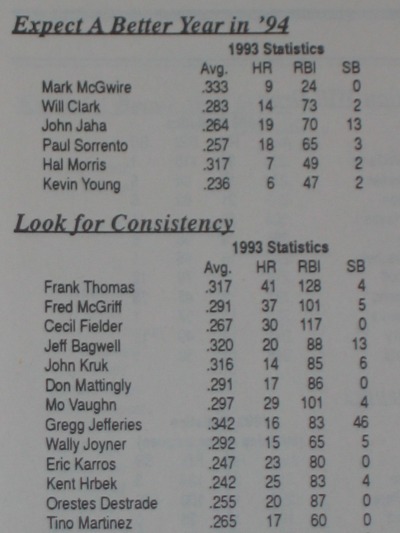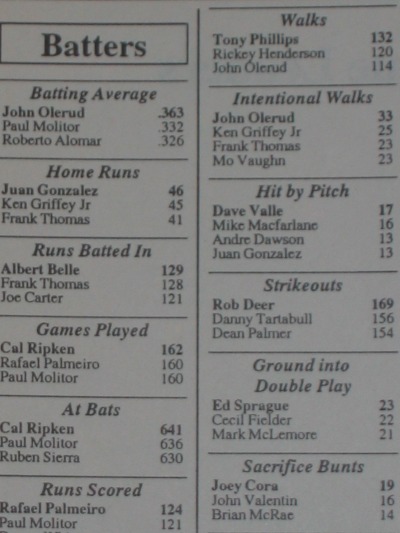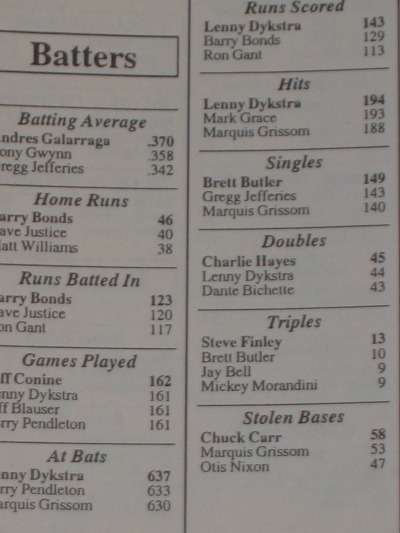 WHOA! More numbers than you can shake a stick at! If you love stats, you'll love this book. Great job, John and Don. Still a proud owner of THE SCOUTING REPORT: 1994 to this day

IT AIN'T A TEAM IF YA AIN'T GOT A THEME!

How do you know the game makers had a good time making this one? Look no further than the fake names. Rather than being random, generic B. Johnsons and C. Jacksons, each team in the game has a theme. F'rinstance, the Chicago White Sox has former star athletes from St. John's University: Mark Jackson, Chris Mullin and the late Malik Sealy to name but three


The California Angels have famous actors: Fred Astaire, Humphrey Bogart, John Wayne, etc.


The Boston Red Sox features members from Cheers (Norm Peterson, Sam Malone, Cliff Claven), Boston Universities (Harvard, Radcliffe) and also key figures from early American history (John Adams, John Hancock and Andrew Jackson)


The Atlanta Braves make reference to famous DJs like Sasha and Digweed. Fred "Crime Dog" McGriff is "D. Crime" and "Neon" Deion Sanders is "D. Neon" -- rather clever


The Colorado Rockies team will instantly be identified by horror film aficionados, with names
like George Romero, Roger Corman, Vincent Price, Wes Craven, Alfred Hitchcock, Bela Lugosi and Tom Savini (just to name several)



Discover the rest for yourself. There's even a team dedicated to the great females of past generations, a team for Software Creations itself and Nintendo of America. It's these little personable touches that I always enjoy seeing and appreciate. It's all about having a good
time and you can tell they had a lot of fun making this one. Part of the fun is also seeing
which references you and your buds can identify. Guess which team has Rocky Balboa?
You could even make a pop culture "board game" evening out of it! ... OK, maybe not

THE TEAMS

Choose from one of 28 major league teams. That year, 1993, saw two new teams: the
Colorado Rockies and the Florida Marlins. Please note that today there are 30 major
league teams (Tampa Bay Devil Rays and the Arizona Diamondbacks). The Brewers
moved to the National League and the Expos turned into the Washington Nationals.
Some team logos have changed too, while others remain untouched and timeless

NATIONAL LEAGUE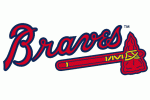 ATLANTA BRAVES

For baseball fans across the country, the 1993 Brave season appeared to be scripted in Hollywood rather than Atlanta. Nearing the All-Star break, the Braves trailed the Giants by 8 games and were surrounded by talk regarding the team's failure to live up to high preseason expectations. The outlook didn't brighten until July 20, the day '92 home run champ, Fred "Crime Dog" McGriff, was acquired from San Diego. With the Giants still playing outstanding baseball, the Braves methodically stormed to a 2nd half record of 54-19 overtaking the Giants on the last day of the season. Though the Braves' finish of '93 was the stuff of legends, it was not the best in team history. In 1914, the Boston Braves compiled an incredible 68-19 record from July 4 to steal the pennant from the New York Giants, the National League powerhouse of that time period. Heading into '94, the Braves reload with the best starting pitching staff in baseball, headed up by Cy Young Award winners, Greg Maddux and Tom Glavine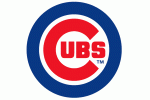 CHICAGO CUBS

Though the Cubs haven't been to the World Series since 1945, there isn't a team in the Major Leagues with fans as devoted as the ones who flock to Wrigley Field. Prior to the 1945 World Series, the Cubs appeared in a respectable 10 World Series, however they lost 8 consecutive Series after winning in 1907-08. For even the most loyal Cub fan, the 1969 season was a difficult one to endure. Throughout the first half of the 1969 season, the Cubs sat atop the Eastern Division and, by mid-August, their lead had grown to 8 and a half games. As the summer came to a close, the Cubs began to face two foes: pressure inflicted on themselves and the Miracle Mets, a lowly expansion team that finished 9th or 10th
in each of their previous 7 seasons. The Mets made an incredible charge overtaking the Cubs eventually winning the division by 8 games. The significance of this event is that the Cub fans stuck by their team following the flop. Today, 25 years later, fans in Chicago can buy "Forgiven But Not Forgotten" shirts referring to the summer of '69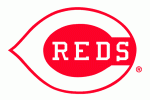 CINCINNATI REDS

In addition to being the first professional baseball team, the Cincinnati Redlegs have been involved in many historical events that are commonplace today. These "firsts" include the first switch-hitter to appear in a National League contest (1870), the first National League home run (1876), the first night game (1935), and the first televised game (1939). Later, the Big Red Machine of the '70s became the top N.L. team of the decade by winning 6 division championships and appearing in 4 World Series between '70-'79. This team is still regarded as one of the best ever. After a successful 1990 campaign, the Reds entered the World Series as a big underdog to the powerful Athletics, who had demolished the Giants in the '89 Fall Classic. Though the underdog role was unfamiliar to the Big Red Machine of the '70s, the 1990 Reds seemed to thrive on it and used great pitching and scrappy play to sweep the A's in 4 games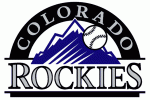 COLORADO ROCKIES

The Rockies had what can be described as a very successful inaugural campaign in the National League. They won 3 more games than their expansion cousins, the Florida Marlins and set a Major League Baseball attendance record with over 4 million fans passing through the Mile High Stadium turnstiles. In 1995, the Rockies will begin play in a new park in Denver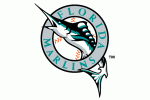 FLORIDA MARLINS

The expansion Marlins begin their second season in 1994. The Marlins' early pursuit of top players through free agency and trades should please fans in South Florida, and with a roster comprised of experienced veterans and promising young players, the Marlins look to continue building toward success in the near future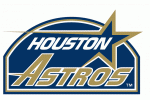 HOUSTON ASTROS

The Astros came into the National League at the same time as the Mets, and while they never were as bad as the worst Mets teams, they never achieved the success of great Mets teams either. Historically, the Colts-Astros have had stronger pitching than hitting. This was true in 1962 and is still true today. When the Astros won their two division championships, they were led by the great pitching of J.R. Richard, Joe Niekro, Nolan Ryan, and Mike Scott. Today, the Astros are armed with one of the best starting rotations in the National League and look to former Phillies closer Mitch "Wild Thing" Williams to bolster the bullpen. On the offensive side of the plate, the Astros are looking for young stars like Jeff Bagwell, Craig Biggio, and Luis Gonzalez to return and lead the team to postseason play in the '90s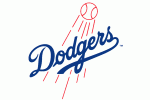 LOS ANGELES DODGERS

While the Giants/Dodgers rivalry has certainly been heated over the years, Dodger fans from Brooklyn to Los Angeles must shudder at the thought of playing the Yankees in the World Series. The Dodgers were arguably the best N.L. team during the '50s, appearing in the World Series 5 times during the decade and 10 times between 1947-66. However, the Dodgers only won 2 World Championships during the '50s and held a 1-6 record against the Yankees in 7 Bronx/Brooklyn "Subway Series" matchups. It looked like old times in 1977 and 1978 when the Bombers and the Los Angeles Dodgers clashed in consecutive years with both championships going to the Yanks. In 1981, the Dodgers won only their third Series against the Yankees in 11 tries. Ironically, the Yankees won more championships, but became the team that fans loved to hate while the Dodgers became one of the game's most popular teams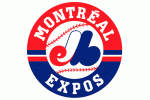 MONTRÈAL EXPOS

During most of the '70s, the Expos were known across Canada as the national team. In the United States, the Expos, who for many years wore hats that resembled multi-colored beanies, were more of a curiosity that seemed out of place in tradition-rich National League. Of course, traditional uniforms were becoming less common in the '70s as buttons and belts were replaced by pullovers and elastic waistbands. The Expo image improved as they began to shake the customary expansion era blues. In the late '70s the Expos compiled the best record in the National League between 1979-1982, including a divisional championship in 1981, and have enjoyed 12 winning seasons since 1979. Today, the Expos are building off 2 consecutive 2nd place finishes and setting their sights on higher goals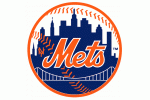 NEW YORK METS

The Mets' story can be described simply as the best of times and the worst of times. Born through expansion in 1962, the Mets were awful during the Kennedy and Johnson administrations. From 1962-68, they finished 9th or 10th each season averaging a woeful 56 wins each season. The outlook became very rosy in 1969. Not only did the Mets finish over .500 that season, but they won 100 games and stormed past the Cubs to win the division championship by 8 games. The Miracle Mets' incredible run continued in the '69 Series as they topped the heavily favored Orioles in 5 games. Ironically, Davey Johnson, who made the final out in the '69 Series for the Orioles, returned to manage the Mets in the '80s as the team returned to the top of the National League after a decade of mediocrity. During Johnson's tenure, the Mets won 2 division championships and 1 World Championship in 7 seasons and were favored nearly every year to play in the World Series; incredible pressure for any team, but
even tougher in New York. In 1993, the Mets reclaimed their role as baseball's worst team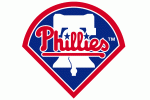 PHILADELPHIA PHILLIES

Of the eight original National League teams, the Philadelphia Phillies have the gloomiest history. Recent successes, including a World Championship in 1980 and three World Series appearances and six division championships since 1976, have blurred the perception of futility surrounding the Phillies. But, the Phillies once endured 29 second division (5th, 6th, 7th, or 8th place) finishes in a 30 year stretch and a 65 year period without a World Series win. From 1901-1960, the Phillies won 3,893 games and dropped 5,130 games with only 15 winning seasons, worst of the 8 National League teams in the pre-expansion era. Even when they were on top, the Phillies found a way to lose. For example, on September 21, 1964, the Phillies held a 6 and a half game lead over the Cardinals. After losing 10 of their last 12 games, the Phillies found themselves in 2nd place on the last day of the season. The outlook was much brighter a decade later when led by Mike Schmidt, the Phillies of the late '70s and early '80s became one of the top teams in the National League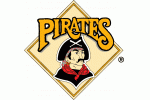 PITTSBURGH PIRATES

Though they didn't get the attention the Reds enjoyed in the '70s, the Pirates of the Disco Decade were nearly as talented. During the '70s, the Pirates, Dodgers, Phillies, and Reds won 18 of 20 division championships. Though the Pirates finished in 2nd place to the Phillies from 1976-78, the Bucs were the stronger team winning 6 division championships and 2 World Championships from 1971-79. Though the '70s Pirates enjoyed success over a longer period of time, the 1960 Pirates had the most memorable finish to a season. After winning the 1960 N.L. pennant by 7 games, the Pirates were still expected to be steamrolled by the Yankees, who were appearing in their 26th Series since 1921. In Game 7, the Bucs trailed 7-4 in the 8th inning but scored 5 runs to take a 2 run lead. The Yanks followed with 2 runs to tie the score at 9. But, Bill Mazeroski, the Pirates 2nd baseman, led off the bottom of the 9th and slammed the 2nd pitch over the left field wall to break the tie and end one of the best World Series ever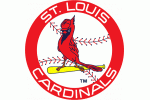 ST. LOUIS CARDINALS

If Reggie Jackson is Mr. October, then the St. Louis Cardinals are the National League's Boys of October with 9 World Championships in 15 World Series appearances. This is particularly impressive since many of the Cardinal titles came during the Yankees' incredible World Series dominance from 1927-62. Also, there are other N.L. teams with more league pennants, but the Redbirds have won more World Championships than any other National League team. Factoring in the Cardinals' three National League Championship Series triumphs in with their World Series victories increases the team's postseason series win percentage to an impressive 67%. Over the years, the Cardinals have been led by many current and future hall-of-famers including Dizzy and Daffy Dean in the '30s, Stan Musial in the '40s and '50s, Bob Gibson in the '60s, Lou Brock in the '70s, and "The Wizard" Ozzie Smith in the '80s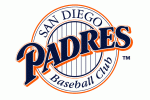 SAN DIEGO PADRES

After joining the National League in 1969, the Padres experienced 10 seasons of mediocrity before making a move toward the top of the division with the help of several key player acquisitions. In 1984, the Padres won their only division championship with Dick Williams at the helm. The Padres' plan was to sign players who had experienced winning with other clubs. Williams, a former Brooklyn Dodger, knew a lot about winning as well. In 1967, Williams won an A.L. pennant with the Red Sox. Williams also managed the A's during their championship years in the early '70s. The 1984 N.L. Championship Series may be one of the most interesting matchups in recent memory with the expansion Padres and Cubs, a team that hadn't experienced postseason play in nearly 40 years. Led by NLCS MVP Steve Garvey, the Padres topped the Cubs in 5 games and prepared for the awesome Tigers, who won 104 games during the season. Although the Tigers easily handled the Padres in the World Series, the experience of playing in the Fall Classic gave the Padres the lasting respectability that surrounds a winning franchise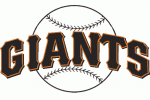 SAN FRANCISCO GIANTS

The New York Giants were arguably the best team in the National League during the 30 years following the merger in 1903. In later years, fireside stories about the Giants often included their rivals from Brooklyn. One of the most famous Giant/Dodger confrontations occurred in 1951 when the Giants rallied from 13 games behind on August 11 to catch Brooklyn and force a playoff. In the deciding game of the three game playoff, Bobby Thomson came to the plate in the 9th with two men on base and the Giants trailing 4-2. Thomson's heroic homer is still known as the "Shot Heard 'Round the World" thanks to the emotional radio call by Russ Hodges, the Giants' announcer, who could only manage to repeat that famous phrase "THE GIANTS WIN THE PENNANT! THE GIANTS WIN THE PENNANT!" Since 1951, the Giants and Dodgers have clashed in several season ending confrontations including 1993 when the Dodgers beat the Giants on the season's last day to keep the Giants out of a possible playoff against the Braves

AMERICAN LEAGUE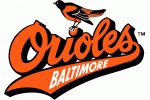 BALTIMORE ORIOLES

It's a little known fact that the Baltimore Orioles were once the Milwaukee Brewers -- the original Brewers, that is. A charter member of the American League in 1901, the team moved from Milwaukee to St. Louis and changed its name to the Browns prior to the 1902 season. The purpose of the move was to give the new American League a team in St. Louis, the fourth largest city in the nation at that time. The Browns never enjoyed the popularity of their cross-town rivals, the Cardinals. Of course, bad play didn't help. From 1901-1953, the Browns' winning percentage was a anemic .433 with only one World Series appearance, which the Browns lost to the Cardinals. As bad as the Browns were, the Orioles of Baltimore have been absolutely stellar by comparison. Since 1969, the Orioles have the best winning percentage in baseball including the incredible 1969-71 O's that averaged 106 wins per season during that 3-year span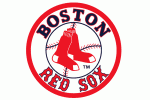 BOSTON RED SOX

Known as one of the best sports towns in the country, Boston and its people have enjoyed a very special love affair with their Red Sox. Fans from Beantown have also endured a great deal of frustration from a team that since 1918 has often challenged and occasionally won the American League pennant without bringing home the elusive World Championship. Cynical followers have blamed the "Curse of the Bambino" for the drought. The curse refers to the fateful December day in 1919 when the Red Sox sold Babe Ruth to their arch-rivals, the Yankees. Prior to the sale, the Red Sox were arguably the best team in baseball with 5 World Series Championships between 1903-18. Conversely, the sale of the greatest player of all time helped transform the Yankees, a mediocre team without a World Series appearance, into the most dominant team in professional sports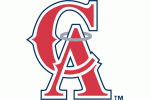 CALIFORNIA ANGELS

Responding to the Dodgers' immediate fan appeal in Los Angeles, the American League expanded in 1961, adding their own team in L.A. Walter O'Malley, the Dodgers' owner, wasn't pleased about the prospect of another team moving into his recently chartered territory and would only agree to the deal if the Angels leased the use of Dodger Stadium for four seasons. Though the team played well for an expansion team during those early years, the Angels were never able to overshadow the mystique of the Dodgers in the Los Angeles area. In 1966, the Angels moved to Anaheim Stadium following the expiration of the Dodger Stadium lease and changed their name. Today, the Angels are using a new philosophy toward winning emphasizing youth rather than the use of older players. Traditionally, the Angels have ignored their farm system and tried to win using veterans who paid their dues with other clubs. While this strategy landed the Angels in postseason three times, it didn't help them win any American League or World Championships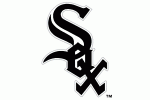 CHICAGO WHITE SOX

For nearly 100 years, the White Sox have been Chicago's southside team. Sharing the Windy City's fan base with the Cubs, who play on the North side of town. During this time, the White Sox have fielded some great teams including the Shoeless Joe Jackson led teams of the 1910s and the Go-Go Sox of the 1950s, which was one of only two American League teams other than the Yankees to appear in the World Series from 1949-60. Led by one of the best young pitching staffs in baseball, the White Sox won a division championship in 1993 and experienced postseason play for only the 2nd time since 1959

CLEVELAND INDIANS

Though the Indians have become the butt of many jokes due to their lack of postseason play in the last four decades, the Tribe of the late '40s and early '50s ranks among the best in American League history. The Indian teams of the post-World War II era averaged 94 wins each season between 1948 and 1956, and although they won a World Championship in 1948, the Indian team that lost the 1954 World Series was actually better, winning an amazing 111 games, which was 8 more wins than the 2nd place Yankees. In fact, the 103 wins by the Yankees in 1954 marked the highest total amassed by any of Casey Stengel's dominant Yankee teams of the '50s. Today, there is a new feeling of enthusiasm in Cleveland. With the opening of a new stadium in 1994 and several young All-Stars on their roster, the Indians are counting on re-kindling the glory of their past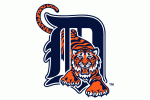 DETROIT TIGERS

The most prominent Tiger teams from a historical perspective come from 4 different eras. The first of the great Motown teams were led by Ty Cobb, one of the most competitive and talented players of all time. The teams of the 1930's featured the powerful Hank Greenberg, who clouted 58 home runs in 1938, still #3 on the all time list. The 1968 World Series featured a pair of pitchers (Detroit's Manny McLain 31-6, 1.96 ERA and St. Louis' Bob Gibson 22-9, 1.12 ERA) who posted seasons that are still regarded as being among the most dominating of all time. Led by Jack Morris, Kirk Gibson, and Lance Parrish, the 1984 Motor City Kitties jumped out to a 35-5 record to start the season and never looked back as they overpowered opponents and finished with a 104-58 record and a World Series victory over the Padres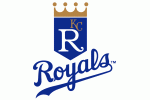 KANSAS CITY ROYALS

The Royals are an example of the perfect expansion team. The
team has never finished in last place and won their first division championship in their 7th season. By building a strong minor league system, the Royals were able to call up extremely talented young players like George Brett, Frank White, and Hal McRae and let the players mature together on the field. This set up a reload, not rebuild formula for success in Kansas City. In fact, if it weren't for the Oakland A's of the early '70s and the New York Yankees of the late '70s, the Royals may have received more recognition as one of the best teams of the decade. The Royals, however, did get to the World Series twice in the '80s, winning the Big Show in 1985 over the Cardinals in a dramatic I-70 series. That season reaffirmed the Royal tradition when 21-year-old Bret Saberhagen won 20 games, the Cy Young award, and World Series MVP. Recently, the Royals haven't won many games, but the wheels haven't completely fallen off either as the young Royals of the '90s are poised to make another run to the top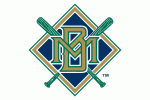 MILWAUKEE BREWERS

After joining the American League in 1969 as the Seattle Pilots, the team changed its name and moved to the midwest in 1970. The Brewers, who celebrate their 25th season in Milwaukee in 1994, have had several fine teams and many outstanding players throughout the last quarter century. Led by managers George Bamberger and Harvey Kuenn, the power-hitting Brewers of the late '70s and early '80s became affectionately known as "Bambi's Bombers" and "Harvey's Wall Bangers." To date, the 1982 season is remembered as the Brewers' shining moment. Future Hall of Famers Robin Yount and Paul Molitor led the charge as the Brew Crew topped the Orioles on the last day of the season to capture their first divisional championship. In the American League Championship Series, the Brewers overcame a 0-2 deficit to top the California Angels and win a trip to the World Series against the St. Louis Cardinals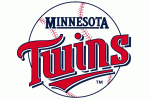 MINNESOTA TWINS

Of the 8 American League teams that started play in 1901, the Senators/Twins have the fewest World Series appearances. In fact, for years a popular phrase in Washington was "first in war, first in peace, last in the American League." [Nice to see they have their priorities straight -Ed.] The Senators didn't always have the best teams, but they did have the game's best and most popular pitcher in Walter Johnson. The "Big Train" was the game's first power pitcher, compiling 3,508 strikeouts in an era lacking in the free swingers that many pitchers feast on today. Following 60 seasons of mediocre baseball in Washington, the Senators moved to Minnesota and became the Twins. Though the Twins won a pennant in 1965 and division championships in 1969 and 1970, they usually fielded teams that were competitive, but unable to challenge for the pennant. This was demonstrated by 9 consecutive 3rd or 4th place finishes between 1972-80. Recently, the Twins have enjoyed the most success in franchise history winning two World Championships since 1987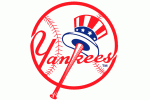 NEW YORK YANKEES

If the number of championships is your yardstick for success, then the Yankees are the most dominant Major League Baseball team of all time. In addition to collecting 33 World Series Championships, Yankee rosters have featured Babe Ruth, Lou Gehrig, Joe DiMaggio, and Mickey Mantle; four unique players who transcended baseball stardom to become icons of 20th Century American culture. In fact, Yankee lore reads like a Who's Who of Baseball with 28 former pin-stripers already elected to the baseball Hall of Fame. Though the 1927 Yankees, led by Ruth and Gehrig, are often regarded as the best team of all time, the Bronx Bombers of the 1950s, led by the legendary Casey Stengel, were even more dominant, winning 5 consecutive World Championships from 1949-1953 and appearing in 10 World Series between 1949-60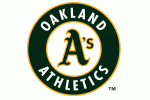 OAKLAND ATHLETICS

After passing through Kansas City on their way from Philadelphia, the Athletics settled in Oakland and established a personality and style of play that has made them one of the most successful franchises in the last 25 years. But, winning hasn't always been associated with the A's. While they won 5 championships during Connie Mack's 50 year tenure as manager, his teams finished 7th or 8th place in the eight team American League 20 times. After moving to Kansas City in 1955, the Athletics' struggles continued to the point where the team moved to Oakland in 1968, after 13 consecutive 2nd division seasons in K.C. After the move, the A's quickly picked up a winning tradition. Led by a cast of characters that included Reggie Jackson, Catfish Hunter, and Rollie Fingers, the A's won five consecutive division titles from 1971-75 and three consecutive World Championships from 1972-74. After rebuilding the team, the A's returned to form in the late '80s and appeared in three straight World Series from 1988-1990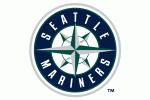 SEATTLE MARINERS

Since entering the league in 1977, the history of the Seattle Mariners has consisted of more downs than ups. In fact, early Mariner highlights often centered around strange give-aways like "Funny Nose Glasses Night" more than great play on the field. But, in recent years, the attitude in Seattle has changed with a greater emphasis on winning. This has been demonstrated by the hiring of a proven manager (Lou Piniella) who is still in the prime of his managing career and the active pursuit of top players through trade and free agency. After 14 seasons of sub-.500 baseball, the Mariners finished over .500 in 1991 and again in 1993 and now strike fear in opponents with Randy Johnson's power pitching, Jay Buhner's cannon arm, and Ken Griffey Jr.'s exciting all-around play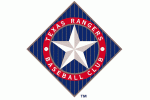 TEXAS RANGERS

Born through expansion to pacify Washington citizens following the original Senators' move to the Twin Cities, the new Senators never took flight enduring 10 losing seasons before moving to Arlington, Texas in 1972. Like the Seattle Mariners in the 1980s, the Rangers struggled to shake their expansion image in the 1970s. Throughout the '70s, the Rangers made a habit of acquiring veterans who were past their prime. Many of these transactions backfired leaving the Rangers with a depleted farm system and a high payroll. Although the Rangers haven't won a division championship since moving to Texas, many experts consider the Rangers to be the team of the '90s with players like 24-year-old Juan Gonzalez, who has already won 2 home run titles and Will Clark, a perennial all-star during his 8 seasons with the Giants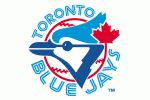 TORONTO BLUE JAYS

Joining the Seattle Mariners as an expansion team in 1977, the Toronto Blue Jays didn't exactly set the league on fire during the team's first few years. In fact, it took the Blue Jays six seasons
to finish higher than last place in their division. However, behind a philosophy centered around nurturing bright, young talent that would grow within the organization, the Blue Jays quickly became a powerful force in the American League in the mid-1980s and have not finished lower than 3rd place since 1987. Most recently, the Blue Jays became the first team to win back-to-back World Series titles since the 1977-78 Yankees. Who could ever forget Joe Carter's epic walk off home run in Game Six against "Wild Thing" Mitch Williams? Not I, not Joe, and certainly not Mitch! [Bitch! -Mitch]

THE BALLPARKS

Real teams, real players (matter-of-factly speaking) and of course, real stadiums and
real ballparks. From the Astro Turf of the Sky Dome to the ivy-covered outfield walls
at Wrigley... it's all here in authentic, living, breathing 16-BIT POWER! [Oh my -Ed.]

SOME OF MY FAVES..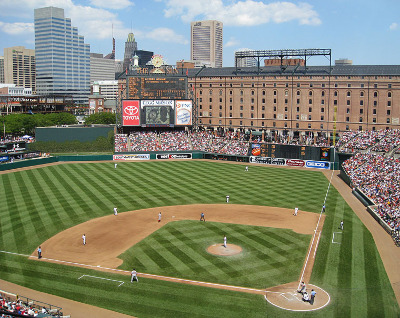 Ole Camden Yards in downtown Baltimore is
a beaut. The infamous
B&O Warehouse in the backdrop is a classic sight; eight stories high and at 1,016 feet long it has been the longest building on the East Coast since it was completed after seven years of construction in 1905. Standing 432 feet from home plate, only one player has managed to hit it. That man, ironically, was Ken Griffey Jr., who smashed a 445 foot shot while competing in the '93 Home Run Derby contest
Love the warehouse in the background, love this park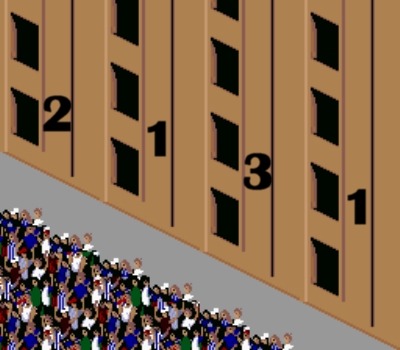 Shame on you if you don't recognize this...


Another junior, Cal Ripken Jr., made major league history on September 6, 1995, when he played in his 2,131st consecutive game. It broke the 56
year record held by "Iron Horse" Lou Gehrig. Cal retired having played 2,632 games straight. That's a record folks that you can bet will never be reached. Now don't cha feel guilty about calling in sick to work when you really weren't? Well, do ya?*

Cal will never have to pay in this town again

* ... naw not really ;)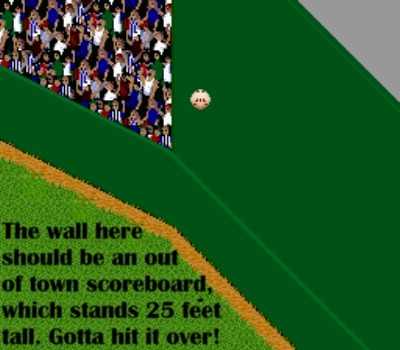 Otherwise, Camden Yards is pretty damn accurate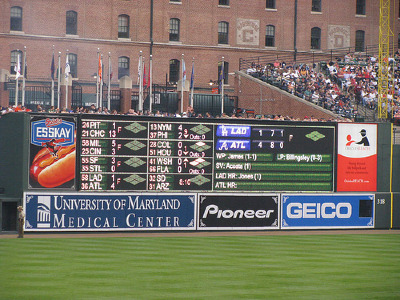 Nowadays HD scoreboards are
all the rage


[Why in my
day... -Ed.]






In your day, baseball didn't exist! [Note to self: severance package -Ed.]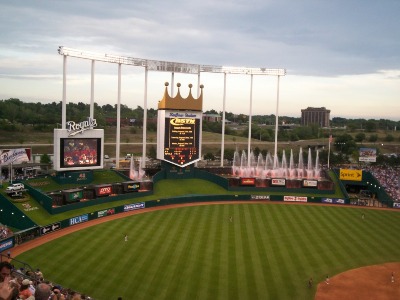 Kauffman Stadium in Kansas City is another striking ballpark, with its roaring water fountains in the outfield. How did it fare in Ken Griffey Jr.?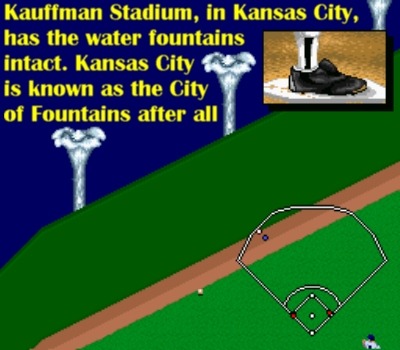 Not bad, not bad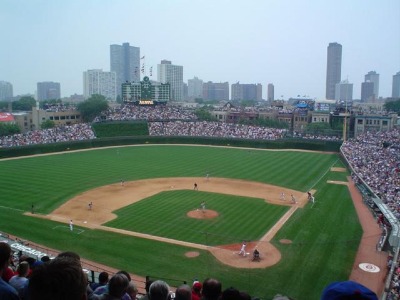 You can't discuss classic ballparks without bringing up Wrigley Field. Some have described it as a slice of Heaven, even. One thing's for sure, it's a field of dreams and a field for the ages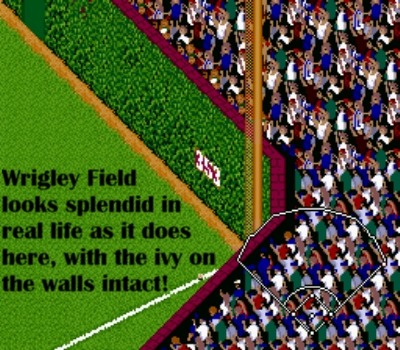 As Harry Caray would say, "HOLY COW!"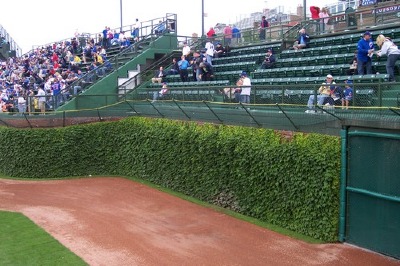 But just how accurate is the Griffey game? Do the outfield walls jut in and out as they do in real life?























You bet your ass they do!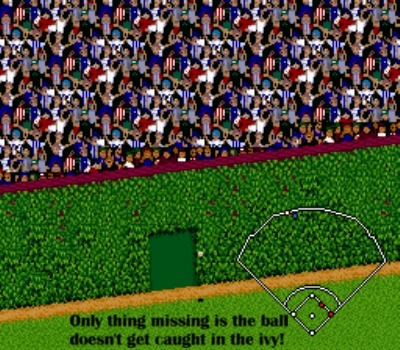 And be careful of that brick wall and door...

... for it hurts a whole heck of a lot when you crash into it! Superb detail and touch























[I wouldn't bet on that actually.. guy's crazier than a pet coon! -Ed.]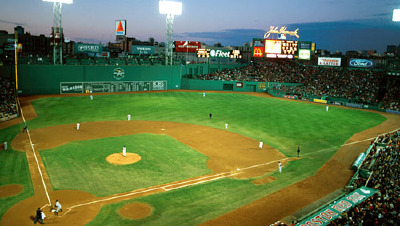 Last but not least, Fenway Park. The classic CITGO sign behind the Green Monster (the tall wall in left field), the medium wall in center and the short in right. What a funky yet timeless design. Fenway Park also played a small but key role in the film Field of Dreams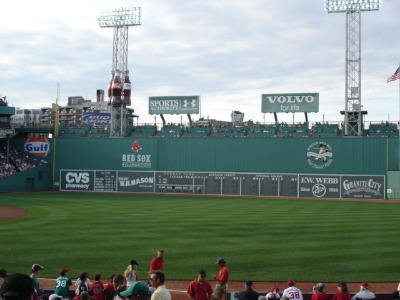 The Green Monster is one of the most (in)famous baseball park quirks of
all time. In recent times seats have been added so fans may enjoy a rather unique look and a brand new way to experience ole Fenway Park





Like watching baseball from the shoulder of King Kong!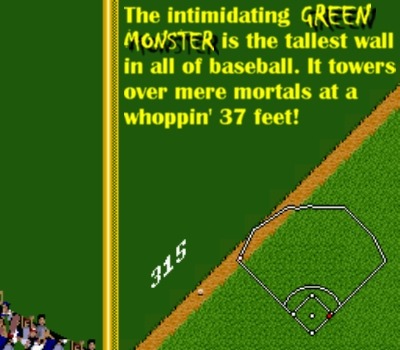 By the way, who could forget the Fisk Foul Pole?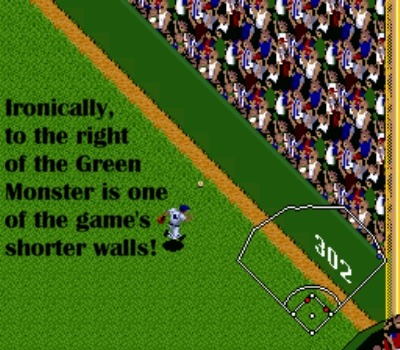 Or Pesky's Pole, accurately 302 feet making it the shortest right field porch of all























Just some dude doing a MANNY impersonation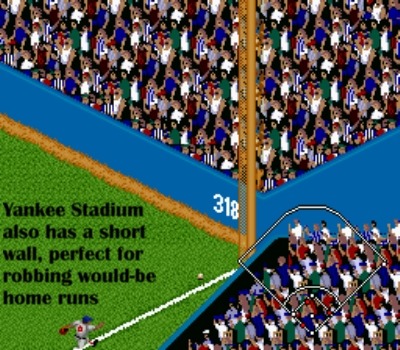 Or perfect for lots of "cheapie" home runs ;)

RATE RATE RATE! HOT OR NOT DOM COM, BISHES!

In Ken Griffey Jr. Presents Major League Baseball, players are rated from 1-10 in four different statistical categories:

BAT: the higher the better hitter he would be, theorically
POW: the higher the better he is at hitting the long ball
SPD: how fast he can get around the bases
DEF: the higher the rating is, the stronger his arm and faster his foot speed (on defense)
Remember those old '91 Marvel cards, with the ratings on the back of each card?
It's kinda like that, and you know I'm a sucker for numbers. The highest overall
in the game not surprisingly belongs to Ken Griffey Jr., who scored 36 out of 40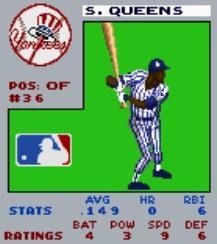 It should be noted that a player with low BAT
and/or low POW can still be a legitimate threat. F'rinstance, I smacked 24 homers with Queens
(of the Yankees) in a 162-game season and his
POW is a measly 3. His BAT is a paltry 4 and
yet, I finished batting .318 with him


POW is far more important than BAT (look no
further than Harlem of the Yankees who has a
BAT of 3 but a POW of 10), but most important
of all is the stance of the batter in my humble
opinion, as well as your timing on his swing

So don't write a batter off simply based on his POW/BAT stats. As a long time Griffey player, and I have easily played over 1,000 games since '94, no joke, I have also noticed the following, when it comes to player ratings:

Generally, a POW of 7 or higher means you're pretty much good for 30+ home runs in a 162-game season. There's a BIG difference between POW 6 and POW 7
Likewise, there is a BIG difference between SPD 6 and SPD 7. With a speed of 7, your guy is capable of wrecking havoc on the base path, but a guy with speed 6 just doesn't have that extra gear
Hendu stronger than Mac in Griffs? But he's a seven! Well...

Speaking of speed and power differences, although all ratings are even (i.e. no .5 rating increments), secretly there appears to be "highs" and "lows." For example, Tolstoy (Dave Henderson) of Oakland has a high POW 7, dude is damn deadly, while teammate Ernest (Mark McGwire) is an 8 but a weak 8. I do believe stance factors in as well. McGwire has an awkward stance while "Hendu" has a more effective home run stance

To compare two exact numbers, Horse (Don Mattingly) of the Yankees and Glass (George Bell) of the White Sox both share a 6 in the power department. However, any seasoned Griffey player will tell you Horse must be a 6.0 while Bell more akin to a 6.9

For what it's worth, Bell has the better "home run stance" between the two as well...
Horse finished two seasons with exactly 19 homers. The last season I played I was *FINALLY* able to get him to break through the 2-0 ceiling. He finished with 20

On the speed side, Broadway (Pat Kelly) of the Yankees has a low 7 while Weakland (Al Martin) of the Pirates has a high 7. There's a serious speed difference in the two, despite their speed both being listed as 7
| | |
| --- | --- |
| | |
Weakland (Al Martin) is one of my favorite hitters in Griffey. The guy is
a hitting machine. I loved Al Martin's game in real life, too. I remember
tuning into a Pirates game in '96 and seeing this tall, lanky fella hit a crisp
single into the outfield. Then he proceeded to steal 2nd base, and then 3rd
base. He instantly became one of my faves. He had pretty good power and
great speed. That year (1996) he belted 18 homers, swiped 38 bags, scored
101 runs, drove in 72, smacked 40 doubles and batted a career best .300 even.
It was probably his best year, though in 1999, he finally joined the 20 / 20 club
that many believed he had the potential to do (24 home runs, 20 stolen bases).
Sadly, his career pretty much died off in the next couple years. He came close
a few times but never made an All-Star game. Martin was a talented ballplayer
who had some good years, but still he probably never did fulfill his considerable
potential. But in Griffey, Martin hits like one of the big boys. His power 7 might
not be on the high end as Dave Hendu, but he cranks out singles and doubles
like nobody's business, and his speed is a 7-plus. Jack-of-all-trades, Martin is

BAT don't seem to mean much. High BAT but low POW? You're not worth much. POW is so important. Your BAT can be low, but as long as your POW is 7 or higher, you're a dangerous hitter (or a "high 6" like Glass AKA George Bell)

Case in point, see Jojo (Mark Carreon) of the Giants and Harlem (Kevin Maas) of the Yankees. Jojo is BAT 9 and POW 4. I played a season with the G-Men before, and he sucked. Harlem, on the other hand, is BAT 3 but POW 10. Dude hit .406 for me and crushed 75 homers

POW >>>>>>>> BAT
Jojo has a total of 20 points. Harlem 19. Yet ironically, Jojo sucks and Harlem
is one of the best players in the entire game, probably top three if not THE. He
is an offensive nightmare, and goes to show you BAT means SQUAT. It's alllll
about the power, baby!

Defense 9 and 10's have rocket arms. 8 is pretty good and 7 is acceptable. Around 6 is where you're getting to be in murky waters. Trouble (Mark McLemore) of the Orioles in right field has the horrible rating of 4. Trouble, what an appropriate name. By the time he throws it back to the infield, Obama will be president

There are no low 7's or high 8's in defense as there appears to be with POW and speed. You can change player positions (Catcher with DEF 8, but shortshop DEF 6? In real life you obviously can't switch them, but here you can. It's cheap but hey, it's your call)
I love these little nuances... it's what help makes a game worth revisiting over and over again, discovering something 'new' you hadn't seen before, despite having played it to death already!
In fact, people to this day are reporting new things they have never seen in this game before. It's really rather bloody amazing. Like the ole baseball saying goes, "You see something new every day at the ballpark"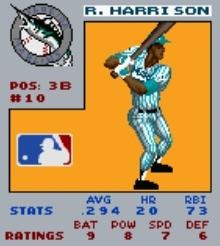 Speaking of something new, Gary Sheffield made Major League Baseball history today, as of this writing. The 21-year veteran, now age 39, hit a Grand Slam in the 2nd inning against Oakland Athletics' rook Gio Gonzalez. That historic blast marked MLB home run 250,000! Ironically, it's also ten years ago today, September 8, 1998, that Mark McGwire hit home run #62, surpassing Roger Maris' 35+ year mark of 61 in a single season

To honor Sheffield, I fired up a single game using the Marlins that same day. Batting the then 24-year-old stud 3rd, in the 2nd inning who else came up with the bases loaded? And what do you think Mr. Sheffield did? Yup, no lie. It's like the game knew. 1st pitch Grand Slam in the 2nd inning just like he did in real life, wow

Like Martin, a jack-of-all-trades here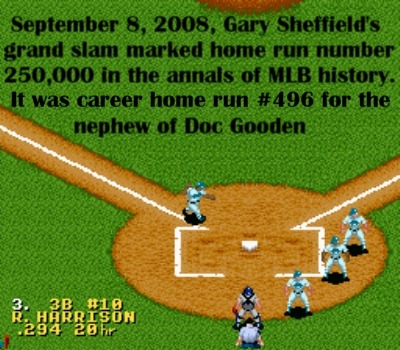 Ken Griffey Jr. MLB... it's thinking...

COLOR ME BADD

By now you surely have noticed the different color schemes in the background of the players. Adding to the fun of the numerical ratings are appropriate colors that let you know at a glance whether the player is BIG TIME, good, serviceable or maybe not so hot. It's these little touches that make video games so fun in my book. Take a look at the eight available colors

Blue is reserved for pitchers who have to hit in a National League park, OR a few
certain scrubs (quite rare this blue color, only 3 in the whole game, which ironically
all are in Atlanta). Rating total for BLUE is 16 or under. Next level is the first shade
of green, which players have if their total rating is somewhere between 17 and 20

Next shade is a leafy green like color for players with a total of 21-23 points.
The last shade of green is reserved for 24-26 points total

NOW WE'RE TALKIN'! Yellow for 27-29 and light orange for 30-32. These guys are
good to great players... often well-rounded with 7's or even 8's across the board. Or
possibly a 5 in there with a 9 somewhere to make up (hope it's their power rating!)

There are only a small handful of orange players: 33-35. And only ONE red player. No
bias here eh, Ken? [Why none at all -Ken] My bro and I used to joke about how Bonds was robbed by Griffey. Bonds should have been red too. 10 in BAT and POW, 8 in speed but 6 in defense? Sure his arm wasn't the greatest but he won FOUR consecutive Gold Gloves... you don't do that with a 6 in defense. He could easily have been BAT 10 POW
10 SPD 8 DEF 9 for a total of 37, beating Griffey by one. But hey, his game his rules!

I used to love running through rosters, seeing which teams had the most hitters who were yellow or better. A couple clubs have five guys yellow or better, but the Chicago Cubs holds the record of having six: Mark Grace (31), Ryne Sandberg (31), Sammy Sosa (33), Rick Wilkins (28), Derrick May (27) and Willie Wilson (27)


Great job, Software Creations. Brilliant!

MANAGE MODE

In the season mode you can select MANAGE where you become the skipper.
Personally, I found this option useless as I find it much more fun to actually
control the ball players but exclusive to this mode you do get to see a funny
looking manager shouting all kinds of baseball directions

OUCH! That's gotta hurt. I love cracking my foe in the ribs ;)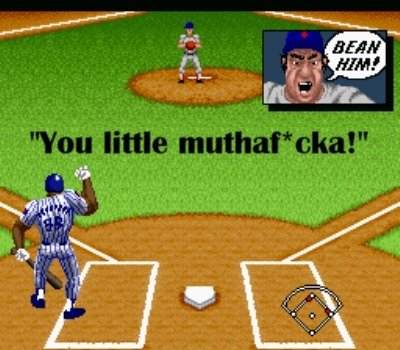 Aye Carumba! Let's move on shall we..

PLAY BALL!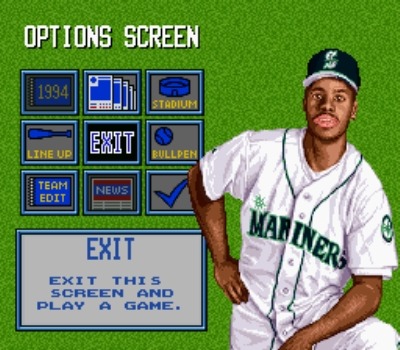 Before you decide to play ball, you have a great wealth of options. Change your starting pitcher, switch up the lineup, switch positions, pick whatever stadium you want (except in Season
of course), even Auto Fielding if you can't handle the heat of defense. I warn you, the CPU AI is not the best but more on that later




"So wha'da it be today, Champ?"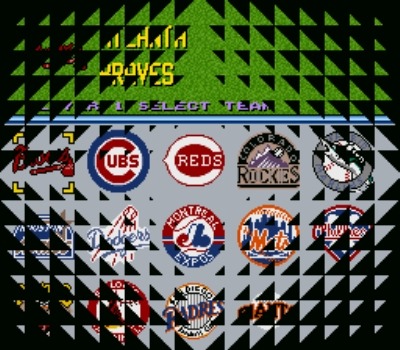 Press X to go back. I love it when games have this feature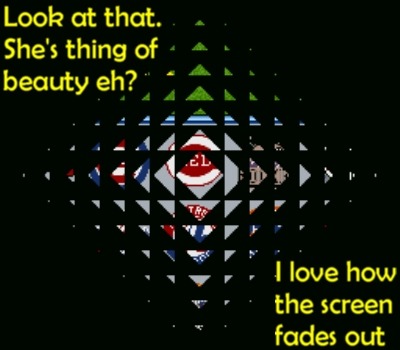 Damn technical marvel, init?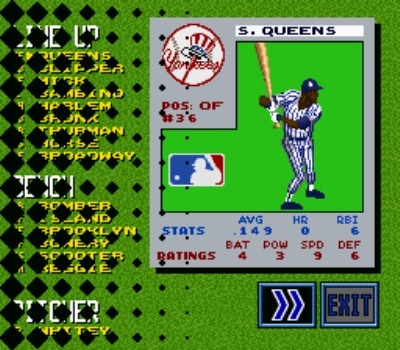 You even get the choice of scouting the opposition by checking out their players' stats. All kidding aside regarding the diamond fade-away, it IS a nice little touch. Much better than a bland fade out. Once again, it's the little things. By the way that's my favorite Yankee lineup:

1. Queens
2. Clipper
3. Mick
4. Bambino
5. Harlem
6. Bronx
7. Thurman
8. Horse
9. Broadway

Queens may appear to have "bad" ratings, but the little bastard (Gerald Williams) can hit. His speed 9 is of the high 9 variety too. Him, Harlem (one of the best players in the game) and Bronx I bring off the bench to be my starters. My 3-4-5-6-7 hitters are POWER 7 or higher... *grunts* Season stats a bit later...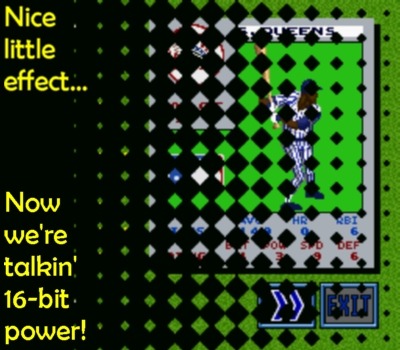 ... aaaand back to sarcasm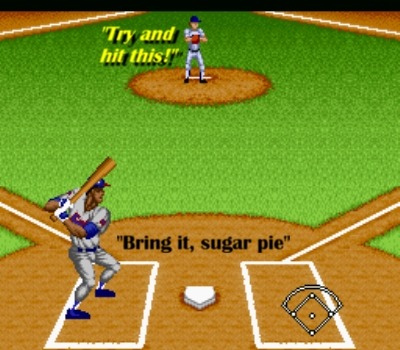 Team game within an individual battle of wills... love it

The graphics won't dazzle you, I mean, it's a 16-bit baseball game. It won't dazzle you
in the way a Donkey Kong Country might, or even a Super Street Fighter 2. But for a baseball title, it does all the animations right with great little details and not a missing
frame of action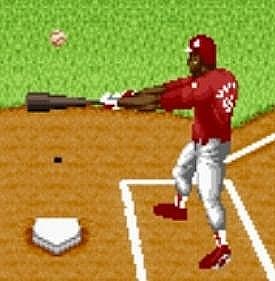 It's quite easy to make contact in this game as pitches go slow, medium or fast. They can be curved but doesn't change levels vertically. Sorry, no sliders. Purists may scoff but this means games are quick. It usually takes me anywhere from 12 to 15 minutes to finish a game. That's BLISS right there. Griffey places more emphasis on arcade-like action than it does on simulation, but don't mistake this for "MLB JAM"... it plays realistically but with heavy arcade overtones. It's the perfect balance

Yes, you can pull the ball in this game, based on when you hit the ball and on which part of the bat. A hit in the center of the bat will likely take the ball to the middle part of the ballpark. The more you get the timing down with where you wish to place the ball, the more fun it becomes. Looking for the opposite field hit or just to move the runner from 2nd to 3rd with a right-handed batter? Then you'll want to swing late, just as you would in real life. So while you can only miss a swing based on timing, rather than levels of depth (the ball travels in one plane, but at varying speeds), the batting interface is not as simple as it may initially appear

PITCHING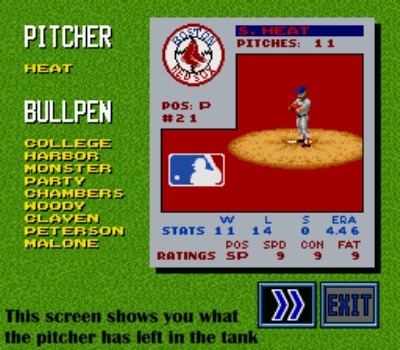 FAT is good for about 6.25 per, so Heat can throw roughly 56 pitches

Once they've reached their limit, they start to huff and puff. Best take
him out for a fresh arm. Awesome little detail right there, folks. At
first the huffing is minor, but leave him in too long and he'll start
huffing like there be no tomorrow!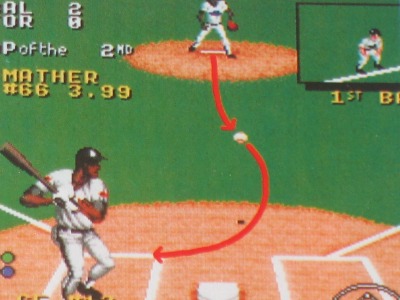 Griffey defies the laws of gravity as you can change the flight manually of a pitch once it leaves your hand. The higher his control rating, the better he's able to curve it around. It usually tricks CPU opponents and is a hard pitch to lay off of




When life throws you a curveba -- [SNIP! *sigh* -Ed.]

The infamous "curve away" pitch is plain wrong (but highly effective, mind you)

Earning a strikeout the real way is quite rare with CPU opponents. Against a bud
it's a blast mixing up the speed of your pitches to throw 'em off. The slow pitch
seems to bug people the most

You get one of three animations for a strikeout.
This one is great. "AW COME ON!" Even if he
strikes out swinging, he'll still blame the ump!

The demoralizing one... usually reserved for the
little shortshops and 2nd basemen

And here's my personal fave... in honor of Jose Canseco... the knee-basher!
Surprise surprise, most sluggers in Griffey do this when struck out

DEFENSE























Jim Edmonds would be proud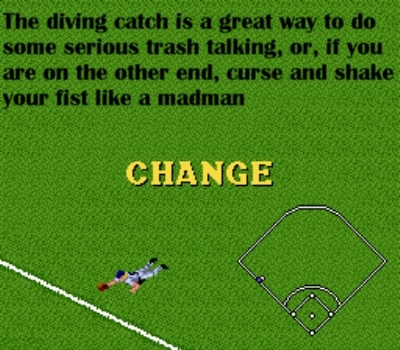 Miss the dive and you'll never hear the end of it!























None whatsoever... especially with the bases loaded in a tight game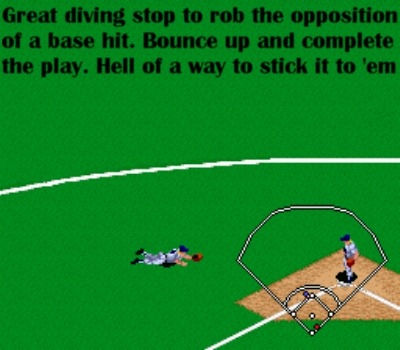 Just like the pros do it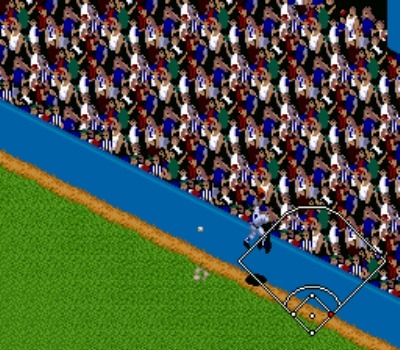 The best (and most rare) defensive play however is the wall leaping catch. There's nothing like taking a home run away from the opposition. Of course, this can only be done on short walls like Yankee Stadium for example. Players are kept realistic in that they cannot scale 20 foot walls. So while it may have lots of arcade qualities, it's done so within a realistic scope



"Hmmm, Sparky, see if there are any free agent right fielders..."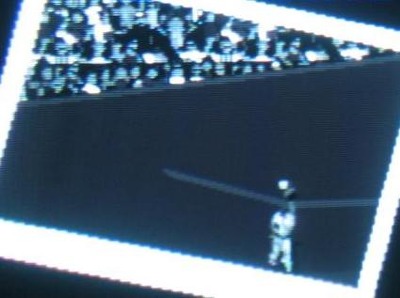 Torii Hunter is out there somewhere smiling

REALISM(ISCELLANEOUS)

In real life when the ball is hit to the outfield it can produce some crazy bounces and
caroms. Here is one of my favorites... the ball caroms off the foul pole nicely for the
left fielder. This means if the left fielder has a rocket arm (say defense of 9 or 10) and
the hitter has a speed of 4 or so, it's probably a long single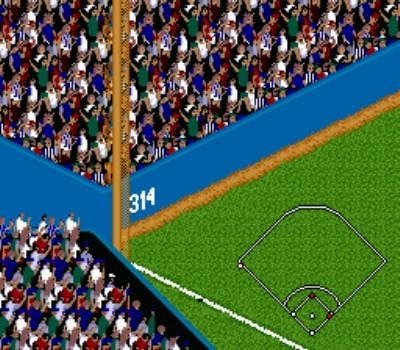 JUST FOUL! Oh the frustration, or joy! No long ball for you, playa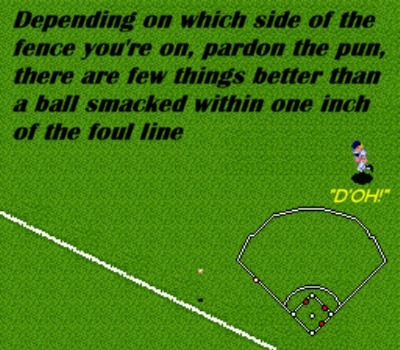 Even better when you got a couple speed demons on the bases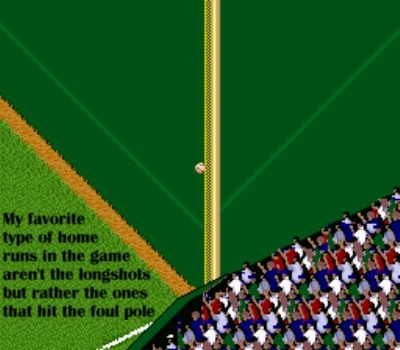 I love the *CLUNK* it makes. Fair pole or foul pole, it's still a home run!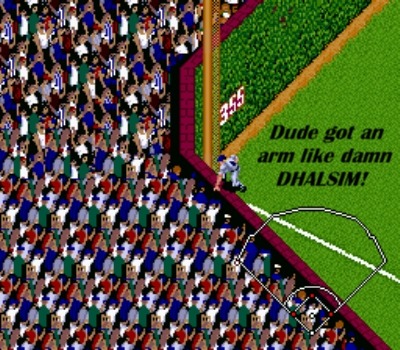 Steve Bartman rollin' over in his grave...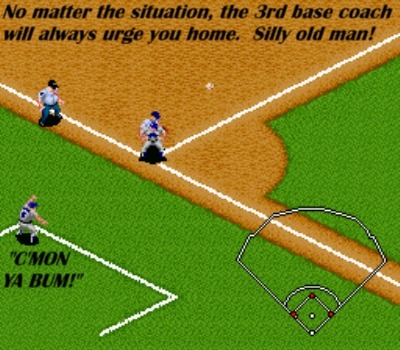 One of the many silly quirks to love about this game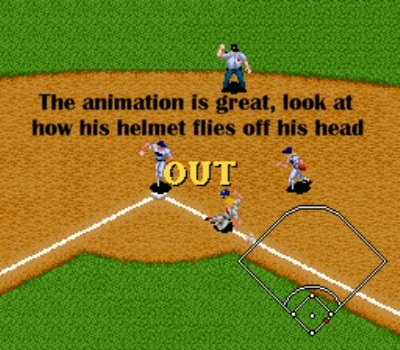 The double play turn is pretty damn realistic, watch:

The runner dives in an attempt to take out the 2nd baseman, who leaps to avoid the
hard slide. The runner to first is out by less than half a step! Nothing like a good ole
BANG-BANG double play to lift up team morale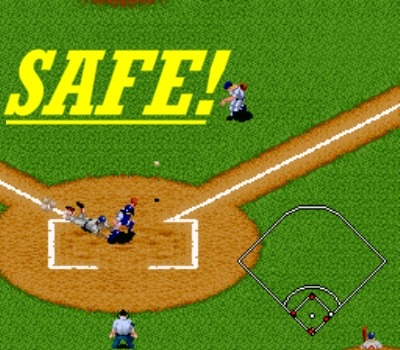 Love these close plays at the plate. Remember Pete Rose vs. Ray Fosse? OUCH!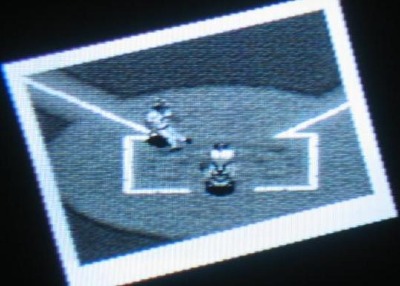 Yeah, it kinda went something like this! Unlike real life however, here the catcher always holds onto the ball, so you're out. A neat little cheat though is you can go home with the next runner as the catcher is occupied lying on the ground. Of course, I've never done that cheat before... [Sure -Ed.]

Tagging out base runners is a treat. The runner falls over like
they been shot. I love the sound effect of the collision as well.
Oddly enough, the defender takes no damage. Whenever I can,
I like to tag 'em out ;)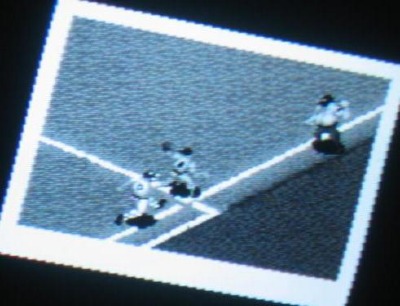 Nothing beats a BANG-BANG play, or rather, a photo finish play...


[Clean out your desk -Ed.]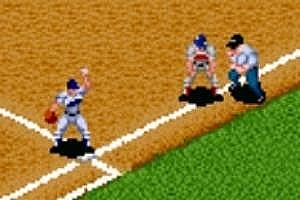 Another funny quirk to Griffey is how the runner will ALWAYS argue with the umpire after called out, regardless of whether he made the out by half a step, or fifteen. Just like a batter who strikes out yelling "AW COME ON!" at the ump or the 3rd base coach who urges you to go home when it's futile... little things like this give a game extra "personality"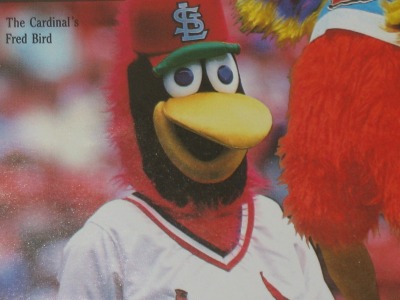 About the only thing missing are the wacky mascots!

At the end of each game you get a box score to show you the basic stats of the players' performances. I wish doubles and triples were specified... but that's just me nitpicking.
It's cool how it looks and reads a bit like your local newspaper sports page. The upper
right hand corner offers some entertaining comments. If memory serves me right, one
of them makes a reference to the Game Boy... something like "Star outfielder caught
playing the Game Boy in-between innings!" Another lovable quirk of Griffey, folks :)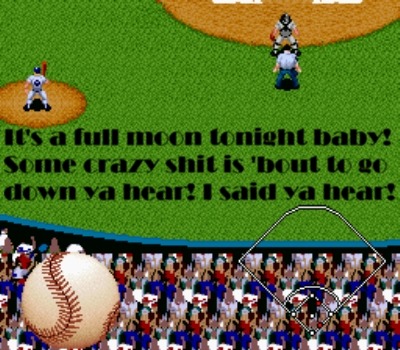 Aaaand on that note, let's move on

CELEBRATION TIME, COME ON!

Players are given one of four home run home plate celebration animations (try saying
that fast five times!) Sluggers usually get the slow walk. Non-home run hitters usually
get the hopping one, as though to say "WOW I DID IT, WEEE!" I like the arm taunting
swagger one the most... what a way to show up the opponent ;)

COMPUTER AI... AI = ACTUAL IDIOTS??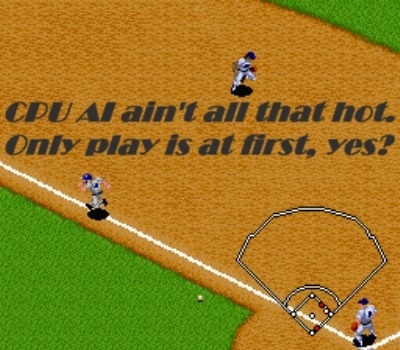 Yes, by the time the defender gets the ball it'll be too late to throw to 2nd but watch

OI! He throws it to 2nd anyway, when the only play was at 1st base. So now, instead of 1
out and a runner on 2nd, there are NO outs and runners on 2nd and 1st. Huge difference.
If you're playing with AUTO FIELDING on, these are things you'll have to put up with. On
the other side, these are things the computer opponent does. Sure, it might benefit your
cause but it's not how I want to win personally. It is a gameplay flaw, but a small one I'm
willing to overlook, and one that doesn't come into play with two human players both on
manual defense

CPU AI'S AFFINITY WITH HOME PLATE

When the bases are loaded with less than two outs, the computer is adamant about
throwing the ball home. Even when the easy play is 2nd to 1st for the inning ending
double play, nope, they'll chuck it home. Often times this leads to cheap runs and
everyone called safe, as seen here. Talk about stat padding!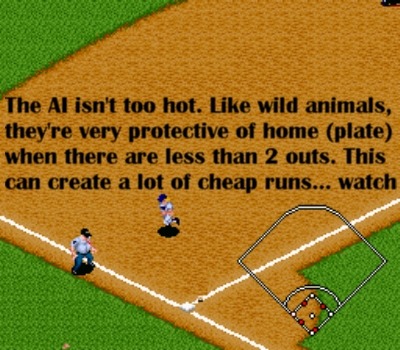 Tag 3rd base then throw to 1st, playa!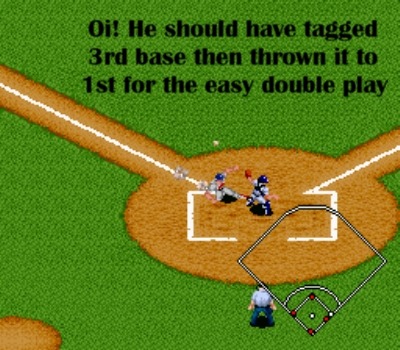 D'OH! The inning continues as the stats build on

LEMME SHOW YOU A LITTLE MAGIC TRICK...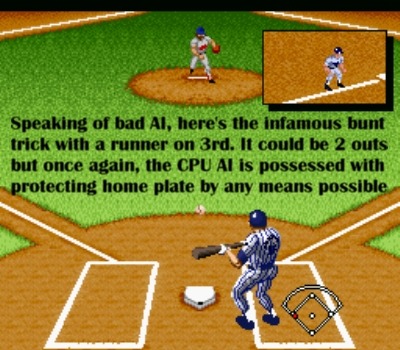 This equals either a "free" run or a free hit, depending on how the bunt goes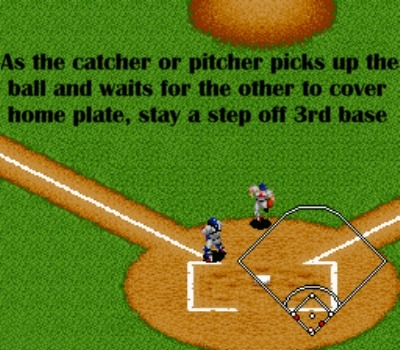 It's imperative that you remain a step off 3rd base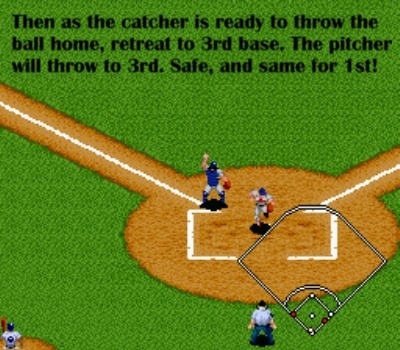 Computer AI exploitation at its best... or worst! Repeat for ultra rape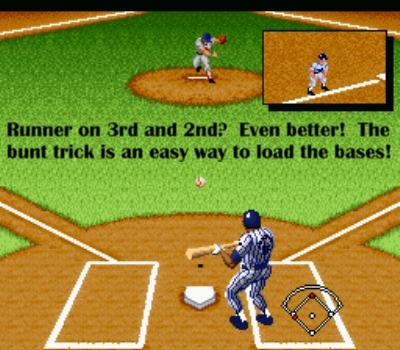 Another free run or free hit for ya in most cases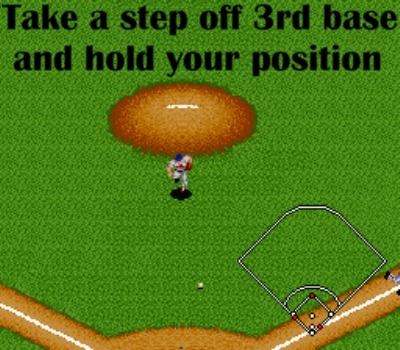 Again, staying ONE step off 3rd base is the key here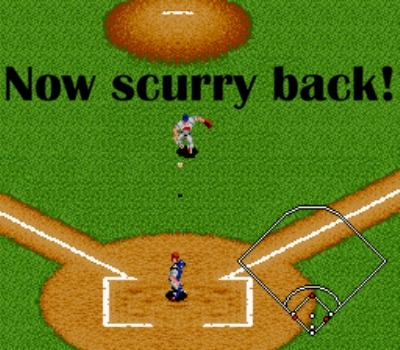 Right as the catcher receives the ball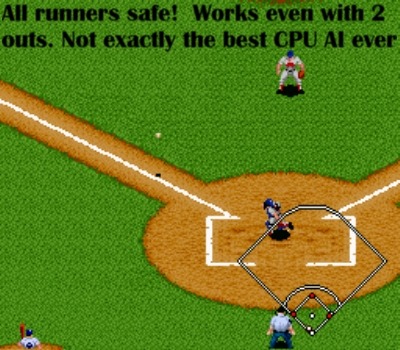 Talk about an Achilles' heel. Remember, there's no crying in baseball!

NEW YORK YANKEE SEASON STATS

This past summer, I played my 6th or 7th full 162-game season with Griffey. Once again I used the Yankees as they are an absolute powerhouse of a club. Babe Ruth might not be in the game, but Harlem on the Yankees' bench might be just as good. One season (about seven years ago) I hit a career high 80 home runs with Harlem. My goal going into this season was to see if I couldn't have five guys finish with at least 100 RBI's each. My 3-4-5-6-7 hitters all have a power rating of 7 or higher, so that was my goal. In addition to, of course, winning as many games as I could and setting all kinds of career highs. This marks my 3rd season using the Yankees. Unfortunately I lost the stats then, but here are stats of my players and pitchers from this latest season completed last summer

The Colossus of Clout, the Sultan of Swat, the GREAT BAMBINO!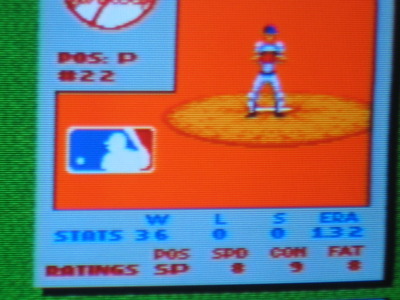 Whitey (Jimmy Key)
was my ace. He went an unprecedented 36-0! If you count the postseason, 40-0! He also had a team-high 87 strikeouts (not counting relievers) to go along with NINE shutouts. His 1.32 ERA was good for 2nd among starting pitchers and pitched over 310 innings


Pfeifle (Jim Abbott) was my #2 guy, Jimmy Key's "right hand man" if you will. [See you in hell -Ed.] Abbott, as you may know, played with only one hand. It's a remarkable story all kidding aside and on September 4, 1993, he threw a no-hitter. He pitched very well for me, posting a 31-3 record
with a 1.73 ERA, and had 8 shutouts. In one game he pitched 18 (!) innings, the equivalent of two full games!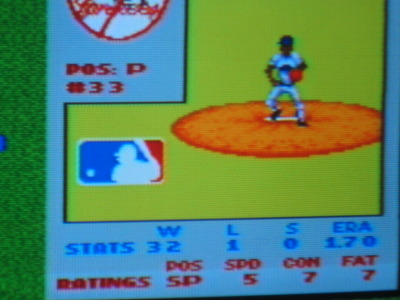 Snake (Melido Perez) was my #3 and a damn fine one, too. 32-1 with a 1.70 ERA. His first start of the season saw him giving up 7 runs, but after that he was pretty much lights out. Chalk it up to opening night jitters!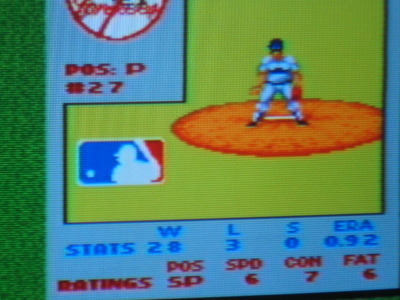 Big Soho (Bob Wickman) did the unthinkable: pitching with a sub-1 (!!)
ERA all season long. Bob Wickman was a big guy
in real life, and it's nice to see Griffey didn't cut any corners, or fat *rimshot*

Wickman retired last season. '93 was the last season he spent as a starting pitcher. The next 15 he was a reliever



Two one-hit shutout's with Soho, so close!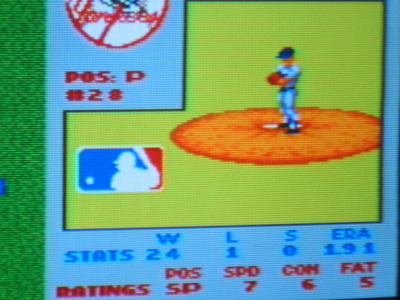 State (Scott Kamieniecki) finished 24-1 with a 1.91 ERA, proving he is indeed one of the game's best #5's. With a FAT of only 5, State was able to throw just one complete game
(a shutout no less). He's good for about 6, maybe 7 innings before huffing like a you-know-what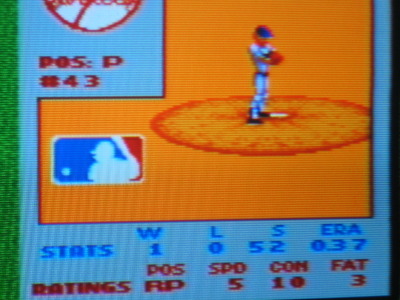 My closer was Island (Jeff Johnson), not Steve Farr or Lee Smith (career 478 saves!) Nope, Island was my man. With a speed rating of 5 and control of 10, that meant he was a strikeout machine. He was good for 52 saves and an eye-popping 0.37 ERA! He appeared in 66 games, pitched 95 innings and struck out the competition 241 times! His FAT 3 allowed me to use him for up to 3 innings if needed

STARTING PITCHER SUMMATION

Below is a chart of how my starting pitchers performed this past season


GS = Games Started
W = Wins
L = Losses
ERA = Earn Run Average (how many runs per game they give up)
IP = Innings Pitched
H = Hits allowed
R = Runs allowed
K = Strikeouts
SO = Shutout (pitcher goes the distance and gives up 0 runs)
CG = Complete Game
Team AVG = Team Average... average per starting pitcher


Bold stats indicate best performance in that category for the entire starting rotation

| | | | | | | | | | | | | | | | | | | | | |
| --- | --- | --- | --- | --- | --- | --- | --- | --- | --- | --- | --- | --- | --- | --- | --- | --- | --- | --- | --- | --- |
| | | GS | | W | | L | | ERA | | IP | | H | | R | | K | | SO | | CG |
| WHITEY | | 36 | | 36 | | 0 | | 1.32 | | 312 | | 218 | | 46 | | 87 | | 9 | | 24 |
| PFEIFLE | | 35 | | 31 | | 3 | | 1.73 | | 301 | | 240 | | 58 | | 73 | | 8 | | 15 |
| SNAKE | | 33 | | 32 | | 1 | | 1.70 | | 170 | | 241 | | 51 | | 54 | | 3 | | 12 |
| SOHO | | 32 | | 28 | | 3 | | 0.92! | | 255 | | 167 | | 26 | | 52 | | 5 | | 10 |
| STATE | | 26 | | 24 | | 1 | | 1.91 | | 175 | | 144 | | 37 | | 45 | | 1 | | 1 |
| | | - | | - | | - | | - | | - | | - | | - | | - | | - | | - |
| Team Total | | 162 | | 151 | | 8 | | | | 1,313 | | 1,010 | | 218 | | 311 | | 26 | | 62 |
| Team AVG | | 32.4 | | 30.2 | | 1.6 | | 1.52 | | 263 | | 202 | | 43.6 | | 62.2 | | 5.2 | | 13 |
I've never went undefeated with a starting pitcher in a single
season until Whitey's 36-0 mark. He had a remarkable year,
as did Soho, who only gave up 26 runs all year long, en route
to a mind-blowing 0.92 ERA! State has always been one of my
favorite #5 starters, and once again he had a superb season for
me. Island had 52 saves, just five short of tying real life single
season saves leader Bobby Thigpen, who had 57 saves in 1990.
Island boosted a 0.37 ERA and 241 strikeouts. OK, yes, I took
advantage of his SPD 5 CON 10 stuff, but I'll take it ;) Overall,
my starting pitchers had an average of 30 wins and a 1.52 ERA

YANKEE HITTERS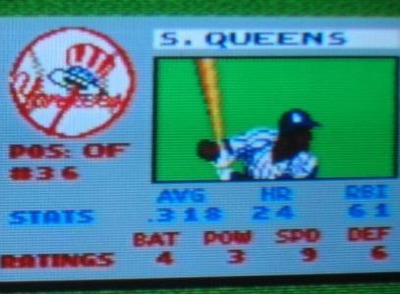 Queens (Gerald Williams) was my leadoff man. His
9 is a plus 9; I've gotten many infield singles with him. He has great pop in his bat as well, going off 24 times [in a day!?! -Ed.], but he's always hit 20+ for me in the 3 seasons I've played using the Yankees. He had eight leadoff home runs (Rickey Henderson would be proud)





Clipper (a very young Bernie Williams) followed Queens. Though not a spectacular player, he's solid and steady with above average all-around play. 27 homers is a career high for him. The switch hitter is a monster from the right side. Don't let that power 5 fool ya, and he's got a good arm!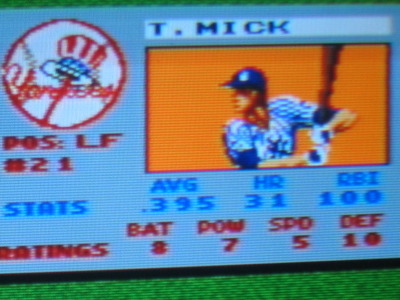 Mick (Paul O'Neill) was
a beast for me. With the second highest batting average on the team, and a cannon of an arm plus a high 5 in speed, everything he did he just about did right, and then some. His power 7 is weaker than some other 7's but he's always good for 30-plus jacks. Just made 100 RBI's too, sweet



Mick's always good for 30-35 home runs and 100-105 RBI's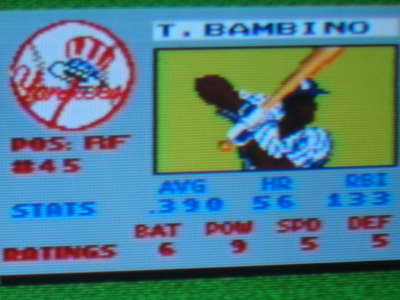 Bambino (Danny Tartabull) as always had another strong season for me. My cleanup hitter, he did just that. He's 3rd on the team in batting average and 2nd in home runs and RBI's. That power 9 is 9+ folks, believe that! Named after Babe Ruth himself, you know he can't be too bad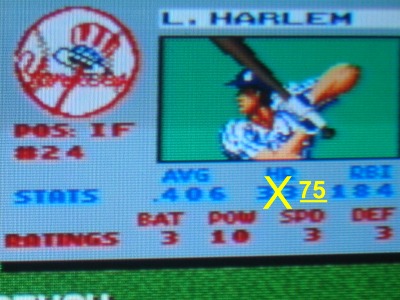 Harlem! (Kevin Maas). One of the best hitters in the game. Griffey has an odd glitch where the guy with the most homers at the All-Star break has his number reset. I was at 42 at the break and finished with 33. Do the math and Harlem hit 75 bombs. He led the team with a .406 average and a whoppin' 184 RBI's. Harlem is a legend in this game



My career high with him was 80 home runs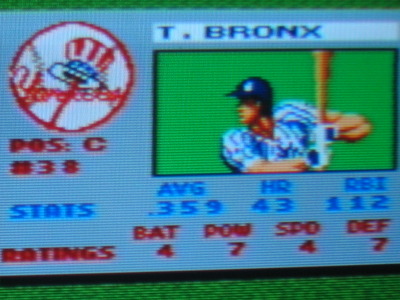 Bronx (Matt Nokes) is another bench gem turned starter for me. That power 7 is 7+ for sure. With Bambino and Harlem snatching up all the RBI's, it's amazing Bronx was still able to knock in 112 himself. In the 3 seasons
I have played with the Yankees, Bronx is always good for 41-45 homers and 110-120 RBI's. What a weapon to have at the sixth slot!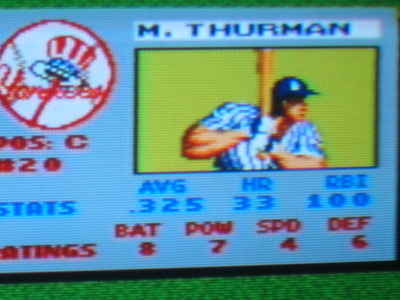 Thurman (Mike Stanley) has never been able to reach 100 RBI's, with Mick, Bam, Harlem and Bronx stealing them all. Finally, I did it: 100 RBI's even and FIVE guys straight who have 100 or more -- WOW! To have him hitting in the lower 3rd of the lineup shows you how strong the Yankees are. His 100th RBI came on the last day... what a way to cut it close!


"Five Guys" with 100 or more RBI's woo-hoo!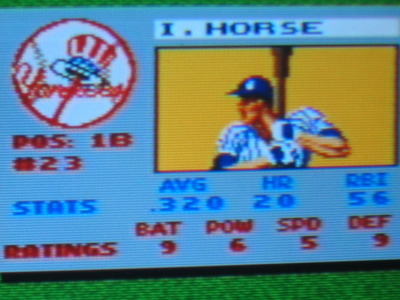 I've not been able to hit
20 home runs with Horse (Don Mattingly). Had two seasons of 19. Finally, 20! It came during the last week of the season no less. Perfect example: BAT 9 POW 6 = good but not great, high stats. BAT 6 POW 9.... now we're talking. Power is so much more important. Congrats Horse on finally hitting the big 2-0, 'bout time!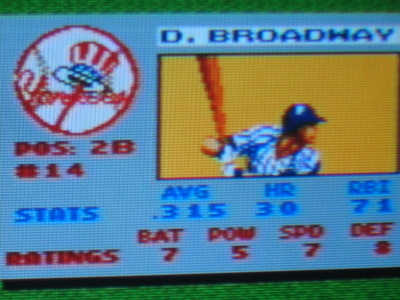 I had a career season with Broadway (Pat Kelly). He's always been good for 20-25 home runs, so that power 5 is 5+ no doubt, but 30 home runs? The power came from out of nowhere. His speed 7 however is one of the worst speed 7's I've seen. Still, 71 RBI's to boot, what a season for him. With him hitting 30, I had SIX guys who had 30 or more. Bravo, Broadway


"BROADWAY'S DARK TO-NIGHT...."

HITTING STATS

BA = Batting Average
HR = Home Run
RBI = Runs Batted In
MH = Number of multi-hit games (2 hits or more)
3H = Number of 3-hit games
4H = Number of 4-hit games
5H = Number of 5-hit games
MHR = Multi-Home Run games (2 home runs or more)
GS = Grand Slams (home run while bases are loaded)

Team Total = Team Total
Team AVG = Team Average
Team APG = Team Average Per Game

Not all categories are applicable to the above three, of course

Bold indicates a team high

| | | | | | | | | | | | | | | | | | | | | | |
| --- | --- | --- | --- | --- | --- | --- | --- | --- | --- | --- | --- | --- | --- | --- | --- | --- | --- | --- | --- | --- | --- |
| | BA | | HR | | RBI | | HITS | | RUNS | | MH | | 3H | | 4H | | 5H | | MHR | | GS |
| QUEENS | .318 | | 24 | | 61 | | 236 | | 100 | | 76 | | 14 | | 9 | | 0 | | 2 | | 3 |
| CLIPPER | .316 | | 27 | | 78 | | 232 | | 100 | | 70 | | 19 | | 4 | | 1 | | 3 | | 0 |
| MICK | .395 | | 31 | | 100 | | 284 | | 117 | | 90 | | 22 | | 14 | | 1 | | 1 | | 1 |
| BAMBINO | .390 | | 56 | | 133 | | 276 | | 136 | | 84 | | 26 | | 12 | | 1 | | 4 | | 3 |
| HARLEM | .406 | | 75 | | 184 | | 276 | | 145 | | 87 | | 26 | | 11 | | 3 | | 12! | | 6! |
| BRONX | .359 | | 43 | | 112 | | 236 | | 90 | | 73 | | 21 | | 7 | | 0 | | 2 | | 1 |
| THURMAN | .325 | | 33 | | 100 | | 209 | | 71 | | 58 | | 14 | | 3 | | 0 | | 2 | | 2 |
| HORSE | .320 | | 20 | | 56 | | 200 | | 72 | | 62 | | 14 | | 4 | | 0 | | 2 | | 1 |
| BROADWAY | .315 | | 30 | | 71 | | 189 | | 64 | | 55 | | 16 | | 2 | | 0 | | 1 | | 2 |
| | - | | - | | - | | - | | - | | - | | - | | - | | - | | - | | - |
| Team Total | | | 339 | | 895 | | 2,138 | | 895 | | 655 | | 172 | | 66 | | | | 29 | | 19 |
| Team AVG | .349 | | 37.7 | | 99.4 | | 237.6 | | 99.4 | | 72.8 | | 19.1 | | 7.3 | | | | 3.2 | | 2.1 |
| Team APG | | | 2.1 | | | | 13.2 | | 5.5 | | | | | | | | | | | | |
Another hi-octane season with the Yankees. I averaged 5.5 runs per
game, 13.2 hits per game and 2.1 home runs per game. Five guys
with 100 or more RBI's. Six guys with 30 home runs or more. All
nine players with at least 20 home runs. A whoppin' team batting
average of .349, with each player averaging nearly 38 homers and
100 RBI's... what a season. I love this team, and I love this lineup

OTHER RANDOM STATS AND POSTSEASON PLAY

These are how many times the ballplayers hit back-to-back jacks:


-Queens/Clipper: 0
-Clipper/Mick: 1
-Mick/Bambino: 5
-Bambino/Harlem: 6
-Harlem/Bronx: 4
-Bronx/Thurman: 3
-Thurman/Horse: 2
-Horse/Broadway: 2
-Broadway/Queens: 1


A total of 24 times, and every possible combination sans one




-In Game 122 of the season, I had my one and only back-to-back-to-back moment. It came against the Rangers' ace Mix (Kevin Brown). Mick-Bambino-Harlem. Home runs number 21, 45 and 60 respectively. Interestingly enough, that was also the game where Harlem hit 3 home runs in one game -- the only time this season I've been able to do that. He had homers 60, 61 and 62 that day. Sorry, Roger Maris!




-Inside the Park homers... I only had four all season long. One with Thurman, Harlem and two with Queens. Harlem and Queens each had one in the same game vs. who else but Boston
(their outfielders have bad defense and subsequently, very slow)




-Longest game of the season went 20 innings. I was at home against the Orioles. Horse (Don Mattingly) sent the crowd home happy with a walkoff home run




-Longest win streak was 44 games... undefeated from August 25 to October 20 (!)




-I had two triple plays during the season: one in Oakland, the other against the White Sox




-Computer starting pitchers are automatically yanked after giving up 5 runs. My personal best was booting a pitcher after just SIX pitches! I've done 8 and 9 a bunch of times, but never six




-Harlem had three games where he drove in 7 runs, and one game with 9! In 4 games, he had 30 RBI's. Man's a freakin' beast. It took me 39 games to get him to 50 RBI's. Unfortunately, at the All-Star break Harlem was at 99. Ironically, first game back, first at-bat no less, solo home run for RBI #100. I think Harlem was pissed that he missed the mark prior to the break because over the next 10 games he had 20 RBI's




-In postseason play I went 11-1. In 12 games I scored 102 runs and had 99 hits, 32 of which went the distance


(Hits / Home Runs / RBI)


1. Queens: 26 / 1 / 4
2. Clipper: 24 / 2 / 5
3. Mick: 28 / 2 / 15
4. Bambino: 23 / 9! / 29!
5. Harlem: 24 / 5 / 16 ("Totals" of 300 hits, 80 home runs and 200 RBI's for Har, nice)
6. Bronx: 22 / 3 / 8
7. Thurman: 30 / 5 / 11
8. Horse: 19 / 3 / 9
9. Broadway: 13 / 2 / 5


As usual (with this being my 3rd 162-game season with the Yankees), Bambino goes absolutely nuts in the playoffs. It has happened three seasons in a row now, where once the calender hits October, Bambino and Harlem switch roles. Harlem had a nice postseason, but Bambino is Mr. October. He had two 7-RBI games and cranked out an amazing 9 homers in just 12 games (3
home runs in one game). 29 RBI's in 12 games!


Only my World Series opponent, the St. Louis Cardinals, were able to pull one over me. Overall,
I outscored my opponents 102 runs to 32... a whoppin' 70 run differential





-In other news, in '96 my bro and I shared a 162-game season with the Giants (we were big fans of Barry Bonds). Bonds hit an unprecedented .492 that season. I blame my bro as toward the end he had some 2-5 games with Bonds, heh. I've never got close to .500 again. Bonds was on steroids that season... sorry, that was bad




-I've only hit the cycle (single, double, triple and home run in the same game) a small handful
of times. They came with Barry Bonds, Jeff Bagwell, Al Martin and Harlem (Kevin Maas)

(EVEN MORE) NOTABLE SEASON AND POSTSEASON STATS




















My first 30-hit game of the season, HUGE 9th inning there (boxscore below)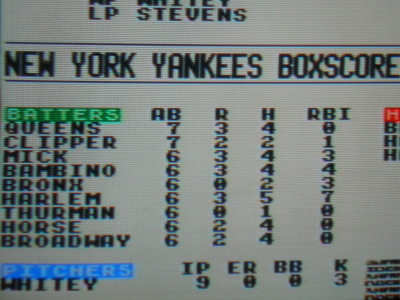 Harlem went deep twice, had 5 hits and 7 RBI's!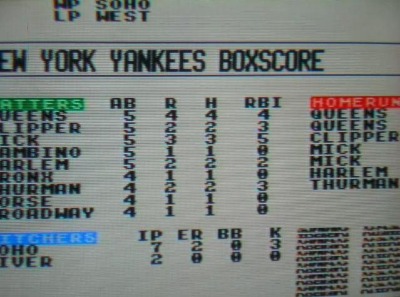 I've had six home runs
hit in a game before,
but never seven until
now! Queens and Mick
both went deep twice,
and everyone had at
least one hit and one
run scored. Talk about
an offensive explosion!




Must... get... eight... in... one... game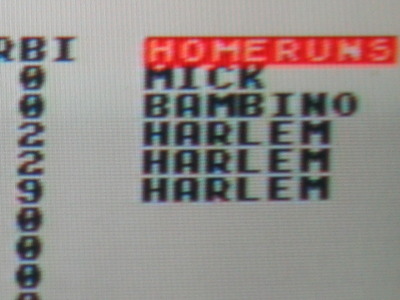 Harlem the Monster does a hat trick and a career high 9 (!) RBI's



Just playing Griffey for fun on the PC and hit the cycle with Harlem, plus an extra home run for icing on the cake (single, double, triple, home run)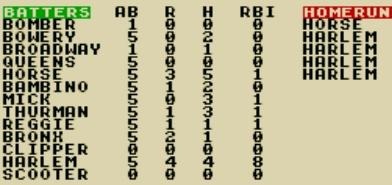 Look at this. My first time ever hitting four home runs in one game with the same batter, no cheating I promise. OK, a couple of them were cheapies (Yankees' short porch) but it's four homers all the same. 8 RBI's to go along with it. The man is a fukken beast I tells ya, BEAST!





We sure as hell did! Best offensive game of my life -- what a rush!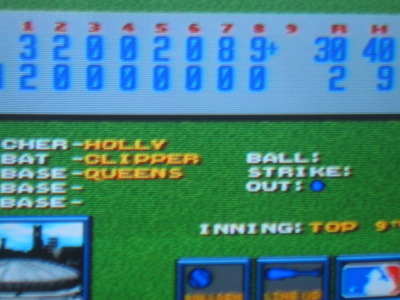 Game 2 of the ALDS (American League Division Series). 30 runs, 40 hits. A career high for me in either category, this game was mind-blowing and goes to show you you do see something new every time you play. I thought the 7th inning with 8 runs scored was huge but the very next inning I went off for 15 runs, FIFTEEN! In that record-making 8th inning I cranked out 15 hits, 12 of which came consecutively. First pitch after first pitch I nailed single after single, double after double, BANG BANG BANG, it was one of the most incredible, goosebump-inducing moments I've ever experience with a video game. 12 straight hits, 15 total hits in the inning, 15 runs! Bambino belted a Grand Slam in that inning and Bronx and Thurman went back-to-back, jack! I was literally laughing like a crazy '70s Japanese mad scientist after about the 7th straight hit. I mean, the hits just kept coming [Oh dear -Ed.] Ironically, my brother happened to walk by and witness pretty much all of it. He kept saying "WHAT THE" and "HOLY SHIT" after each hit which made it even funnier than what it was. I think the Minnesota Twins just threw their hands up in the air and gave up. Hey, someone come into your ballpark and put up 40 hits and 30 runs, you'd quit too. I've played over 1,000 Griffey games and my previous high in runs was something like 28 and hits maybe 32? Then on an innocent Sunday morning I fired the game up and made history... what a game. Madness I tells ya, MADNESS!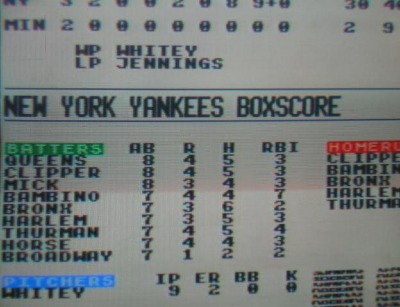 The remarkable box score, Bronx with a career high SIX hits. Eight players had FOUR or more hits, everyone had at least two RBI's and eight players scored at least THREE runs. Talk about one for the record books. Plus Bambino with a career high 7 RBI's. 5 guys with FIVE or more hits... it was just amazing. The best offensive game I've ever played, and I doubt I'll ever top this one. But then again, who knows...

The best offensive game I ever had, what a thrill this was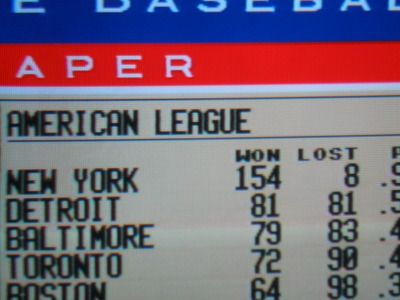 My Yankees finished the season an incredible 154-8, posting a winning percentage of 95%. I've always lost 10-12 games so this was another personal best. I only lost back to back games once. Opened the season winning the first 27. Had a 33-game win streak June 10-July 16, another one July 19-August 23 and a career high 44-game win streak August 25-October 20. Boston was 64-98, 90 games back!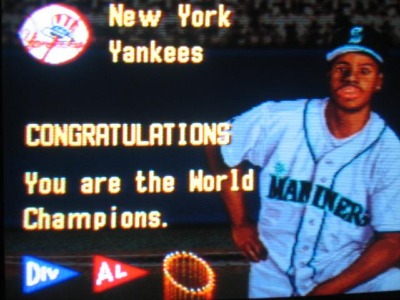 "WEEEE AAARREE THE CHAAAAMPIONS..."

THE PERFECT GAME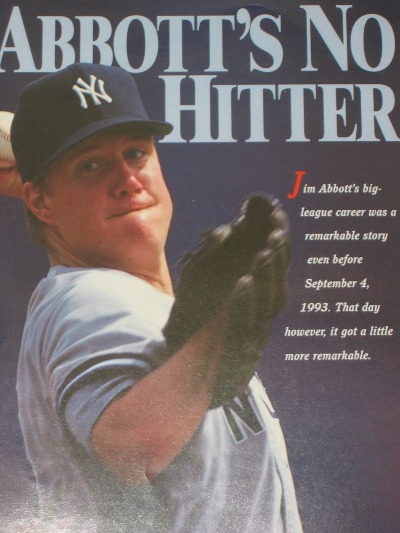 Over 1,000 games played in Griffey and only once ever have I been able to throw a perfect game. I've come close a few times (Wickman had two 1-hit complete games this past season) but nada. It's nearly impossible just as it is in real life. My one and only perfect game came in '96, some odd dozen years ago. I was so proud and thought "Eh, surely I'll have another one, how hard can it be?" I'm still waiting, it turns out. I might never do it again, just like the Majors where some things only happen once in a lifetime. Taken it to the 7th or 8th inning with a perfect game intact, shaking like a leaf because of how rare I know it is to throw a perfect game. Then second guessing yourself on that pitch selection just like the pros do upon giving up their no-no bid. It's only a game... or is it? [Gettin' hard to tell -Ed.]

Matt Nokes, Bronx in the game, called and caught Abbott's no-no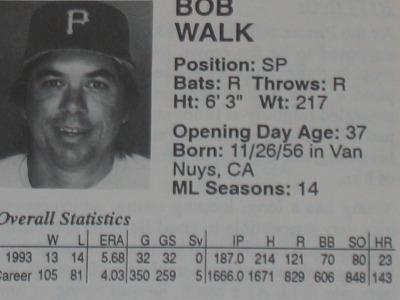 Here's da man himself. The other day I actually fired up a single game with the Pirates. I wanted to see if the stars would align one more time with Mr. Walk. I took a perfect game into the 8th inning with 1 out, and with five measly outs to go, the perfect game was finally broken up. Bob Walk ended up having a 2-hit shutout. So close, but no cigar. Below are some more statistics of Jim Leyland's "favorite son"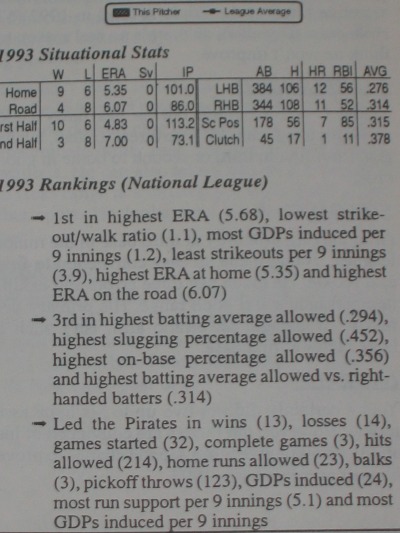 Such strange stats... good and bad galore!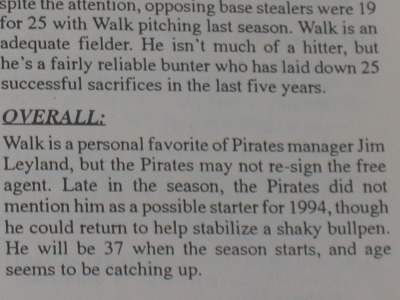 Here's to ya, Bobby boy

LIFE AT YANKEE STADIUM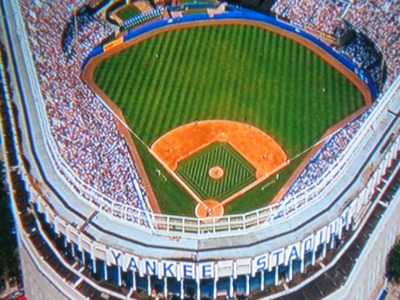 "And folks, what a gorgeous day it is at the ole ballpark"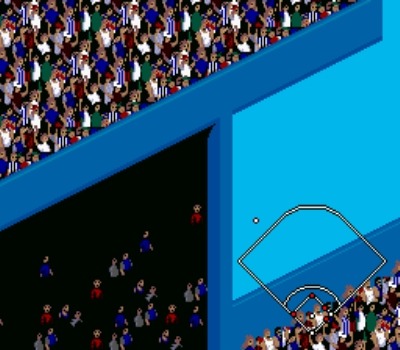 *SOMEWHERE HIGH UP IN THE STANDS*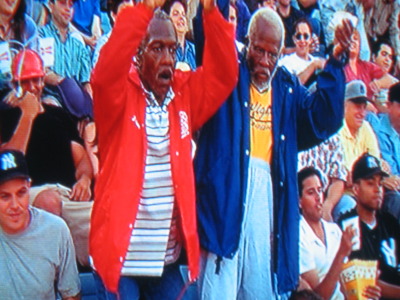 "OH easy now Ray you know we ain't twenty five thirty five year old no mo'!"


"Ah shaddup Claude. You know this still in don't cha. Ole Ray still hip, yes he is, ole Ray still hip!"


"More like old Ray's gunna need a new hip!"


"More like Claude betta SHUT THE HELL UP!"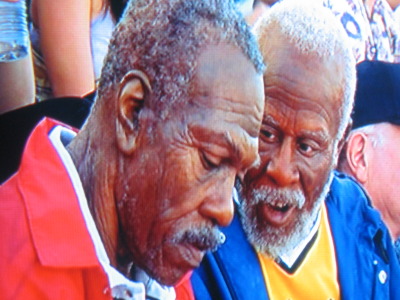 "Haha, fifty years and we still goin' at it. Look at you Ray. Old dried up, crusty, nasty-ass looking fuck!"


"That's where you wrong. Coz I got plenty left in the ole tank. Today, Yankee Stadium. Tomorrow, Ray's BOOM BOOM ROOM"


"Man you been talkin' that up for fifty years, and it's as real as Bigfoot, Ray!"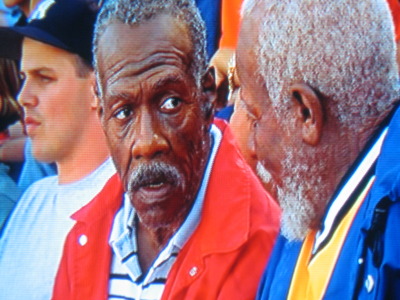 "Nuff 'bout me, let's talk about you"


"Alright, wha'cha wanna talk 'bout, Ray?"


"The plan"


"Plan? What plan Ray?!"


"The one you got brewing"


"I ain't brewing SHIT Ray! I ain't got no plan!"
"Yes you do, I know it, I KNOW IT!"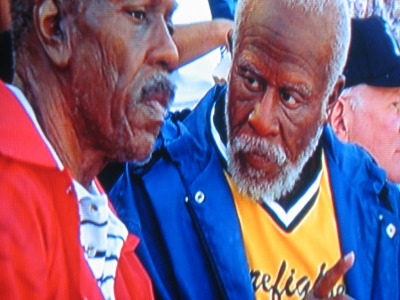 "Listen here Ray. You gawd damn lost your mind Ray!"


"MMMM hmm. I know you got a plan and I don't care what you say, coz I know you better than that, you sly little motherfucka you"


"MOTHER WHAT! Ray don't make me slap the hell outta ya now. For the last time, I ain't got no plan Ray. We out Ray,
we OUT!"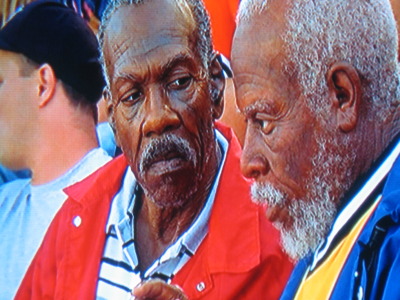 "OH we out, yeah we OUT. That all ya gotta say?"


"Don't talk to me Ray"


"OUT MY ASS!"


"Quit talkin' Ray!"


"I'm just gunna sit here, look at your old black
ass and wonder... what you got up that sleeve of yours, coz I know you got something up that sleeve
And I'll sing too while I be lookin' at you. UP-PEEER ROOOOM"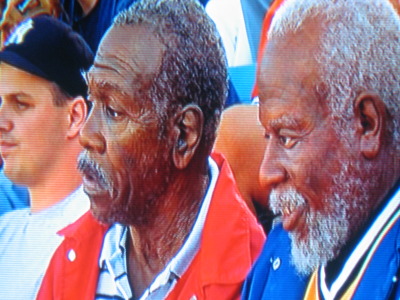 "You some thing else all right, Ray.... you some thing else... and it's NO DAMN GOOD"


"Wait wait shut up. That Harlem guy is up. He all over the radio! They say he's the next Babe Ruth. One more home run and he will be the new king. Whoever catches that ball I'll kill him for the money!"




















"OHHH SHIT RAY THE BALL IS COMING YOUR WAY, RAY!"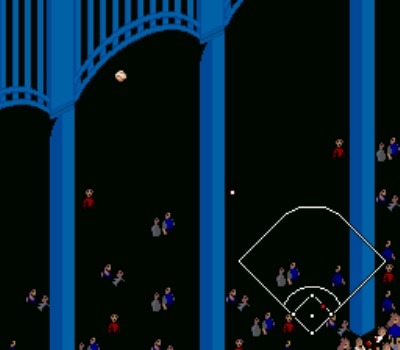 *CLUNK*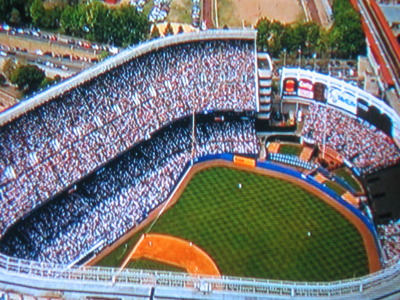 "AW RAY! THE FUCK WRONG WIT YOU!?!"


"The fuck wrong wit me, the fuck wrong wit you!"


"You just dropped the new home run record ball that would have set us for life RAY!"


"See now if you just told me your plan, all of this could have been avoided!"

"AW FUCK THE PLAN RAY! BETTER YET, FUCK YOU RAY!"

WHAT THE CRITICS SAID

Although the game didn't receive outstanding scores by the "professionals"... ask any serious SNES fan what the best baseball games are on the system and more likely than not you'll hear the original Ken Griffey Jr. game come up. It's sort of one of those games that didn't get a whole lot of love at the time of release from the "professional critics," but the fans ate it up. It was in
the Nintendo Power Top 10 for nearly one year; in the top three for its first several months often holding its own against the likes of The Legend of Zelda: Link to the Past, NBA Jam and Super Metroid, even beating some of those titles. Even to this day the game has a huge legion of fans. And perhaps really, that's the greatest praise of all

Here are what some baseball people had to say about Ken Griffey Jr. the baseball player:

"February 10, 2000, will go down in Reds history and in baseball history as the night
when one of the biggest trades in the history of our sport took place, when the Michael
Jordan of baseball came home to Cincinnati. This is a general manager's dream. In
baseball history, Babe Ruth was traded. Roger Hornsby. And now, Ken Griffey Jr."

-Cincinnati Reds General Manager Jim Bowden
"We love Ken Griffey Jr., because he is everything we would like to be. He's young, he's good-looking, he's got the best smile in the world, and he's a heroic athlete. He is a shot
in the arm for baseball. He is what this game needs right now. He is creating excitement
and making headlines just by his presence. There hasn't been anyone like that since... Reggie Jackson"

-Hall of Fame Outfielder Reggie Jackson
"The butterflies will never go away when I watch him. I'm proud to see him play. Then, to see him play as well as he's doing, that's a dream come true"

-Ken Griffey Sr.
"I was there in his prime. He was special. And fun to watch. The first time I saw him was in Arizona for spring training. He would hit these towering fly balls that would carry and carry, and go out of the ballpark. I just figured it was the thin air in Arizona. Then he kept hitting those towering fly balls wherever we went, and I realized it wasn't the thin air, it was him. And it was so effortless"

-Lou Piniella, Griffey's former manager in Seattle
"His swing is absolutely perfect"
-Brady Anderson, former Baltimore Oriole
"I've seen it before when a No. 1 draft pick comes to the big club right after he's drafted, and the kid is nervous, he gets in the cage, pops up a bunch of balls, swings and misses at a couple because he's trying to hit it so high and so far because he doesn't feel like he belongs. That wasn't the case with Junior. He got in the cage, and he was kind of carrying on a conversation with the media while he was hitting. The first 25 swings, he just hit line drives to left field. He didn't overswing one time. Then he hit balls up the middle. Then he took a break, came back loose, and started hitting balls into the seats. I looked at [veteran Mariners] Harold Reynolds and Alvin Davis and said, 'It looks like he belongs'

When he came to camp in 1989, he had no chance to make the team. But he got a lot of at-bats early that spring because a lot of veterans don't like to play a lot early. After 20 games, he wasn't just the best player on our team, he was the best player in the league that spring. The Mariners basically said, 'We don't want this to happen, we don't want to rush him, we don't want him to make the team.' So they started running him out there against every elite pitcher, against all the nastiest left-handers they could find in hopes that he would stop hitting, and they could send him out

It never happened"

-Scott Bradley, Princeton's baseball coach, former teammate of Griffey
"It is easy to look at 600 and wonder what might have been with improved health. But it's easier and more fun to remember Griffey at his best, a wondrous athlete who streaked through the outfield, climbed an outfield wall and made a catch that only Mays could make, then the next inning, hit a ball to places that very few players could reach. Six hundred home runs is a tremendous milestone, but Griffey at 100, 200, 300 and 400
was simply breathtaking"

-Tim Kurkjian, ESPN Baseball Analyst
"It's emotional to see the kid I saw running around with my sons in the clubhouse in Cincinnati hit his 600th home run. I'm sorry it came against us ... but it's emotional
and it brings back a lot of memories"

-Tony Perez, Hall of Famer, former teammate of Ken Griffey Senior, Marlins executive
"There's so much difference in what Griffey Jr. accomplished and what he will continue to accomplish than what Barry Bonds did. Barry Bonds will forever be tainted, long after he's gone. I don't think people truly cared that he hit 756 home runs. I think baseball fans will look at what Junior did and be quick to point out that he did it the right way, as opposed to some other guys who didn't"

-Marty Brennaman, Reds' radio man
"Congratulations on hitting your 600th home run. You know you've always been a favorite of mine. I played with your dad, I know him very well, but you know I've always said that if anybody was going to reach 700 ... I thought you had an excellent chance. Of course we can't, we don't know how injuries played a very big part, but congratulations to reaching 600"

-Hammerin' Hank Aaron, 755 career home runs
"My dad was the guy I wanted to be like. If you look at his career -- he had a pretty good career -- that's the guy who looked like me, acted like me, took care of me. I didn't think I'd be better than him. He said I would be. I was like ''Yeah, right.' I was 14 when he said it. Sometimes Dad does know best"

-Ken Griffey Jr.
"If baseball had its own Mt. Rushmore, it would be Babe Ruth, Willie Mays, Hank Aaron... and Ken Griffey Jr."

-Anonymous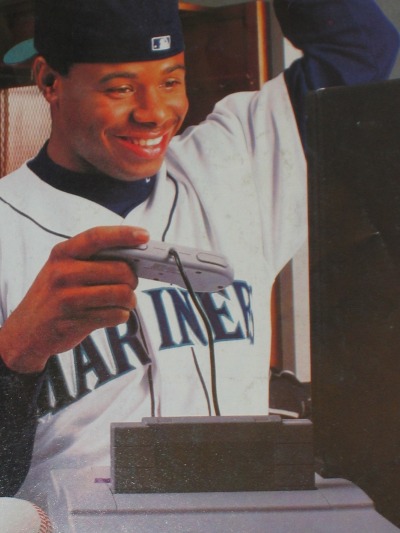 CLOSING THOUGHTS

I was at a BBQ party with my cousins on a lazy Sunday afternoon in '96 when my dad told me and my brother those ten magical words every kid hopes to hear: "Let's go to Toys R Us and buy that game." I had called them that morning and Griffey was marked down to $29.99. We left the party early to claim the game we had wanted for two years. My bro and I played seasons together and single games against each other. The game was like crack. Our friends were into it as well. One fond memory I have is of our friend Ben driving down to our place that same year (he was the oldest one in our out-of-town gaming group; he just started college at the time and being the oldest, I sorta looked up to him) and the three of us spent the whole night playing Griffey MLB against one another. It was the first time anyone in our gaming group drove down without their parents, so
it was special in that own right as it marked the beginning of a new era. Ben was sort of the ringleader of our group; a group that goes back to roughly '86. Ten years later, Ben was the first one to make the sole two-hour voyage. By '96 I'd just entered my teenage years, my bro 15 and Ben not far from 20... so we weren't exactly kids anymore. Yet that night the three of us played Griffey with the exhuberance, joy and wide-eyed innocence of six-year-old children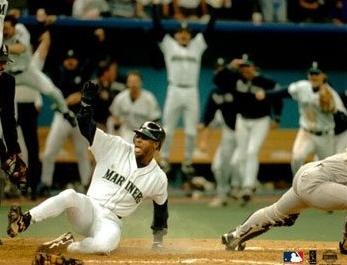 Griffey's graphics are large and arcade-like. There's great attention paid to details, from the team's name on the uniform to the nicely replicated ballparks to even the chalk line in the batter's box disappearing after six innings. No, the visuals won't wow you, this is 16-bit baseball after all, but the players look good and animate well. Soundwise, you don't get a whole lot of themes. During the game the same theme loops over which may annoy some folks but
I think it's pretty damn catchy myself. Steve Palermo's digitized voice adds a cordial touch to the proceedings. Each game opens with an abbreviated version of the Star-Spangled Banner. During the 7th inning stretch, an abbreviated version of "Take Me Out to the Ball Game" plays. When a team starts a rally, various rally-esque themes play to add to the atmosphere. Of course you get the choice to cut them off, but they're nicely executed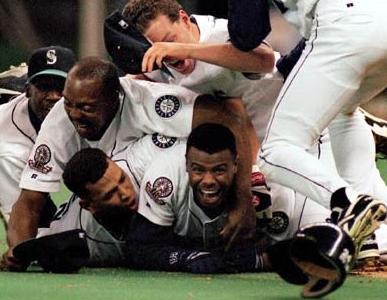 The gameplay is where it's at. It's largely an arcade-ish baseball experience, but with enough simulation touches where it's not "outlandish" like a Super Baseball 2020, nor "super serious" like a Tecmo Super Baseball; all solid baseball titles in their own right, but Griffey combines the perfect combination of arcade and simulation in my book. Sure, diehard purists may be disappointed in the lack of pitches available, a lack of overly comprehensive stat-tracking and what have you, but there's plenty of other baseball games for ya. True, more often than not you cannot score from 2nd base on a single (as you can in real life) but if you lead off with a fast guy and do the ole hit and run, a slow single to center field can score the guy, as I did a few times with Queens of the Yankees. That never fails to satisfy. Scoring on sac flies are also hard, but possible. They're very minor flaws from where I sit. Ultimately, it boils down to how fun a game is, and for me, none are as fun as Ken Griffey Jr.

I love how one game takes anywhere from 12 to 15 minutes. I love the simple yet deeper than you might initially think batting interface. I love the player ratings and the fun color schemes. I love the foul pole home runs and the game-saving head-diving catches. I love Harlem [Easy there tiger -Ed.]. I simply love this timeless game. Don't forget the sneaky player name edit mode, either. I could go on and on about how great this game is, but I think I already have. The day I was reeled right back in with regards to everything Super Nintendo; January 17, 2006, I wasted no time to reclaim one of the classic beloved titles from my childhood (it only took 24 hours or so). It's a bit ironic... to this day ole Ken Griffey Jr. is still playing in the Major Leagues [Chicago White Sox to be precise -Ed.] and like The Kid, I haven't quit either -- I still play and I still love Griffey now as much as I ever have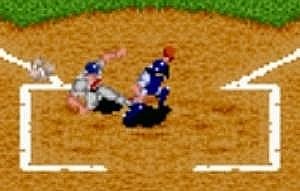 Baseball fan? Got a Super Nintendo still? Ken Griffey MLB is a must-own. I'd even recommend it to casual baseball fans as the arcade-like play may well cater to that crowd as well. A sequel, Ken Griffey Jr.'s Winning Run, was released in the summer of '96. As many sequels often do, it failed
to capture the charm of the original. To this day folks all over the world are still playing AND talking about this game... either the game must be epic, or we all a bunch of sick freaks... quite frankly, probably both
As graceful as "The Kid" Ken Griffey Jr. himself

Graphics: 8.5
Sound: 8.5
Gameplay: 10
Longevity: 10


Overall: 10

PLATINUM AWARD

Ken Griffey Jr. Presents Major League Baseball is arguably the best baseball game on the Super Nintendo and even, of all time. I know for me it is. From the optimism of opening day to the dog days of summer to the Fall Classic, it doesn't get much better than this!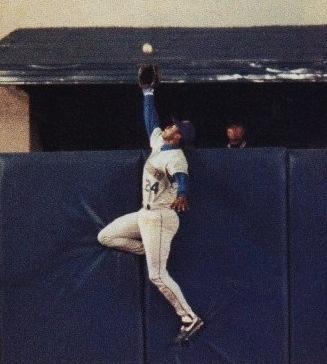 Ken Griffey Jr., for your dazzling career, we salute you!

Here are Ken Griffey Jr.'s 20-year career numbers. To this day the man is still playing. He probably has a few decent years left in the old body, though at this point he might have to
permanently accept a platoon role. The sure-fire future Hall of Famer has an outside shot at getting to the magical 3,000 hit mark if he plays three more seasons and can average around
110 hits per. Despite the injuries that ravaged a good chunk of his career, Ken Griffey Jr. will
always be remembered for his grace and skill... as well as someone who did it the right way



Abbreviations:

G = Games played
AB = At-Bats
R = Runs scored
H = Hits
2B = Doubles
3B = Triples
HR = Home Run
RBI = Runs Batted In
SB = Stolen Base
BB = Bases on Balls (walk)
SO = Strikeout
BA = Batting Average
OBP = On-Base Percentage
TB = Total Bases


TOT = Career totals
AVG = Average per season


Numbers in bold represent career highs

| | | | | | | | | | | | | | | | | | | | | |
| --- | --- | --- | --- | --- | --- | --- | --- | --- | --- | --- | --- | --- | --- | --- | --- | --- | --- | --- | --- | --- |
| Year | | Age | | G | AB | R | H | 2B | 3B | | HR | RBI | SB | BB | SO | BA | | OBP | | TB |
| 1989 | | 19 | | 127 | 455 | 61 | 120 | 23 | 0 | | 16 | 61 | 16 | 44 | 83 | .264 | | .329 | | 191 |
| 1990 | | 20 | | 155 | 597 | 91 | 179 | 28 | 7 | | 22 | 80 | 16 | 63 | 81 | .300 | | .366 | | 287 |
| 1991 | | 21 | | 154 | 548 | 76 | 179 | 42 | 1 | | 22 | 100 | 18 | 71 | 88 | .327 | | .399 | | 289 |
| 1992 | | 22 | | 142 | 565 | 83 | 174 | 39 | 4 | | 27 | 103 | 10 | 44 | 67 | .308 | | .361 | | 302 |
| 1993 | | 23 | | 156 | 582 | 113 | 180 | 38 | 3 | | 45 | 109 | 17 | 96 | 91 | .309 | | .408 | | 359 |
| 1994 | | 24 | | 111 | 433 | 94 | 140 | 24 | 4 | | 40 | 90 | 11 | 56 | 73 | .323 | | .402 | | 292 |
| 1995 | | 25 | | 72 | 260 | 52 | 67 | 7 | 0 | | 17 | 42 | 4 | 52 | 53 | .258 | | .379 | | 125 |
| 1996 | | 26 | | 140 | 545 | 125 | 165 | 26 | 2 | | 49 | 140 | 16 | 78 | 104 | .303 | | .392 | | 342 |
| 1997 | | 27 | | 157 | 608 | 125 | 185 | 34 | 3 | | 56 | 147 | 15 | 76 | 121 | .304 | | .382 | | 393 |
| 1998 | | 28 | | 161 | 633 | 120 | 180 | 33 | 3 | | 56 | 146 | 20 | 76 | 121 | .284 | | .365 | | 387 |
| 1999 | | 29 | | 160 | 606 | 123 | 173 | 26 | 3 | | 48 | 134 | 24 | 91 | 108 | .285 | | .384 | | 349 |
| 2000 | | 30 | | 145 | 520 | 100 | 141 | 22 | 3 | | 40 | 118 | 6 | 94 | 117 | .271 | | .387 | | 289 |
| 2001 | | 31 | | 111 | 364 | 57 | 104 | 20 | 2 | | 22 | 65 | 2 | 44 | 72 | .286 | | .365 | | 194 |
| 2002 | | 32 | | 70 | 197 | 17 | 52 | 8 | 0 | | 8 | 23 | 1 | 28 | 39 | .264 | | .358 | | 84 |
| 2003 | | 33 | | 53 | 166 | 34 | 41 | 12 | 1 | | 13 | 26 | 1 | 27 | 44 | .247 | | .370 | | 94 |
| 2004 | | 34 | | 83 | 300 | 49 | 76 | 18 | 0 | | 20 | 60 | 1 | 44 | 67 | .253 | | .351 | | 154 |
| 2005 | | 35 | | 128 | 491 | 85 | 148 | 30 | 0 | | 35 | 92 | 0 | 54 | 93 | .301 | | .369 | | 283 |
| 2006 | | 36 | | 109 | 428 | 62 | 108 | 19 | 0 | | 27 | 72 | 0 | 39 | 78 | .252 | | .316 | | 208 |
| 2007 | | 37 | | 144 | 528 | 78 | 146 | 24 | 1 | | 30 | 93 | 6 | 85 | 99 | .277 | | .372 | | 266 |
| 2008 | | 38 | | 127 | 441 | 59 | 109 | 25 | 1 | | 16 | 64 | 1 | 71 | 80 | .247 | | .353 | | 184 |
| | | - | | - | - | - | - | - | - | | - | - | - | - | - | - | | - | | - |
| TOT | | | | 2,505 | 9,267 | 1,604 | 2,667 | 498 | 38 | | 609 | 1,765 | 184 | 1,233 | 1,673 | | | | | 5,068 |
| AVG | | | | 125 | 463 | 80.2 | 133 | 24.9 | 1.9 | | 30.5 | 88.3 | 9.2 | 61.7 | 83.7 | .288 | | .373 | | 253.4 |
Griffey had 11 brilliant seasons (OK 10, he missed exactly half of the revised 144-game '95 season) in Seattle before taking his talents to the Cincinnati Reds in 2000. Unfortunately, Griffey suffered from injuries and missed 280 games between 2002-2004. Just when folks thought he was done, the 35-year-old bounced back in 2005 with 35 home runs and a .301 batting average to show for it. He followed that season up by hitting 27 home runs in 2006 and last year, 2007, he played in 144 games, the most games he played in a season in SIX years. It was a feel good story as the 37-year-old turned back the clock with 30 home runs, a .277 batting average and 93 runs driven in, the most he's had since 2000's 118. Currently, Griffey is a Chicago White Sox and having a decent season for someone his age and not playing everyday. He's probably good for a few more years, but who knows, he just might hang it up at any time. When he does, the game will have lost an iconic player, one of the best pure players of the 1990s... THE KID