Written: 12.17.06
Acquired: 9.14.06
Status: Cart only
Price: $5.93

| | |
| --- | --- |
| Publisher: Coconuts Japan | Released: 4.9.93 |
| Developer: C-lab. | Scarcity: 4 |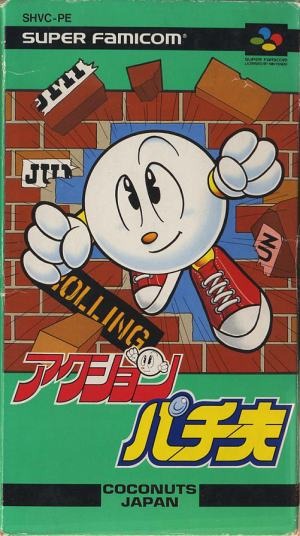 I was unconvinced
when I saw SUPER
PLAY trashin'
ACTION PACHIO
to the tune of 42%

At the time, for a few
months already, it
was on my want list.
It looked to me like a
potentially fun little
obscure platformer.
With a hero bearing
more than a slight
resemblance to
PAC-MAN (as well
as CodeMaster's
DIZZY)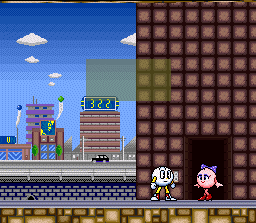 How bad could a blatant
Sonic clone be?






Hmmmmmmm......

Surely not 42% bad?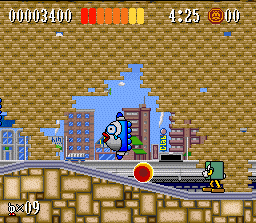 Sh'yeah, right

Clunky control, abominable gameplay... the game play is stilted like you wouldn't believe






The 1st stage is littered
with spikes. Terrible
control + no way to
scroll down = cheap
deaths galore!




Insta-Death hurrah!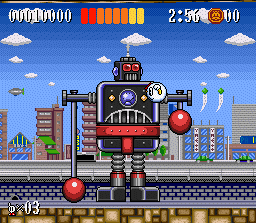 The 1st boss looks extremely
lame. Sad to think that a 1st
grade could have done better!

This guy looks like one of those
pathetic generic Asian knock
off toys from the mid 1980's!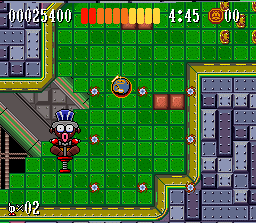 Keeping hope that level 2
may somehow right the
ship, I trudged on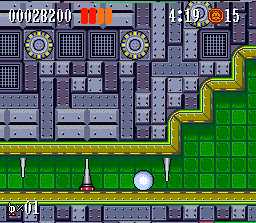 Sadly, it was a case of
blind optimism. This is
the kind of game where
you advance a bit further,
die, memorize and repeat.
Rather than tough enemies
or tricky level design ousting
you though, it's the pitiful
control

The game could have been a fun little decent platformer, but SUPER PLAY was right

CLOSING THOUGHTS

What a sad case of wasted potential. On a side note, the graphics remind me SLIGHTLY
of Super Back to the Future II... except that one was halfway good. This... this is just plain atrocious. You've been warned...