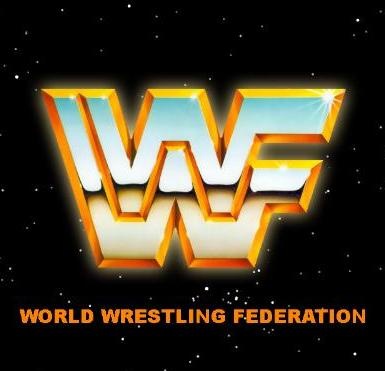 Professional wrestling has long been an interest of mine since the late 1980s when I was but a wee lad. While my fandom ranged from religious fervor to mild interest over the years, one thing stayed true: I will always have a love and passion for this wacky crazy business known as... sports entertainment... or, wrestling. Growing up, I was a huge fan of the WWF (AKA the World Wrestling Federation). Today it is known as WWE (World Wrestling Entertainment) and the company is adamant on calling itself the term "sports entertainment." But to me, it will always be pro wrestling. This is the story about how a guy became a fan for life and also an account of the BEST wrestling weekend of my life!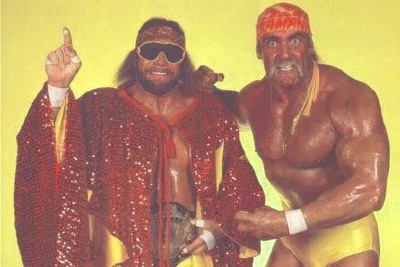 My fandom began in 1987 when one night my uncle flipped on Saturday Night's Main Event. I witnessed the awesome collective power that consisted of the Immortal Hulk Hogan and Macho Man Randy Savage, better known as The Mega Powers. Macho Man's raspy, iconic voice "Ooh yea dig it!" combined with the Hulkster's classic trademark saying of "Eat your vitamins, train hard and say your prayers" won me over. They were bigger than life and made me as a four-year-old boy believe in a greater force and a higher power, brutha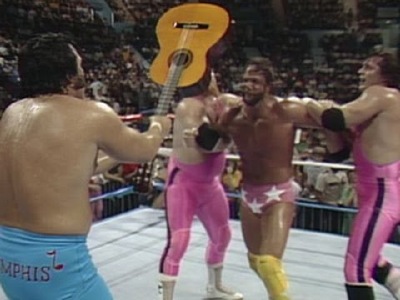 Honky Tonk Man bashes Macho Man over the head with a guitar.
Miss Elizabeth runs to the back and brings out Hogan for the save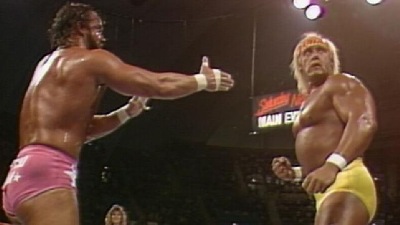 Mega Powers, and a fan for life, was established October 3, 1987


From that point on, I was hooked for life. It was not long before my uncle took me to the local video store so we could pick up the latest pro wrestling VHS extravaganza. My brother got into it as well, and for the three of us, wrestling became sort of a religion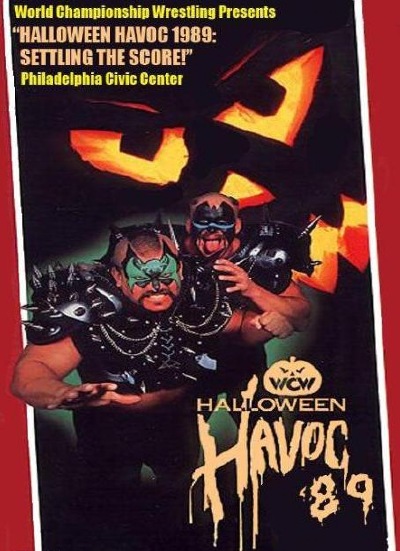 My uncle and I rented all our wrestling tapes from Video Mart back then. A mom and pop shop, Video Mart had a solid wrestling selection right next to the HORROR section, so that whole corner was just like HEAVEN to a boy. I would always make a beeline for that hot corner, thumbing through the latest horror movies and pro wrestling VHSes. It was a load of fun simply to gawk at the various VHS covers. The one that sticks out in my mind even to this day is Halloween Havoc '89. It looked more like a horror movie. Having discovered John Carpenter's 1978 film HALLOWEEN at the time, I felt Halloween Havoc '89 was only missing a white William Shatner mask. To this day I can still vividly see the Legion of Doom and that sinister pumpkin grinning in the background

RASSLIN' TOYS, CARDS, ICE CREAM, MAGAZINES AND GAMES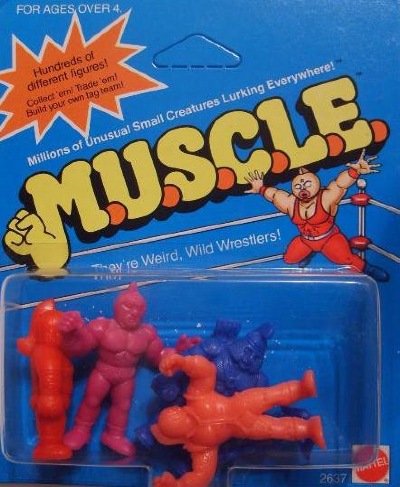 Wrestling exploded beyond just television. You also had them in the form of toys. What 1980s child does not remember M.U.S.C.L.E.? Millions of Unusual Small Creatures Lurking Everywhere is the best acronym ever baby. I fell in love with this lineup the second I saw it at KB Toys. The M.U.S.C.L.E. guys were cheap, colorful and combined pro rasslin' with comic book stylings. What is there not to love?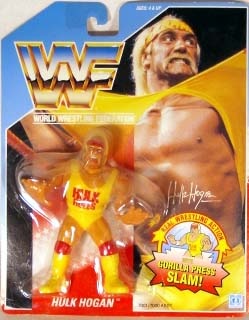 But the real prize was Hasbro's first WWF run. In the summer of 1990, my mom and brother went to Paris for vacation, leaving me and my old man to fend for ourselves. There are three things that resulted from that which I fondly recall: 1). I missed them dearly, especially my mom 2). I ate a lot of McDonalds (my mom used to do all the cooking) and 3). It was the summer that I discovered Hasbro's WWF lineup... I never looked back. It was the first time in my young seven year old life that my mom had left home for a month, so I was missing her a lot. My dad, in a bid to distract me from the mommy blues, took me to Toys R Us. That day I saw this Hulk Hogan action figure and my life changed. Thanks, dad. It worked!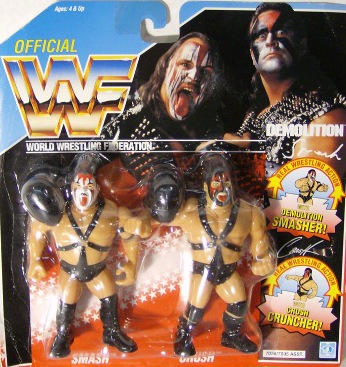 When my brother and mom came back from Paris, I showed Kevin my WWF collection of Hulk Hogan and Andre the Giant. My bro was as excited about it as I was, and we went on to collect the rest of the action figures. One of our favorites were the tag team two-packs they sold. Teams like the Rockers and Demolition came packaged like such. They even had accessories included... such as Demolition's awesome black masks. The good old days... when toys were toys!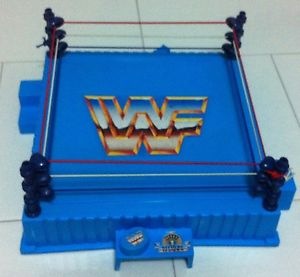 We also bought the WWF ring. Man, the number of hours I spent with that thing. It must have been up in the hundreds. Using an assortment of my WWF action figures, He-Man and even Supernaturals, I mixed and blended my own unique action figure wrestling federation. My brother and I kept our WWF guys in a red backpack. In the small pocket we cut out numbers 1-30 and often held Royal Rumble matches. When we didn't play video games, odds were, we were simulating our own Rumble matches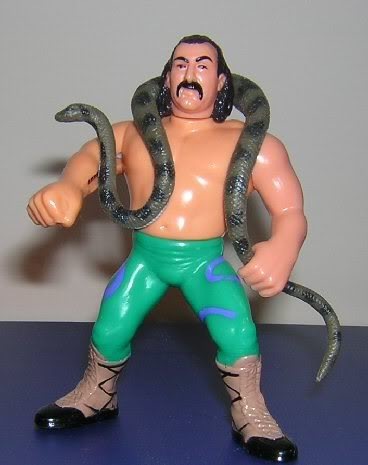 One of my fondest WWF memories came when we needed to buy just one more action figure from the original lineup. One Saturday night, my mom inexplicably told me and my bro that she was going to take us to Toys R Us to find the last one we needed... or in her words... "the wrestler with the snake." Not 5 minutes later we were on the road determined to hunt down our white whale in the form of one, Jake the Snake Roberts. Sure enough... we ran down that aisle my brother and I did, and we spotted Mr. Roberts and his trusty old pal, Damien. My mom was a bit frugal, rarely buying us *any* toys outside of birthdays and Christmases, but that night there was definitely magic in the air. Thanks, mom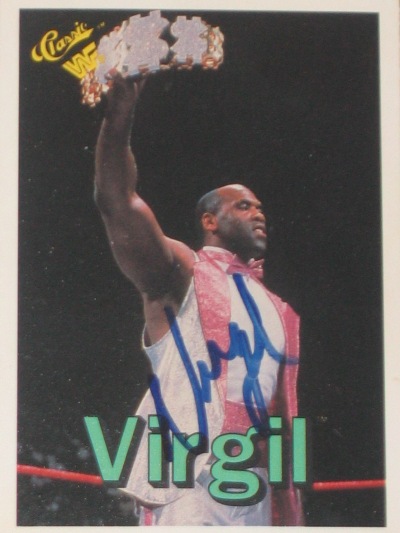 In the late 1980s and early '90s, the WWF was nearly everywhere you glanced. They EVEN made trading cards, which my bro and I quickly took an interest in. We collected *all* of them. One day in late 1992 there was a big sign at our local mall advertising that WWF superstar Virgil was set to visit -- signing autographs and meeting fans the next week. My uncle, brother and I were excited. This was our chance to meet our first wrestler up close and personal. I remember wanting to ask Virgil one question. At the time, the topic of how much of pro wrestling was real or fake was sort of a huge deal. I got in at the end of a long line and kept replaying my question to him over and over. By the time I was in front of him, and I saw his bulging muscles, I forgot my question! I never did get to ask Virgil, but the memories have lasted a lifetime. Good times eh?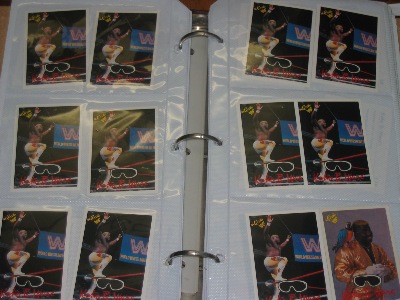 And when I say we collected all of them, I do mean ALL of them.
Yes, that's my collection. "GOOD GAWD ALMIGHTY!" -Jim Ross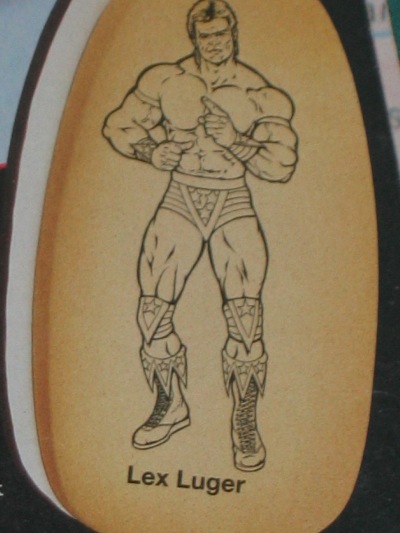 WWF also invaded the ice cream scene. Their WWF ice cream bars were THE best around. Combining a chewy cookie on the front (complete with the imprint of a random current WWF superstar), creamy vanilla interior and a nice crunchy chocolate backside, it is a sweet and tasty treat. My bro and I would always get it for a dollar at the local convenience store or ice cream truck. One of my fondest memories came back in 1991 when Roddy Piper had a leg injury. On TV you would see the Hot Rod hobbling on a pair of crutches. Well, one day I found Piper on my WWF ice cream bar. I licked off his legs and showed it to my brother. We burst out laughing as if there were no tomorrow. I'm not sure why but it's one of those childhood memories that vividly remains with me... even nearly 25 years later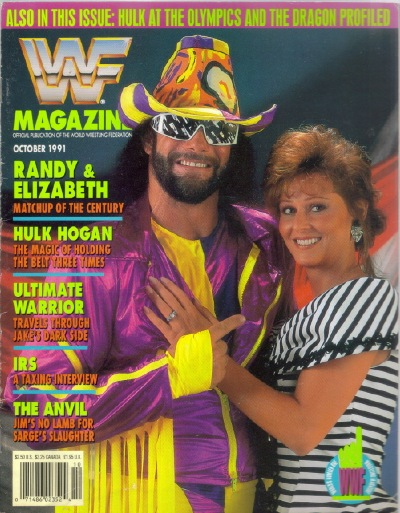 In 1994 and part of 1995 I was subscribed to WWF Magazine. Back in those days, there was no world wide web I could log onto. There were no wrestling sites filled with news and behind the scene tidbits. Back then, if you wanted some extended coverage of the product, then you read the magazine. Sure, it was written with a very bias slant, but as a little kid you didn't care. It was just fun to read the latest issue, see your favorite wrestlers grace the front cover and see all the cool colorful photos within the magazine. I still have my magazines from 20 years ago. The front covers were often splashed with bright neon colors. It was just a sign of the times, and like I said... the WWF was a machine. Whether it was trading cards, ice cream bars, toy action figures, or magazines, the WWF had their finger on the pulse


The very first wrestling game our uncle bought for us. It SUCKED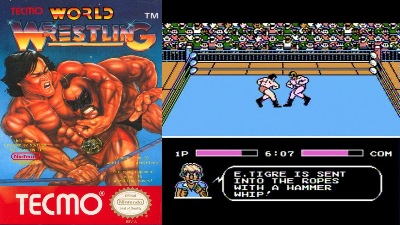 We rented this one with high hopes... they were quickly crushed


Pro Wrestling was the best for its time but it wasn't exactly 'great'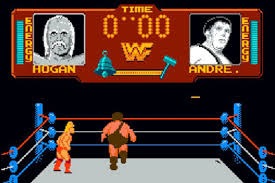 And then we come to WWF Wrestlemania. My uncle bought it for us, sight unseen. Featuring the Immortal Hulk Hogan on the box, under the banner of WRESTLEMANIA, how could one go wrong? Sadly, my brother and I found out the hard way that perception wasn't always reality. The game was a dud and we were stuck with it. We played it a lot... hoping to find some hidden yet-to-be-discovered nuance that would make it one we could appreciate but nope, that moment of serendipity never came. We just wanted one good wrestling game. Is that too much to ask?!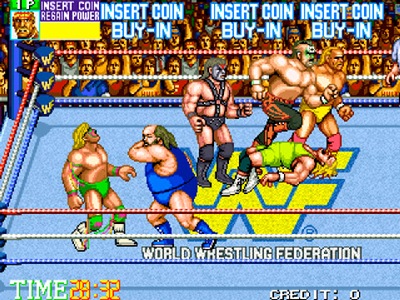 Finally, one day in 1991 when my bro and I were scouring the local arcade hall -- we met our match. [Har har -Ed.]. There was a new cab with a crowd of gamers huddled around it. You could feel the buzz of energy emanating from it. It was WWF Wrestlefest. It was vibrant, colorful and loud. It had it all... Hogan, Warrior, Jake and friends. This is exactly the game my brother and I had long been dreaming about. We plopped two quarters into it and the rest is history. It became an instant classic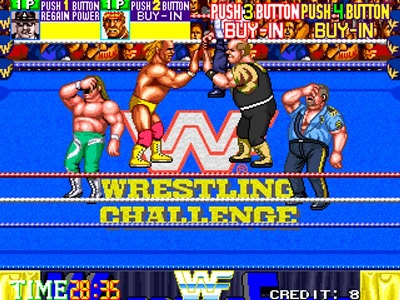 The game sadly never came out on the Super Nintendo. A shame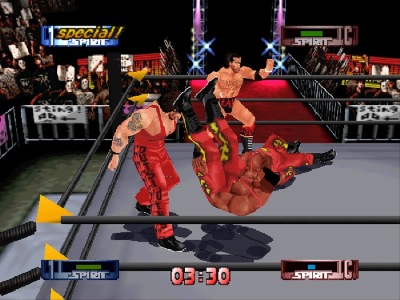 Fast forward some seven years, and we come to one of my all-time favorite wrestling games, WCW vs. nWo: Revenge. My friends and I loved playing the Fatal Fourway match. It was mayhem personified and some of the best fun I had with a wrestling game

THE BEST WRESTLING WEEKEND OF MY LIFE

When we were kids, my best friend Nelson and I once pledged to one day attend a Wrestlemania event. This year we decided to finally honor that age-old vow. Nelson and I bought our tickets and made the trip over. It ended up being three days of pure wrestling nirvana. Join me for a look back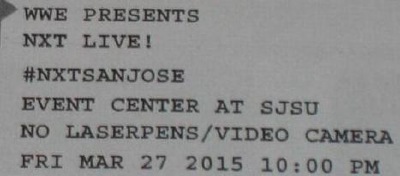 NXT is WWE's 'developmental' brand. And it's freaking awesome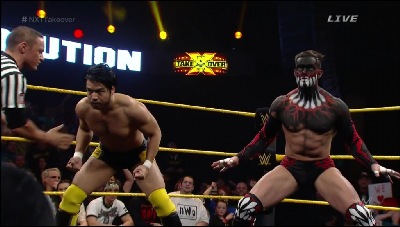 Cool seeing Hideo Itami and Finn Bálor in DEMON form in action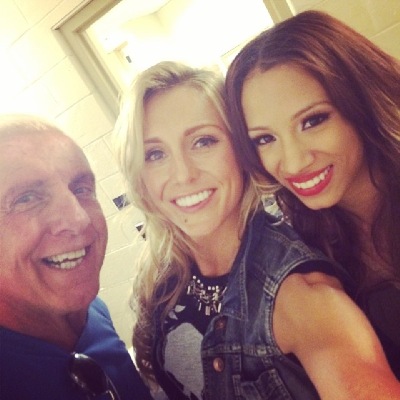 If you're a pro wrestling fan and you haven't seen NXT, you need to. It's not really a developmental brand so much as it is its own now. In fact... NXT blows RAW and Smackdown out of the water. The wrestlers down in NXT work crisper, there is less rambling and feuds are developed properly, with more of a "slow burn" flavor than what we see on WWE TV. You can check out NXT every Wednesday on the WWE Network (for just... $9.99 a month). My two favorites are probably Charlotte (she's Ric Flair's daughter) and Sasha boss Banks (a cousin of Snoop Dogg). These two beautiful ladies can go. During their match, which took place after midnight, fans were chanting "THIS IS AWESOME!" and "THIS IS WRESTLING!" These two are redefining women's wrestling as we speak and one can only hope when they get called up to the main roster that the writers just let them do their own thing. Because whatever they're doing down in NXT, it's working! Other highlights from the show included a special appearance from Triple H, NXT's "mastermind." Fans went crazy as Triple H cut a Paul Heyman ECW-esque "This is NXT and we're the new hip brand taking over the world of professional wrestling!" promo. It was something to see! Bar none the best show I've been to. It ended at 1 in the morning! As I walked out, the crowd of 5,000 was buzzin'. Not only was it a sick show but we were now just one day away from WRESTLEMANIA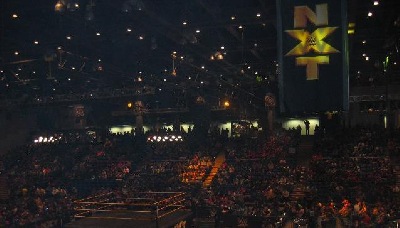 Good old Jim Ross sat in the front row. And speaking of whom...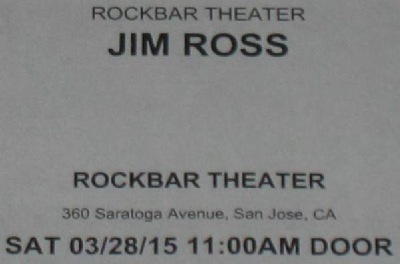 The next morning, or LATER that morning... it was off to see J.R.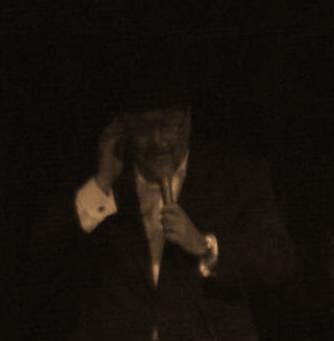 Good ol' J.R. is often considered the best pro wrestling commentator of all time. He is also a hell of a storyteller and I had a blast at his show entitled RINGSIDE. It was a packed house of 800 fans. He opened the show with a mock phone call that went like this...

"Hey Vince [McMahon]

Yeah, just doing my show here. But you wouldn't know that, would you?

I gotta go Vince. A *few* people are waiting on me here. But before I do... here are my 2 cents on Brock Lesnar vs. Roman Reigns. Go with BROCK!"

Crowd popped. Not too many Roman fans at this point. Samoa Joe made a guest appearance later and the crowd went nuts. Fun show. Afterward, off to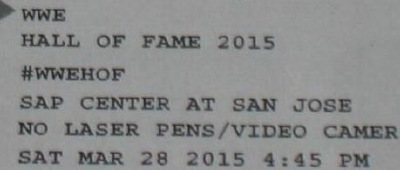 At long last, Macho Man gets inducted. About damn time, Vince!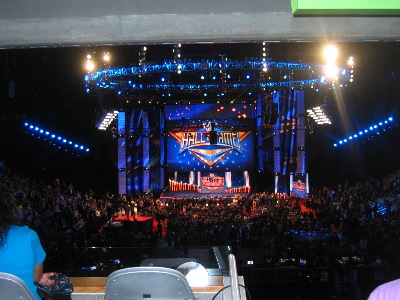 I enjoyed it, even if it went a bit long at 4 hours. Now we come to

BUCKET LIST ITEM for me and my childhood best friend, Nelson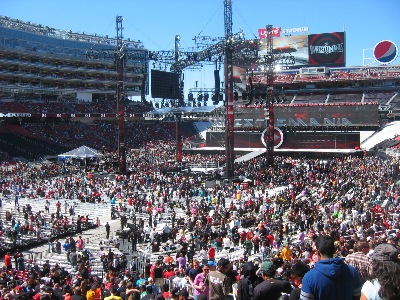 We sat here. For two rasslin' fans growing up, a dream come true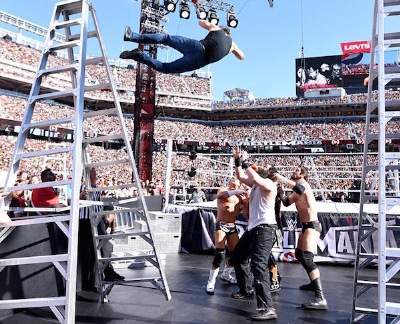 Ladder match was cool and a good way to open up Wrestlemania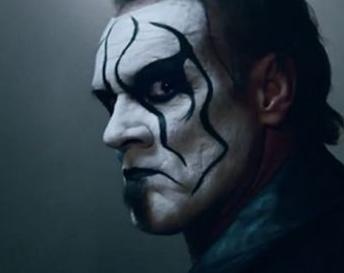 FINALLY! WCW legend, STING, has a match at 'MANIA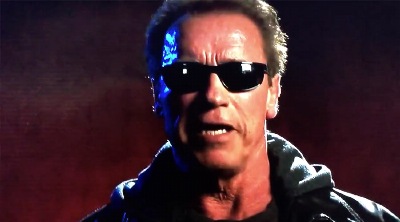 Arnold pops up and declares: "IT'S TIME TO PLAY THE GAME!"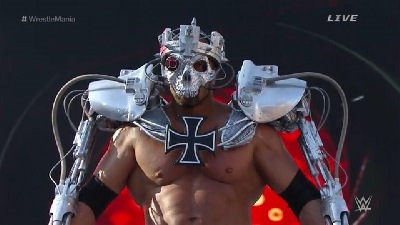 Triple H came out with a special Terminator-esque costume. Nice

Seeing Triple H lift up the Terminator heads was a BADASS sight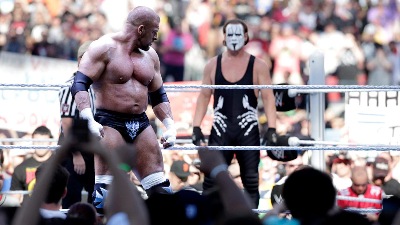 The fans were white-hot for this match. The presentation nailed it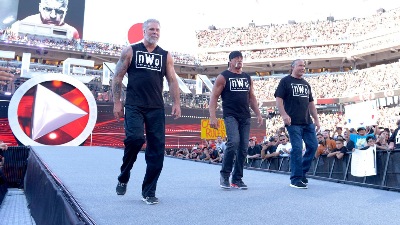 DX came out first and then the nWo. HUGE pops for both factions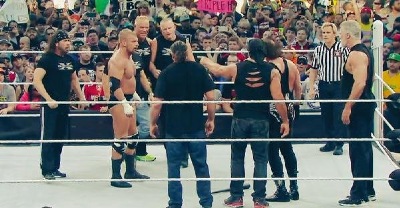 A fun nostalgic fan service which turned back the clock 17 years!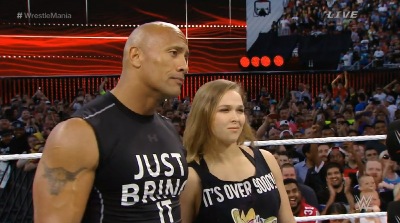 The Rock and Ronda Rousey electrified 77,000 fans like no other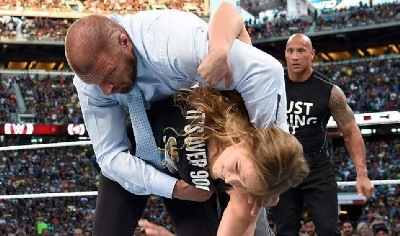 Massive pop when Ronda threw Triple H's ass. I smell dollar bills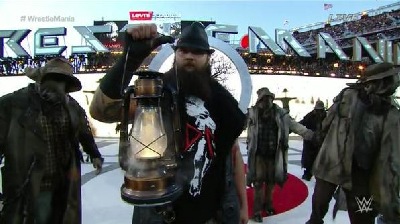 Bray Wyatt came out with some creepy-ish staggering scarecrows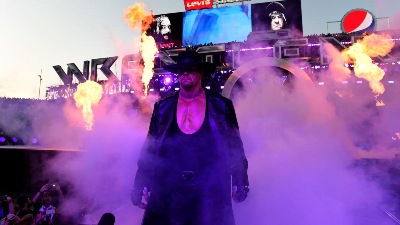 NO ONE has seen THE DEAD MAN since Brock beat him last year

Bray's signature spiderwalk was interrupted by Taker's situp stare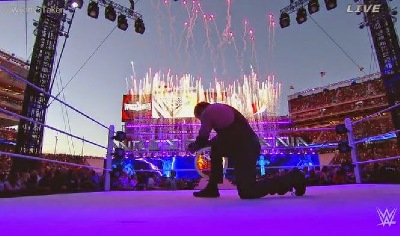 Dusk fell right as the match was ending. Wish it were in the dark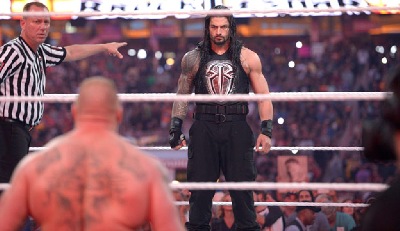 Main event atmosphere was ELECTRIC. You HAD to be there live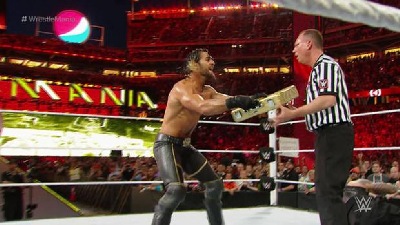 After a brutal fight that surpassed expectations, Rollins ca$hed in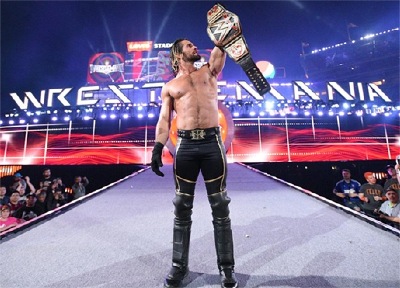 One of the most memorable endings a WRESTLEMANIA has had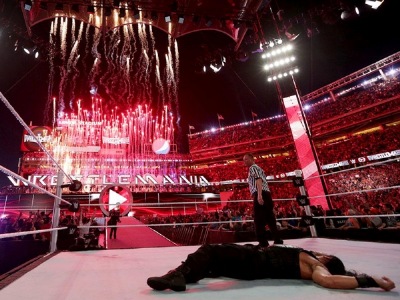 Nelson and I headed back to his car under the falling of fireworks

Nelson and I left the show giddy like two kids on Christmas Eve. We rode the high of the night as we walked back to his car, with fireworks falling all around us. BEST.RASSLIN.WEEKEND.EVA

Wrestlemania 31 has been called by some as the best Wrestlemania of all time. It is the highest grossing WWE event ever, raking in an astonishing 12.6 million dollars. I'd definitely rank it in my top 5. It was great also to meet fans from all over the globe at NXT, Jim Ross' show, Hall of Fame and Wrestlemania. Despite being complete total strangers, everyone was connected through the product and the memories we share of the business. It's awesome having that shared connection and laugh with strangers as though you've known them your whole life. That's what Wrestlemania weekend is all about: fans worldwide coming together for one epic party. Words don't do it justice

And now, time to kick it OLD SCHOOL!!

MY TOP TEN FAVORITE WWF WRESTLERS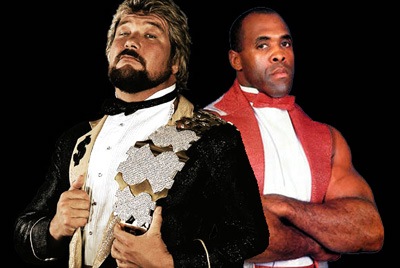 10. "The Million Dollar Man" Ted DiBiase

With his custom built expensive Million Dollar Championship title belt, Ted DiBiase was one of the very best and most consistent bad guys of late '80s and early '90s WWF. The man with the evil laugh never put on a bad match. You loved to boo him... but you also loved to watch DiBiase wrestle. Few did it better than the Million Dollar Man
We meet again, Virgil. Thanks for signing my card 20+ years ago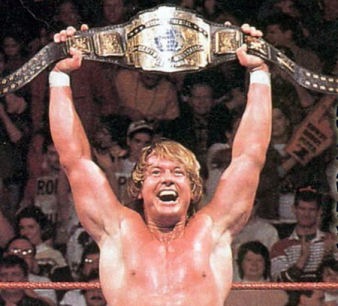 9. "Rowdy" Roddy Piper

The Hot Rod was one of the best mic men in the business. He was magic on the mic. Although his in-ring work wasn't particularly great, he always lit up your TV screen with his limitless charisma. Completely unpredictable, always entertaining, the Hot Rod will always be fondly remembered as one of the all-time legends. Besides, he was one of the few wrestlers back in the 1980s to truly cross over into the mainstream when he was the leading man in the 1988 cult favorite, John Carpenter's "THEY LIVE." "I have come here to chew bubble gum and kick ass. And I'm all out of bubble gum" goes down in cinema history as one of the best lines ever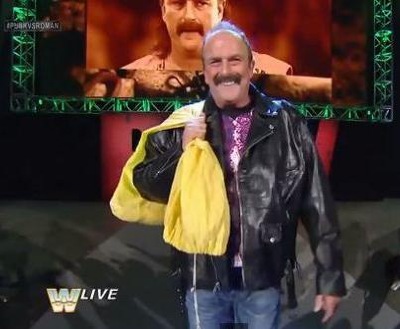 8. Jake "The Snake" Roberts (w/ Damien)

There was nothing Jake did that did NOT have a measure of meaning. No movement, no gesture, no move. Everything he did in and out of the ring served a purpose. He was one of the top psychologists that the wrestling business has ever seen. Who could ever forget his slithery python, Damien, or his infamous finishing move, the DDT? Jake blazed a trail and he did it like no one else did. When he returned to Raw for one night in early 2014, it was just like Jake: EPIC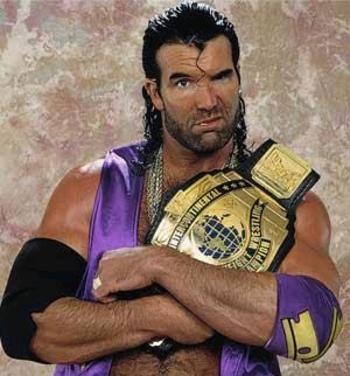 7. "The Bad Guy" Razor Ramon

"A-yo, chico." A cock of the head. A flick of the toothpick. And with that, the Bad Guy stole our hearts. The Man Oozin' with Machismo, Razor burst on to the WWF scene in 1992. He was hated and booed at first, but over time, fans all over the world fell in love with the Bad Guy. With his devastating Razor's Edge finisher, the bad guy went on to hold the Intercontinental title four times. By far his most memorable moment in the WWF took place at Wrestlemania X, when Razor and Shawn Michaels stole the show in an amazing Ladder Match for the undisputed unified Intercontinental Championship. Razor's also widely remembered as the key spark plug that jumpstarted the infamous nWo faction in WCW that launched the industry altering Monday Night War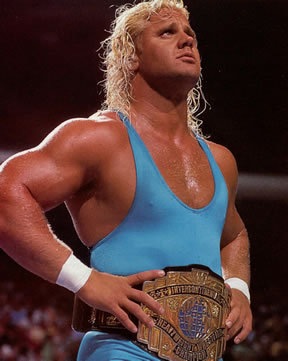 6. Mr. Perfect AKA Curt Hennig

In the late 1980s I was a Hogan and Warrior guy. Hell, I loved all the good guys. But there was one bad guy I could not help but admire and secretly rooted for. And that man was Mr. Perfect. From his perfect theme music to his perfect look, Mr. Perfect was a tremendous athlete and entertainer. No one sold bumps quite like he did. Widely regarded as one of the best Intercontinental champions of all time. Plus, who could forget those classic sporting vignettes? The best part about him was that his gimmick wasn't far from the truth. According to his peers, everything he did and touched, Curt did it perfectly. On cue and on point, Mr. Perfect often did it right on the very first take. Tragically, Mr. Perfect's life was cut short on February 10, 2003. But his wrestling legacy forever lives on. He's probably the best greatest WWF wrestler never to win the WWF Championship. Other than never capturing the big one, he was simply, absolutely PERFECT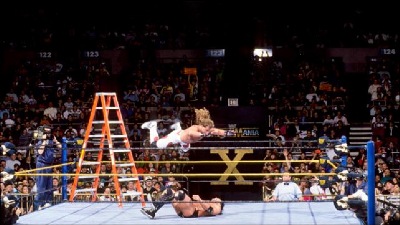 5. "The Heartbreak Kid" Shawn Michaels

Before he became the Heartbreak Kid, Shawn Michaels competed in the tag team ranks. But mega superstardom beckoned and the Showstopper answered. One of the greatest performers I've ever seen, his legendary huge dive off the ladder at Wrestlemania X remains an iconic image. He would go on to rightfully earn the nickname "Mr. Wrestlemania." HBK's truly one of the best this business has ever seen and likely ever will. A once-in-a-generation performer

4. Bret "The Hitman" Hart

Bret the Hitman Hart came from humble beginnings, starting out in a tag team in the WWF known as the Hart Foundation. After scratching and clawing to rise to the top of that division, Bret broke out and found singles success as he became a prominent holder of the Intercontinental Championship belt. But he truly made his mark on the business when, on October 12, 1992, in Saskatoon, Bret Hart defeated the great Ric Flair to earn his first WWF Championship. Many regard this as a moment the WWF changed forever. Bret was young and smaller than your average WWF Champion. This ushered in a new era. Bret Hart was never the biggest guy, nor the flashiest guy, but he always put on quality matches. That's why he was the excellence of execution. And the best there is, the best there was, and the best there ever will be. Thanks for the memories. Real men DO wear pink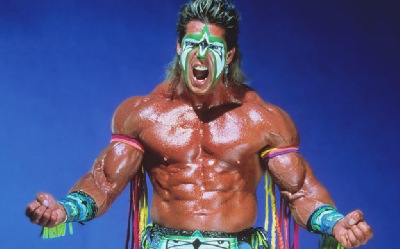 3. The Ultimate Warrior

Intensity personified. The Ultimate Warrior was truly one of a kind. From his war paint to his tassles to his bulging muscles, he looked like he stepped out of a comic book. And for any boy living in the late '80s, the Ultimate Warrior was a comic book hero come to life. Sadly, the Warrior journeyed to parts unknown on April 8, 2014. But his legacy runs forever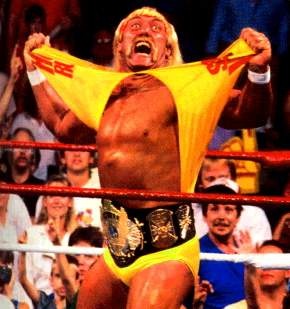 2. "The Immortal" Hulk Hogan

Growing up in the late '80s, few superstars captivated your imagination quite like the Hulkster. With one tear of his shirt, or one classic "hulk up" moment in the ring, arenas all over the universe went bonkers. "Eat your vitamins, train hard and say your prayers" became a mantra for boys all over the globe in the late '80s. There were diehard red and yellow Hulkamaniacs everywhere you went. Hulk Hogan was sort of this mythical figure in the world of professional wrestling. Wrestling would not be where it is today were it not for the many contributions Hogan brought to the table. No, he wasn't a great wrestler. But few had the presence or charisma of the Hulkster. He sold out arenas everywhere and took the sport to a whole 'notha level. He is the Babe Ruth of professional wrestling, "BROTHER!"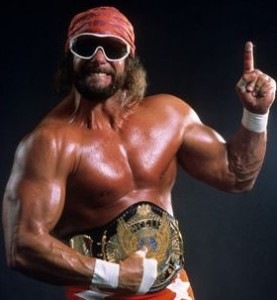 1. "The Macho Man" Randy Savage

"OOOH YEAH! DIG IT!" Often imitated but never duplicated... they broke the mold when they made the Macho Man Randy Savage. He was on another level than the other wrestlers. When you talk about factoring in both sides of charisma and wrestling ability, there might be none finer than the Macho Man Randy Savage. Always flamboyant, always intense and always entertaining, Randy Savage carved one hell of a legacy that extended beyond the square circle. He became the voice and face of SLIM JIM. To this day, I cannot check out at a convenience store or a Target without seeing Slim Jim on the side and thinking of my favorite wrestler of all time. I remember the Mega Powers. I remember the night he won the WWF Championship at Wrestlemania IV. Sadly, Randy left us on May 20, 2011. However, the Macho Madness will forever live on through the memories and moments. He was a great champion, a great wrestler, a great superstar, and a great entertainer. There will never be another one like him. He was one of a kind. Long Live the Madness. OOOOOH YEAH!

MY FAVORITE / MOST MEMORABLE WRESTLING MOMENTS

Wrestling is marked by milestones and magical moments. Here are my all-time faves

CHAMPION VERSUS CHAMPION... TITLE FOR TITLE!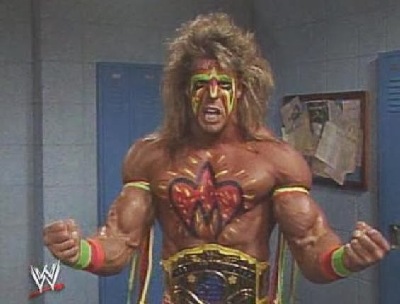 Wrestlemania VI: The Ultimate Challenge. It doesn't get any better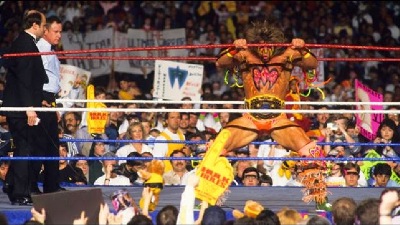 Warrior shakes the ropes like a mad man. Skydome is deafening!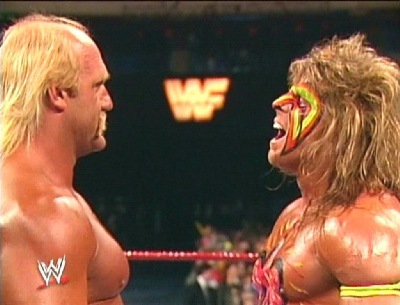 Hogan vs. Warrior = wrestling's version of Superman vs. Batman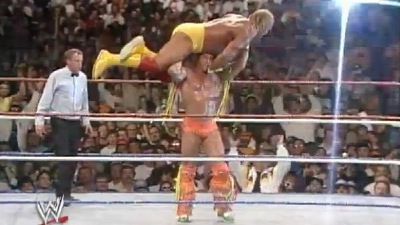 It was an edge-of-your-seat roller coaster that lived up to its hype!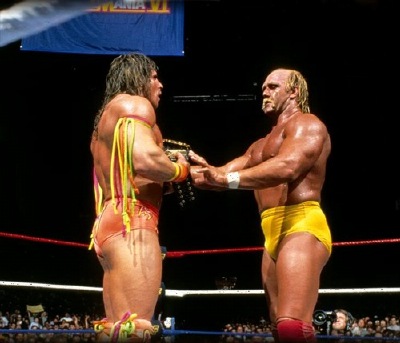 The post-match saw Hulk Hogan passing the torch to the Warrior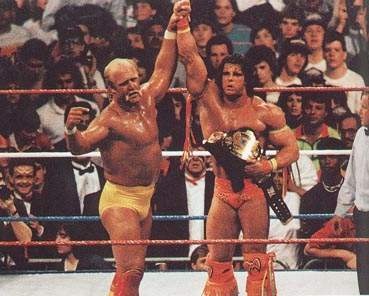 "Hulkster has just taken one giant step towards immortality!"

WEEPING AND REJOICING IN THE CITY OF ANGELS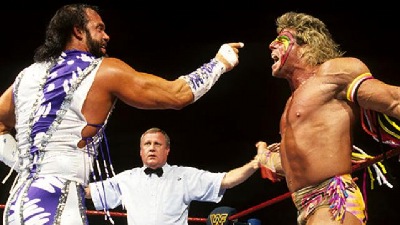 Wrestlemania VII. Macho Man vs. Warrior. The loser MUST retire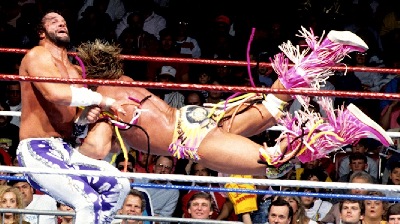 An instant classic. Nail-biting and full of drama. HELL of a match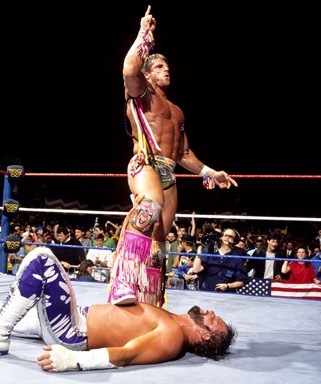 I loved both guys, so this match was hard to watch in the sense that by the end of it, one of my favorite guys had to retire. It featured multiple kick outs and was the first match I can recall where both wrestlers kicked out of the other's finishing move. Today, it's common to see that, especially on major pay-per-views. But back in 1991, it was unheard of. Especially when the Ultimate Warrior kicked out of FIVE Flying Elbow Drops. Watching it as a 7-year-old kid I thought the Warrior was surely done for. But he kicked out, made a hell of a comeback, and hit Savage with his big move. When Randy kicked out, I lost it. Never before had I seen such drama in a match. The Warrior would eventually score a pinfall, and he did so convincingly. However, as great as this match was, it was its post match antics that made it one of the all-time great wrestling memories. After the Warrior left the ring, Savage's manager, Sensational Sherri, would turn on Randy
Sherri started kicking the ever living crap out of him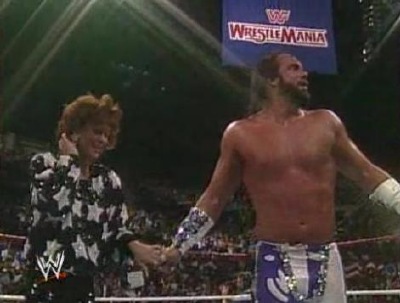 The camera then pans to Elizabeth, Macho Man's long time partner on and off camera. She looked on with tears in her eyes. The crowd started to rise, and then Elizabeth jumped the guard rail and ran to the ring. She threw Sherri out to the floor. A very groggy Randy Savage climbed to his feet, spotted Elizabeth and it looked like he had just seen a GHOST. The audience was cheering for him to embrace her. Being the great psychologist that he was, he totally sold the moment by looking at her, then looking to the crowd with his classic wide-eyed "WHAT SHOULD I DO?!" look. The crowd cheered louder as Elizabeth, tears streaking down her face, stood there waiting for Savage to do something. Savage finally hugged her as the arena erupted. Gorilla Monsoon's epic commentary "WHAT A WOMAN, AND WHAT A MAN!" punctuated the moment, as the camera zoomed in to show grown adults crying in the audience. It was one of wrestling's most redemptive moments. His career "ended" but the rest of his life with his love was just beginning. Storytelling at its best!

THE ULTIMATE KNIGHT IN SHINING ARMOR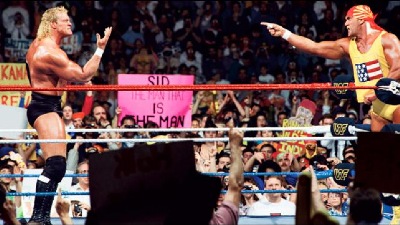 Wrestlemania VIII. Hulkster vs. Sid. Billed as Hogan's "last" match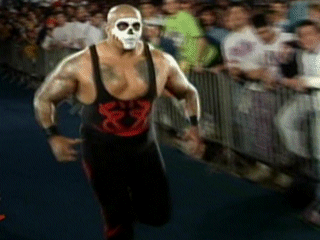 The match was what it was. It was 1992 and Hulkamania was definitely starting to wane a bit. In fact, the 62,000 plus at the Hoosier Dome was not all pro-Hulk Hogan. There were a lot of Sid fans in the house who wanted to see Sid end Hulkamania once and for all. As I said, the match was OK. But what makes it so dang memorable to me was the post-match antics. The main event ended in a DQ, and out of nowhere we see big bad Papa Shango running down to the ring. He and Sid start pounding the crap out of the Hulkster. Was anybody going to save Hogan, or was this truly the end? Then, the Ultimate Warrior's music hit!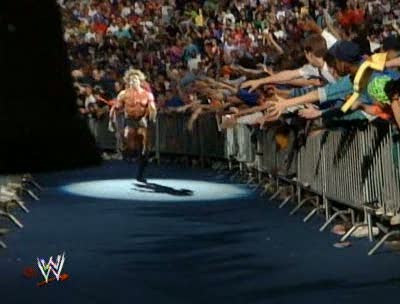 It took a few seconds for the fans to register it, as the Warrior had been out of the WWF for some time. There was no net back then, and no rumors of the Warrior coming back at all. So it was the last thing on anybody's mind. But once he came running down the aisle at 200 miles per hour, the fans lost it as I did too. It became one of the most memorable moments in wrestling history for moi! It was one of the biggest pops I've ever heard from any audience. It was nuts
PANDEMONIUM PERSONIFIED, the Hoosier Dome's roof blew off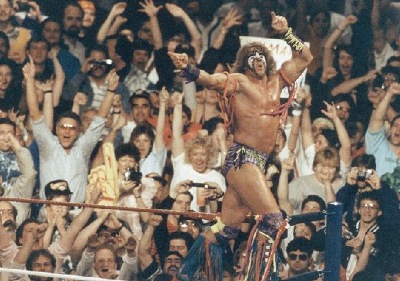 He cleared house. The fans went absolutely bonkers. It was crazy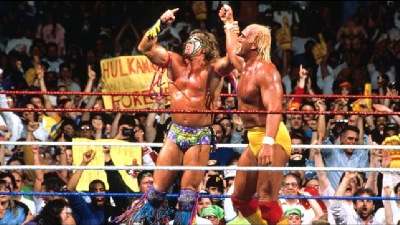 I can watch this moment over and over again. Still give me chills

"I'VE ALWAYS BEEN THE SNAKE YOU SHOULD BE AFRAID OF"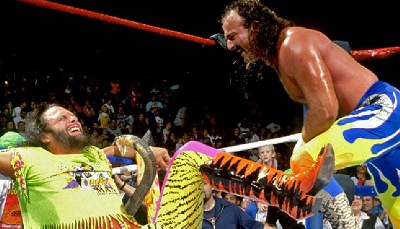 Jake's snake taking a bite outta Randy Savage scared me as a kid

THE GLASS SHATTERING HEARD ALL AROUND THE WORLD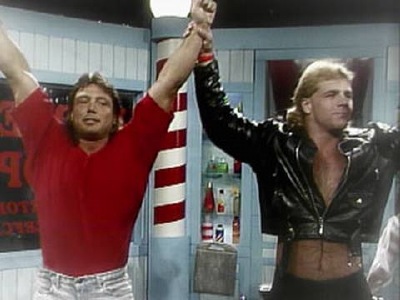 The Rockers on the rocks? Nah, they just worked it out. Awww...


BAM! Shawn Michaels super kicking poor Marty Jannetty and then heaving Marty through the Barber Shop glass window was a moment for the ages. Best heel turn EVER. Shocking as hell. HBK would go on to become one of the very damn best in the business

THE MONDAY NIGHT WAR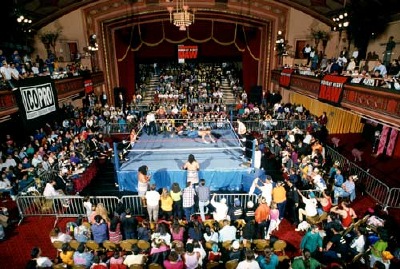 For years I got my WWF fix on Saturday mornings. That changed January 11, 1993. WWF launched the groundbreaking Monday Night Raw. RAW was must-see live TV, as it was unpredictable, edgy and something new and exciting for the industry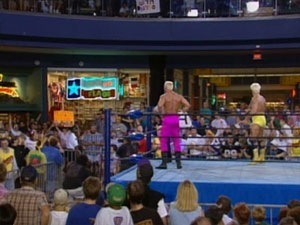 On September 4, 1995, WCW joined the fun when they launched MONDAY NITRO. Suddenly, wrestling fans had a choice on Monday nights. WCW and WWF went head to head for brand supremacy. This led to a lot of back and forth channel switching, and there might not have been a better time to be a wrestling fan. The first Nitro emanated from the Mall of America in Minnesota. It was cool as hell to see mall stores in the background. You just knew this marked the beginning of something big for professional wrestling and that the industry was on the upswing. Things could only get better...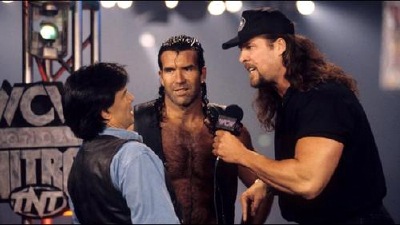 And it did. Especially when Razor Ramon and Diesel started this!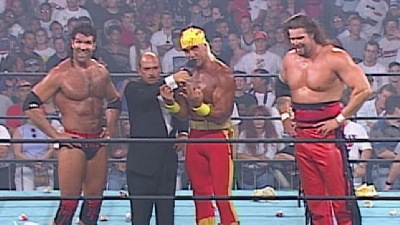 At the time you did not know what was real and what wasn't. They acted like they were still under WWF contract. Was this a war? An invasion? It was absolutely groundbreaking for its time. When the third member was revealed to be all-time good guy Hulk Hogan, the nWo was born and pro wrestling exploded through the roof in demand and mainstream popularity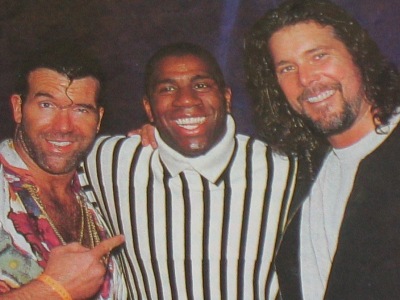 Magic wasn't the third guy, but nWo was nothing short of MAGIC

GETTING TO THE "HART" OF THE MATTER...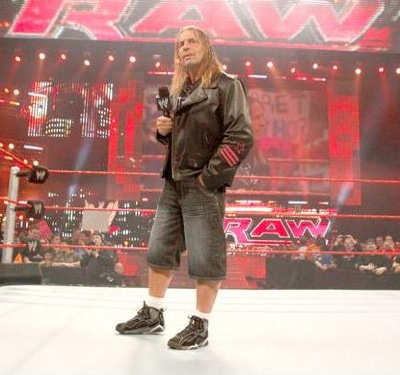 Following the infamous Montreal Screwjob from Survivor Series '97, we didn't see Bret Hart on WWE TV until some 12 years later. Sure he made his awesome Hall of Fame speech back in 2006, but it wasn't on Raw. January 4, 2010, Bret Hart came back for the first time in over 12 years to guest host Monday Night Raw. As Bret was one of my favorites, it was an epic night for the ages. Seeing him on Raw again was surreal, and it was the perfect way to kick off a new decade. It was a moment many thought would never happen, but I guess it's true when they say time heals all wounds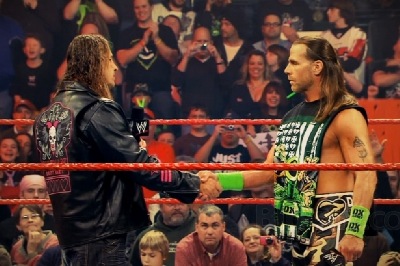 After addressing the crowd a bit, Bret wasted no time by calling out bitter long time rival Shawn Michaels. HBK was involved in the infamous screwjob, and for a long time the two hated the other. A case of real life playing out in storyline, the two hashed it out on live TV. You felt the weight coming off their shoulders. Their handshake/hug sent many shockwaves through the industry, much like the union of the Mega Powers

RESURRECTION OF JAKE THE SNAKE ROBERTS + SCOTT HALL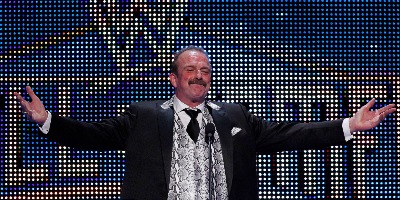 For years Jake lived life on the edge. Jake let himself go and was knocking on Death's door. That was 'til long time friend and former WCW champion Diamond Dallas Page reached out to help rescue Jake from the depths of darkness. Using DDP Yoga, Page's personal workout program, along with a good dose of accountability, Jake got off drugs and alcohol, and he transformed his life. WWE honored him by inducting him into the 2014 Hall of Fame. When Jake hit that stage, there was a deafening cheer. We weren't just celebrating Jake's great wrestling career. We were all celebrating the resurrection of Jake the Snake Roberts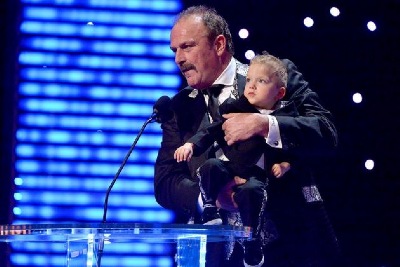 "Get yer writers ready Vince coz he'll headline Wrestlemania 50!"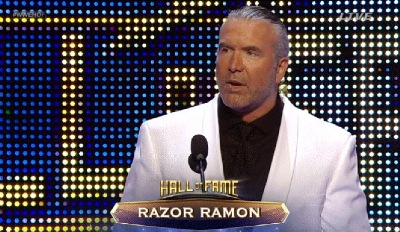 DDP didn't just save Jake. Along the way they also reached out to Scott Hall, who was also living life on the edge. Hall joined the crib of accountability, got his life right and was also inducted into the Hall of Fame the same night as Jake. It was amazing as many believed these two were next on wrestling's hit list. Yet they overcame their demons and inspired every old-school wrestling fan. It was an amazing night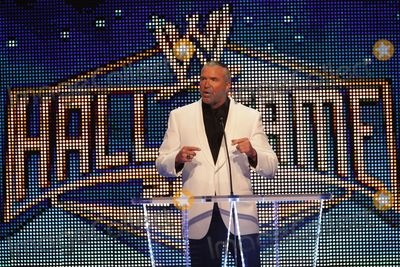 Best line ever: "BAD TIMES DON'T LAST... BUT BAD GUYS DO!"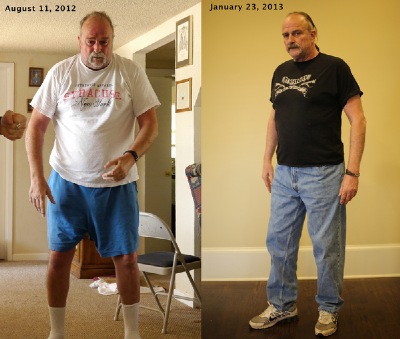 What DDP has done with Jake is nothing short of REMARKABLE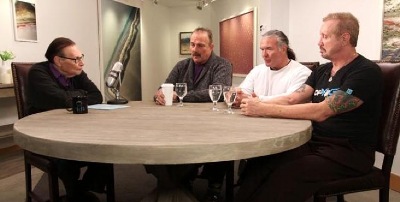 DDP YOGA is sweeping the nation and changing lives. Look it up

THE ULTIMATE COMEBACK... AND THE ULTIMATE FAREWELL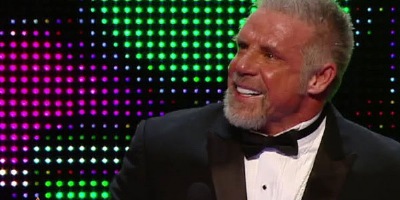 But as great as it was to see Jake and Scott go in, later that same night the Ultimate Warrior took his rightful place in the Hall of Fame. It was the first time he appeared on WWE TV in any capacity in almost 20 years. He delivered one epic speech. There might not have been a feel good night *better* than the one that occurred April 5, 2014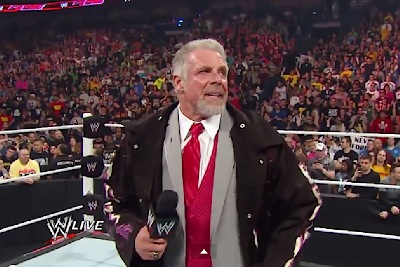 On Monday night, April 7, 2014, the Ultimate Warrior made his first appearance on RAW in 17+ years... it would also be his last. He delivered a speech for the ages. His life would sadly end the following day. But in his soliloquy, he talked about one day every man's heart beats its final beat and his lungs breathe their final breath. It was a little eerie. Warrior's passing sent shockwaves through the wrestling community. It deeply saddened me. It seemed surreal. Right before he died, he was at least able to make peace with Vince McMahon, Hulk Hogan and several others in the WWE family the Warrior had issues with over the years. He got to go out in a blaze of glory. It was a small consolation prize for losing the man, the myth and the legend. The Warrior at the very least was able to make some peace and say a few last words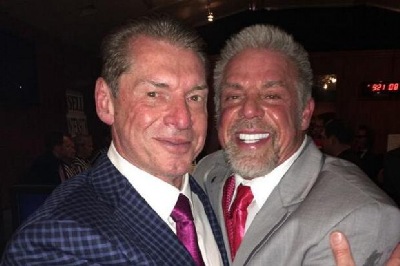 Life is far too short and precious to hold grudges. It's time to heal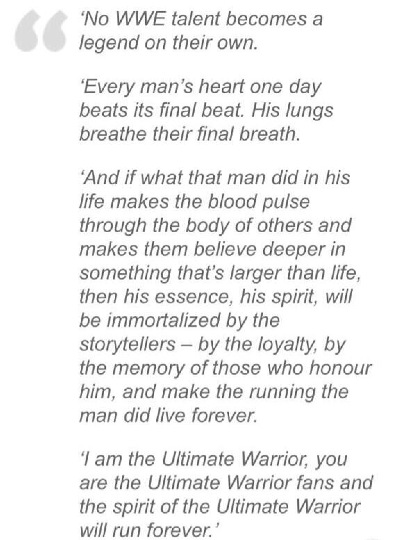 These were the final and haunting words he spoke before he died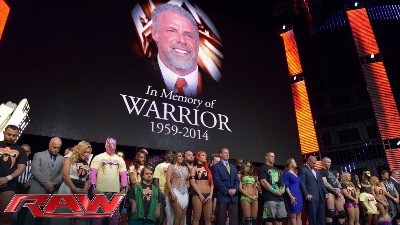 Rest In Peace ULTIMATE WARRIOR. June 16, 1959 - April 8, 2014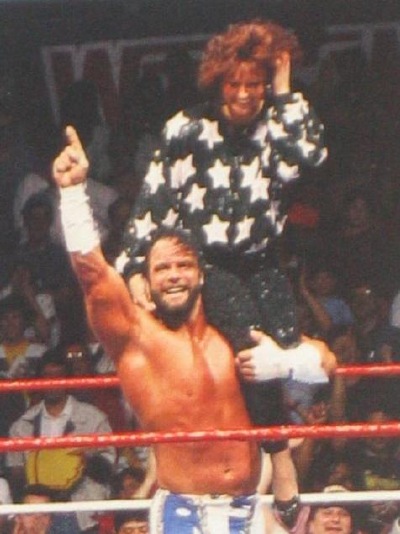 CLOSING THOUGHTS

Professional wrestling will forever hold a soft spot in my heart. I grew up on it. I went through Hulkamania. I witnessed the rise of the industry in the late '80s. I followed it through the mid 1990s when it hit a bit of a lull. I watched as wrestling EXPLODED in the Attitude era of the late '90s. And to this day I keep up with the product. Why? I still enjoy wrestling. Every once in a while they'll do something to make me feel like I'm a little 10 year old kid again. Those magical moments that make you jump out of your chair -- mouth agape with goosebumps on your arms. In some ways I feel like these larger than life athletes were once distant uncles of mine growing up. I could *always* count on them to appear on my TV each weekend to entertain me for an hour or two. Pro wrestling has always given me great memories, and I will be a rasslin' fan for life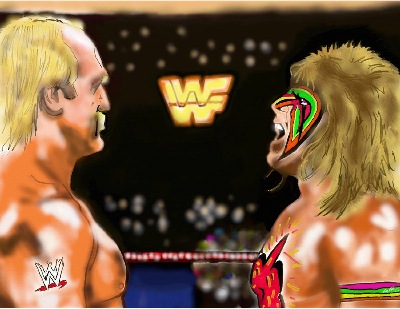 Thanks WWF for all the UNFORGETTABLE childhood memories!

TOP TEN FAVORITE WWF THEME SONGS

1. HULK HOGAN

It was the wrestling soundtrack of the '80s for every young boy. 'Nuff said

Instant electricity. Those guitar riffs are intense, just like the man himself

3. THE FABULOUS ROUGEAU BROTHERS

Total '80s flashback. Classic mixed lyrics switching from English to French

Simply classic. Love that intro. Totally fits the Hitman like a smooth glove

5. MR. PERFECT

The *perfect* theme for the perfect athlete. I can listen to it for all eternity

6. THE ROCKERS

Loved rocking out to it 25 years ago... *cough* uh, I still do today actually...

"Trust me..." this theme is one of the all-time greats, no doubt. Trust me...

8. "THE MILLION DOLLAR MAN" TED DIBIASE

Punctuated by his classic evil laugh, DiBiase's theme song is PRICELESS

9. SUMMERSLAM '88-'89 + ROYAL RUMBLE '90-'94

Good Gawd Almighty! I can hear Vince screaming "HAAAAA-KUUUUUU!!"

10. THE GAWD DAMN CLASSIC WRESTLEMANIA THEME

Some real hardcore nostalgia here. They don't make themes like they used to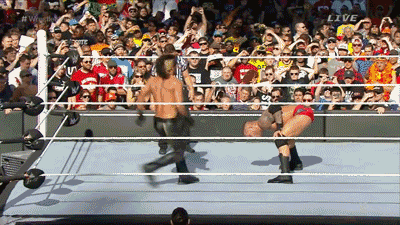 HOLY SH*T! RKO OF THE CENTURY! Nothing ¯\_(ツ)_/¯ about it

ADDITIONAL LINKS
---------------------------------

Bret "The Hitman" Hart's Hall of Fame 2006 Speech (What a great night it was)

Ultimate Warrior's Final Raw Appearance (His last great speech before he passed)

WWE Network Information (2,500+ hours of content plus monthly PPVs for just $9.99)

Good ol' Jim Ross' BBQ website (with BLOG and Q&A) plus his stellar weekly PODCAST

DDP YOGA (See what it's all about. It could be the right workout program for you or a loved one)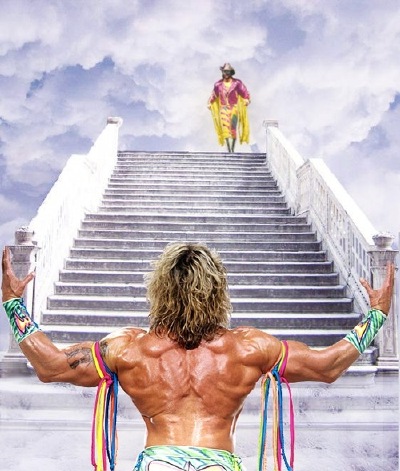 Now dropping elbows and shaking the ropes together in Heaven!