My undergrad college experience went from 2001 to 2006. I had some good times, but by far the best experience was seeing my dream come true. And that dream was to be in a play

Last night, March 6, 2007, me and an ole actor friend attended a school play to cheer on our former co-actors. The whole night made me think about the good times we shared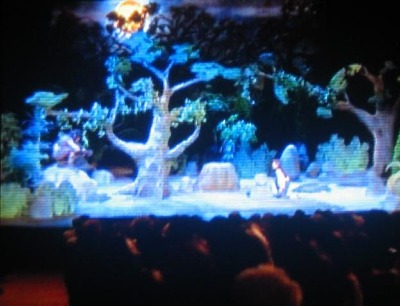 I was always fascinated with the concept of a play in general. There had to be a lot of team work, long hard nights, locker room ribbing and camaraderie going on. That plus I loved the idea of working over an audience, to dictate their emotions in the palm of my hand. I just always had a burning desire to be part of that experience. My sophomore and junior years I auditioned for a couple shows, but was
not cast in either one

Finally, in the Fall of 2005, I broke through

September 2005

Our final dress rehearsal before the real thing tomorrow, we were in rehearsal that night until almost midnight. Crazy times, for sure. But exciting times as well

By happenstance the next morning I walked to class with my professor, Todd. He asked me about the play. Class began. After an interesting open discussion on American attitude, Todd looked at me and announced, "Everyone, tell Steve to break a leg"

The guy smiled at me and I think he winked. I don't remember any more. It's all kind of a blur.
But as I got up from my seat that morning, ready to march out of there and make my acting
debut, I remember one thing. Feeling grateful. Grateful that I had this opportunity before me
which many others never had

In the back of my mind, I dedicated each of my performances to all those people who ever dreamed, but never quite made it. Maybe because they "weren't good enough"... maybe because life had other plans for them... or maybe... just because they were too scared to try and see how far they could go. Whatever the task may be -- not just acting. I dedicated my performances for every human spirit who ever dared to dream the dream in the natural born free world... but never quite got there. I know, corny as hell, but that was how I felt that morning

Coming to call one hour before the debut of the play, I met up with my fellow actors, my peers, my friends. We ran through some lines and cheered each other on. It was a true team effort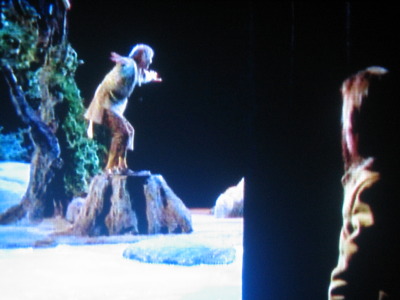 The feelings I got that day I will never forget. The high of walking around backstage, whispering with my fellow actors, getting ready for my big moment... waiting in the dark with everyone else not on stage... the smells, the creaks in the old floor... the laughs we shared... and finally it was my moment. I burst out of the curtain and made my acting debut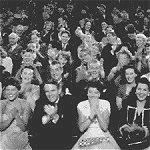 Six shows later, we took our
final bows to a roaring ovation
from the audience

In the hallway that night, my director Kathleen told me how much I impressed her and her colleagues. She said I was given some mighty praise, with the theatre honchos asking her "WHO is that kid and where did he come from?"

It was an absolute blast. The long late nights we put in... the locker room ribbing... the outside activities we did (dinner, clubbing, sleepover)... it was truly the best time of my entire collegiate experience, bar none

Though everyone got along so well, I bonded the most with Scott, Dan and Jen. Dan and Jen actually became boyfriend girlfriend over the whole experience, and to this day are still going strong. In fact, last night me and Scott went to a school play where Dan and Jen were the two main stars. It brought back a lot of good memories

When I first met Jen, I always knew it was a matter of time before she would break out and become a shining star. Of all us actors, I always felt she was the best. Her and Dan. In fact,
I emailed telling her that. I also asked if she and Dan would help me in helping Scott, as he
was struggling to find his character

Her reply:

OHHHHHH!!!!!!!!!!!!!!!!!!!!!!!!!!!


Steve you are awesome. You have absolutely made my fuckin day. I really needed the pick me up and u sure did deliver. Of course I know ur just flattering me on account of high hopes that i'll fall for that age old trick and help out the boys. And you know what? It worked. I'm down hon. I wasn't really all that into helping last month for several reasons-I had my shit to deal with (relationship). So i do apologize for not lending the helping hand then. But now i can fix this -- with you and Dan by my side we will be UNSTOPPABLE!


And I am very honored to hear that you think that Dan and myself are the best actors in the troupe, I really am. Cuz boy you, YOU have out shined many on that stage and i am just so proud at the fact that you came out and told me to SIT THE FUCK DOWN! Honestly you amaze every time you tell me to sit down- the last time you really DID scare me! (HUG) When i read ur email i will be very honest with you, i had a tear in my eye when you said that about me. So thank you
Dan sent me an email that I'll always remember as well

I remember talking last Thursday about how people in Ben's position are going to have only one of two things happen to them [Ben was a last second backup -Me]


1) They succeed with flying colors, impressing everyone in the cast and making us feel like slackers with how quickly they were able to catch up. They seamlessly enter the fold and make it look like they've been with us from the beginning and we tell stories for months to come about their greatness


2) Our fears and anxieties are realized as the actor doesn't keep up with rest of us.
The performance is a disaster and we drown our misery in drugs and booze, praying our unpleasant memories will be forgotten. The replacement actors become scapegoats
and we pass the responsibility of failure onto them


If, however, you want people to be more professional, the fastest way to do it is to set an example. Many people follow, few people lead. You're amazing for spending personal time with both Ben and Scott these past few days. I remember back when Jen first saw the flame flickering within YOU. She sat you down and threw wood on that flame, piece by piece, until you became the raging fire we have come to know and love. Now you're the teacher and they are the students. It's refreshing. I can almost see the seed of goodwill and camaraderie Jen planted in you, and watch it blossom through your actions
I've done other small plays, but none were like that first one. Although, it was a honor to play a teenage Martin Luther King Junior in a play ran for local elementary kids. We sang a lot of songs for that show, including

THIS LITTLE LIGHT OF MINE
FREEDOM NOW
WE SHALL NOT BE MOVED
WE SHALL OVERCOME
My favorite though was the BATTLE HYMN OF THE REPUBLIC

It was short and sweet:

Mine eyes have seen the glory
Of the coming of the Lord;
He is trampling out the vintage
Where the grapes of wrath are stored;
He hath loosened the fateful lightning
Of His terrible swift sword:
His truth is marching on

Glory! Glory! Hallelujah! Glory! Glory! Hallelujah!
Glory! Glory! Hallelujah! His truth is marching on
In another play I was a plant dancer. One of the actors pulled me from the audience and so I got to shake my rump to the tune of MY HUMPS on stage for all to see

Scott yelled "GO STEVE!" from the audience and Jen was cracking up in the aisle. Dan was in the play. The funny thing is, it wasn't in the script for me to take center stage and bust out my dance moves. But as soon as I heard that music play over the speaker, instincts took over. The director ended up loving my improvisation

After that show, which was the final day of the semester, we actors huddled around and
everyone hugged one another, each with a genuine compliment for the other. It was an
experience like none other. That whole Fall 2005 semester was unbelievable

Back to present day...

Monday March 5, 2007, Jen sent me a text

You better be at the play tomorrow night! Me and Dan are the stars =)
And the very next night, me and Scott were there to cheer our old colleagues on. They put
on a hell of a performance, and afterwards we met them backstage to give 'em a big ole hug

Last night made me think of ole times. As I march on with my current goals and ambitions,
a part of me will always remember those days very fondly