Written: 3.30.08
Acquired: 1.30.06
Status: Cart only
Price: $4.99

| | |
| --- | --- |
| Pub: Accolade | June 1994 |
| Dev: Accolade | 16 MEGS |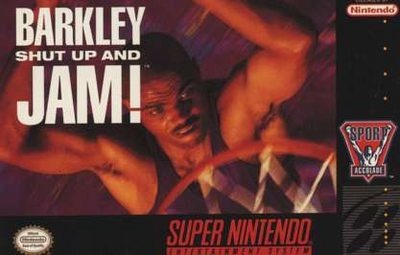 When NBA Jam hit the arcade scene in 1993, it was met with undying love and support. It was a 2-on-2 affair that promoted extravagant slam dunks over the fluffy and puffy technical stuff. It was only a matter of time before we would see a bevy of clones, much like the sensation DOOM and Street Fighter II caused. In the summer of '94, along came a little game called Shut Up and Jam!
"That's BARKLEY Shut Up and Jam, knucklehead!"

DON'T JUDGE A BOOK BY ITS COVER

One thing that never ceases to amaze me is how every gamer has those games they like for
various reasons, that most others couldn't give a damn about. It's one of the great aspects of
this hobby: being able to pick up a game not knowing how you will receive it... or even, how
the game will receive you. Philosophical balarky? Tell that to Charles Barkley. No actually,
don't, he'll just call you "turrible" -- among other things too vulgar for me to repeat here

At any rate, this game is one of those for moi

So, with that said... Shut Up and Read!

[*slaps forehead* -Ed.]

BATS, BOBCATS AND BARKLEY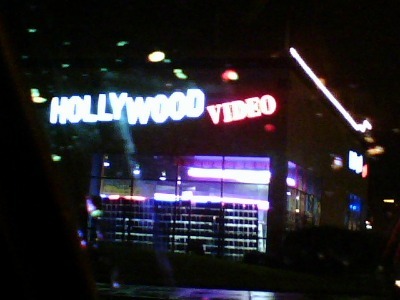 On a quiet, idyllic Monday evening of January 30, 2006, just two weeks
into my Super Nintendo resurgence, I stopped by the old Hollywood Video still lingering in the town seeped with my childhood memories and ghosts. Perhaps that was my ulterior motive, but that evening I drove to my old stomping grounds hopeful to add more games to my ever growing collection. Any sensory memories would be but a bonus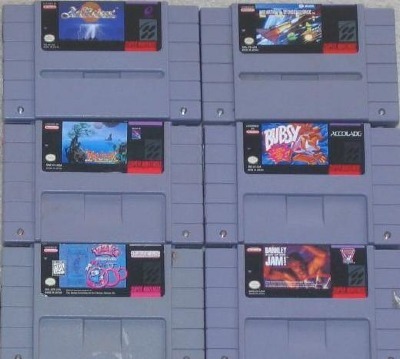 Entering the giant store like I had done so many times before more than a decade ago, I wasted no time; not even to revisit the ole horror section where I scoured for the coolest looking boxes as a youth. No, instead, I made a beeline for the Game Crazy hub in the corner. Back then they still had a healthy choice of SNES titles on hand. Look at these six games. I'd wager 99.9% would claim ActRaiser as the most memorable game of this lot. And while I was ecstatic to see it, the game that thrilled me most was actually Barkley Shut Up and Jam! [Are you MAD?! -Ed.] Aside from Bubsy, it's the only game in this set that I rented back in the day. And I enjoyed playing it with my brother and friends. Goes to show you not everything is what
it may appear to be. Sadly, I never did get a chance to play ActRaiser back in the '90s, but the beautiful thing about being older and having my own money is the opportunity to not only revisit old childhood faves, like Shut Up and Jam!, but also to finally play the "classics" I missed out
on some 12, 15 years ago. And who said being older is all bad? I say it certainly ain't!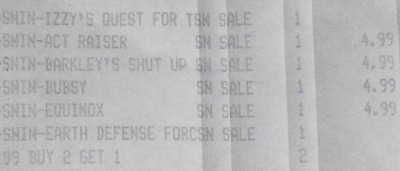 While many others
may have disregarded
Shut Up and Jam!
without a second's
notice, I, on the other
hand, quite happily
rescued it from glass
case damnation


Today, most Game Crazys are sadly devoid of any 16-bit titles. Back in early 2006, they still were quite a gold mine. I'm lucky I got back in it when I did. The Hollywood by my old home still stands to this day, but even in two short years, a lot has changed... yet again...

HOOP IT UP

From the humble beginnings of Dr. James Naismith placing a basket on a gym wall over 100 years ago, basketball has developed into the slam dunk, 3 point, high above the rim sport that's played on the streets and in the arenas all over the world today


Forget all that sissy foul calling stuff. This is the streets. The competition is tough. The great D of Stonewall, the power moves of Chilly, and the 3 point range of Sweet Pea will all challenge you. Also featuring the round mound of rebound, Sir Charles Barkley

How does Shut Up and Jam stack up? Let's take a look-see...

THE CHUCKSTER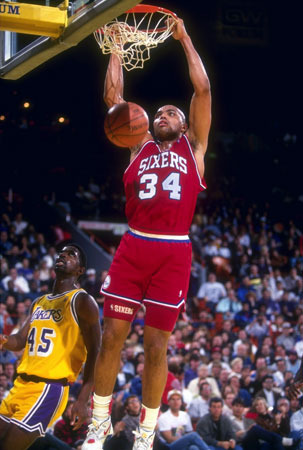 Before we begin, let's examine the name behind the game: Sir Charles Barkley. Born and raised in rural Leeds, Alabama, Barkley averaged 19.1 points and 17.9 rebounds per game his senior year in high school. He attended and played for Auburn University for three years, over the course of which he averaged 14.1 points, 9.6 rebounds and 1.7 blocks per game. He declared for the NBA draft in 1984 where
he was selected 5th overall by the Philadelphia 76ers, just two slots after Chicago took Michael Jordan. His rookie season he averaged 14 points and 8.6 rebounds per game -- the LOWEST for
his 16 year career. He gave the 76ers' organization and fans eight tremendous years of basketball. His best years there included averages of 28.3 points and 11.9 rebounds per game, in another season he had 23 points, 14.6 rebounds, 4.9 assists, 1.8 steals and 1.5 blocks per game!


Barkley was traded to the Phoenix Suns after the '91-'92 season concluded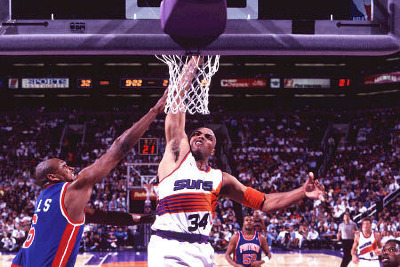 Barkley continued his reign of dominance in the Valley of the Sun. His first year there was arguably his best. Averaging 25.6 points, 12.2 rebounds and a career high 5.1 assists per game, Barkley led the Suns to a 62-20 record and was named League MVP. The Suns made the NBA Finals that year, their first since 1976, where Jordan and the Bulls defeated them in six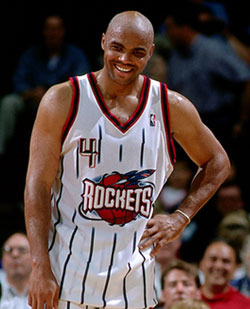 After four fantastic seasons playing for Phoenix, Barkley was shipped to the Houston Rockets on August 19, 1996. Now in the back end of his career, Barkley was joining a veteran team in hopes of finally capturing that Championship ring that has so long alluded him. Playing alongside two of the Top 50 Greatest NBA Players, Hakeem "The Dream" Olajuwon and Clyde "The Glide" Drexler, Barkley had to adapt his game as Father Time dictated. He focused on rebounding, since Hakeem was the number one option on offense. In '96-'97, the 'old man' averaged a whopping 13.5 rebounds per game, the second highest mark in his illustrious career, to go along with 19.2 points per game. The Chuckster, in his four years in Houston, never again averaged over 20 points per game. The Rockets made the Playoffs several times, but always came short of the Title. Barkley retired after an injury-plagued season in 1999-2000. His last game was April 19, 2000

Barkley had rehabbed hard enough to come back for the final game of the season. He wanted
to leave the game on his own terms, not by injury. The home crowd gave him a standing O as
he entered the game. He collected an offensive rebound, put it back in and was fouled. The
fans went crazy. After shooting the free throw, Barkley retired. He received one more standing
ovation; a proper sendoff for a guy who did so much for the game despite all his controversial moments

LIFE AFTER BASKETBALL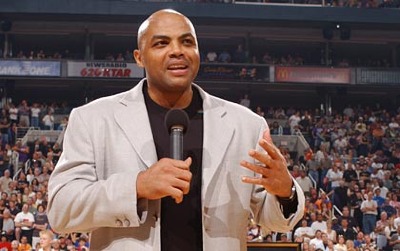 Barkley always oozed charisma, off and on the court. After he retired, he stayed in the limelight, using his outspoken personality, charm and credentials to create other avenues of success. Whether the fans love or hate the Chuckster, he always makes a strong impression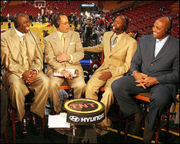 Today, Barkley is perhaps most well known for his work with TNT. Their award-winning show "Inside the NBA" follows every NBA game on Thursday evenings, where the 'panel of experts' supply their thoughts and analysis. The hilarious duo of Kenny 'The Jet' Smith and Charles Barkley is well-balanced by the glue of the team, Ernie Johnson. Occasionally, Magic Johnson or Reggie Miller will join the telecast, as well as current NBA stars during their off-nights. This list includes Kobe Bryant and just this past week, the recently retired Chris Webber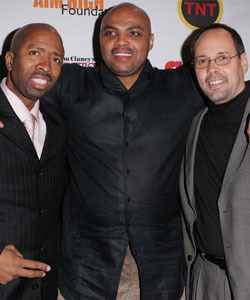 The three-man crew is, for my money, some of the most entertaining TV a sports fan can count on week in, week out. From Ernie's fine act of balancing Kenny's antics and Barkley's never-know-what-he's-gonna-say-next persona, the show is often good for a chuckle or two. Their chemistry, their comedic timing... it's all ace. Here are some of my favorite moments:

How Smart Is Chuck? (1:37): undefined.
TNT Does Charles Wrong (0:33): undefined.
TERMINATOR (1:09): undefined.
ENTER THE DRAGON (2:29): undefined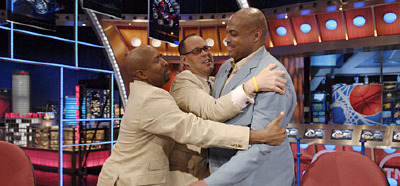 They have lots of fun
over there. Come to
think of it, perhaps a
little TOO much fun!



On March 30, 2001, the Sixers retired
Barkley's #34 jersey high in the rafters.
Today marks the seven year Anniversary!
How about that? Congratulations on a hell
of a career, Chuck. The honor was well
deserved! Bravo, big man

Now that we're caught up on the name behind the game, let us move on to...

THE GAME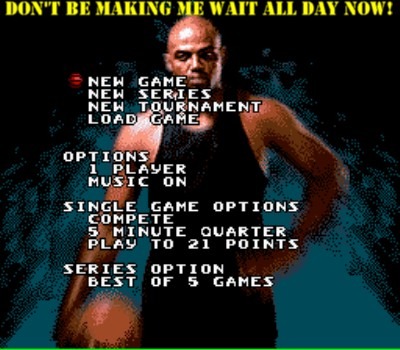 Shut Up and Jam is a 2-on-2 street basketball title. You can play by the clock (1, 3 or 5 minutes per quarter) or by points (first team to 21 or 50 wins). Select from single game or series or tournament. A password feature is on hand to help save your progress. In the tourney mode, if you can defeat the rest, you'll face Barkley as the final test

SWEET SIXTEEN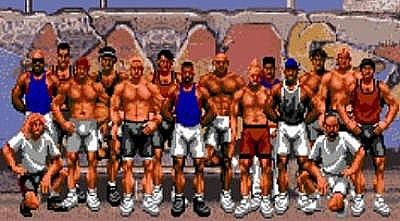 Select from these 16 ballers: Barkley and 15 "street legends." As you would expect, each one has different strengths and weaknesses. Find out who works best for you


Like NBA Jam, there is a turbo meter. Watch those balls carefully [.... -Ed.]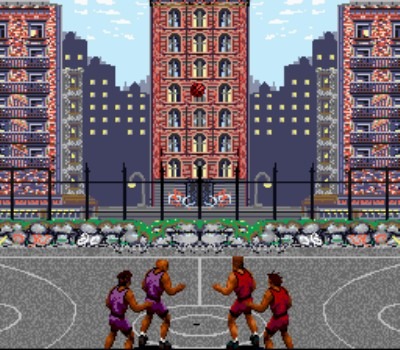 Each game begins with a tipoff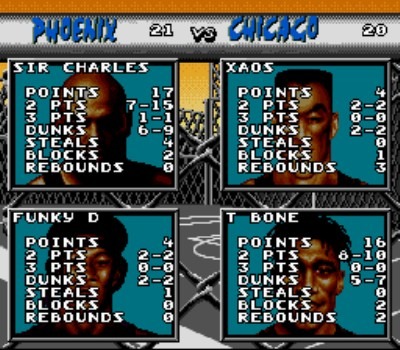 And ends with the stats, whew that was a close one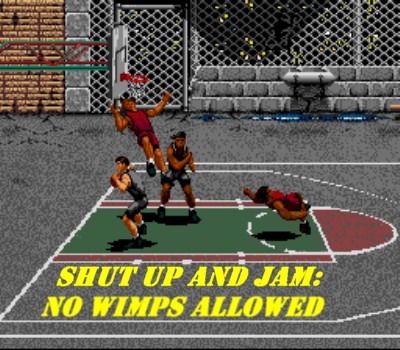 Just like NBA Jam, there are no rules! Let the bodies hit the floor!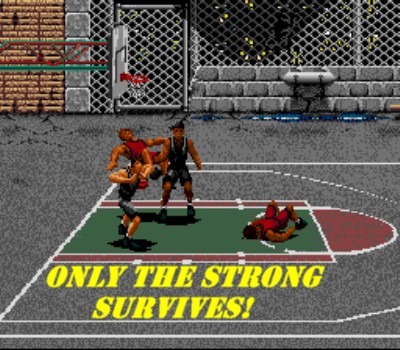 By any means necessary!

SHUT UP AND JAM!

The slam dunk is emphasized as well as exaggerated. 360 jams, reverses, they all here

Nothing beats the pure rockin' power of a thunderous two-handed reverse FLUSH!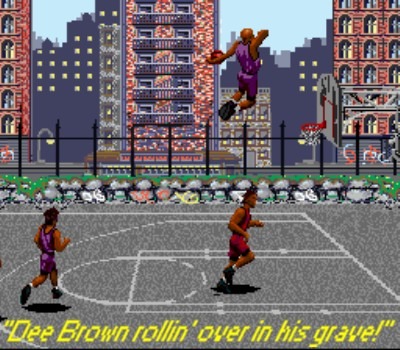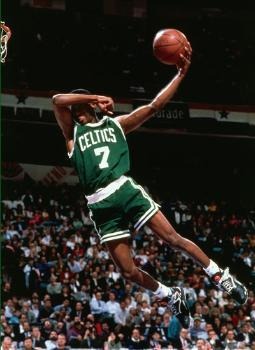 "HEY! I'm still alive!"



Dee Brown's infamous no-look
jam during the 1991 All-Star
NBA Weekend Slam Dunk
Contest. It was one for the
ages, and perfectly replicated
for Shut Up and Jam!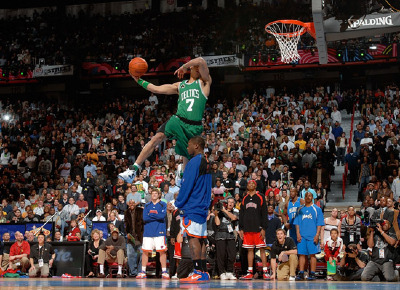 16 years later, Gerald Green resurrected the ghost of Dee Brown to
win the 2007 NBA Dunk Contest. He added his
5'8" competitor, Nate Robinson, to spice it up


["Hey I ain't dead yet! Sheesh!" -Dee Brown]

PLAYERS (note: ratings out of 8)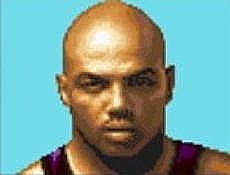 SIR CHARLES BARKLEY

The round mound of rebound,
Barkley is arguably the best
player in the game. A fierce
rebounder and competitor,
Barkley will posterize you if
you get in the way, and talk
trash at 'cha while he's at it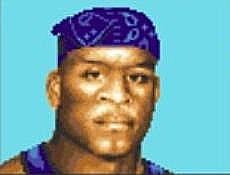 CHILLY

Two words: Rebound Specialist.
Outside of Barkley, no one gets
near him when it comes to bringing
down boards. He's got good speed,
he can shoot twos, he can jam. A
good match with anyone who can
shoot the three. Why is he called
Chilly? Don't piss him off, and you
will be lucky to never find out why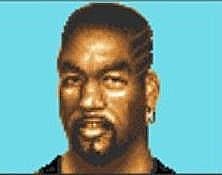 D-TRAIN

Nothing wimpy about D. This dude
will swat it if you pull up in the lane
and he'll rip your head off if you get
in front of him for a rebound. Mix his
speed and defensive ability with a guy
who can shoot the rock and you've got
a blacktop team to watch out for. Good
luck dunking in his yard, you'll find out
why they call him D-TRAIN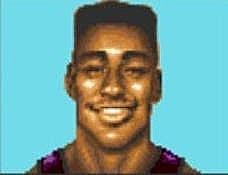 DANE

Scouts around the blacktop say this
guy's got no major weaknesses -- a
jack of all trades. He's got speed to
burn, pours in threes from both sides
and he can strip you clean and flush it
on the other end before you knew what
even hit ya. The right hand man of Sir
Charles Barkley, you know for sure...
Dane's got game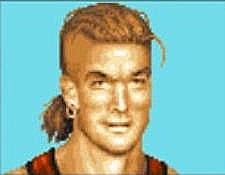 FLY BY

Outside, this guy's nothing. You can
let him hack all day from 25 feet and
he might make one. But DO NOT get
lazy on him. Word on the street is this
guy is so fast taking it to the hole for
a slam, he shreds asphalt. His dunking
prowess is legendary. He's pretty weak
bringing down the boards, so grab a guy
like Chilly to help out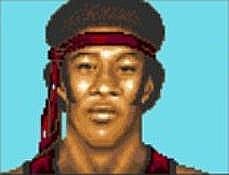 FUNKY-D

At the three point arc, this cat LIGHTS
IT UP. Sure, he can't dunk for diddly,
chokes on the occasional 15 footer,
and gets bounced around inside like a
rag doll. But if it's bombs you want, it's
bombs you'll get with the Funkster. Just
be sure you've got a bruiser down low to
cover the boards when Funk decides to
miss. Oh yeah, that mini-fro is rockin'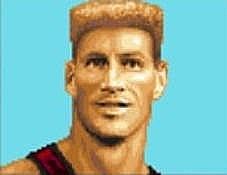 GUNNER


Street ball is about respect and this
guy gets none. Why? HE CAN'T JAM.
But who cares when you've got a guy
who can hit from anywhere, move the
ball up and down the court and rebound
like a mad man? Besides, if you draft a
big man like T-Bone, you'll get enough
jamming for the both of them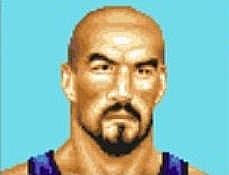 NEWTS

The scouts don't know whether to
pick him or call the cops. Newts
is pure destruction down low. Do
not mock or laugh at his awkward
nickname, rumor has it he once
broke a guy's arm just for looking
at him funny. Even Barkley is a
little cautious around this nutjob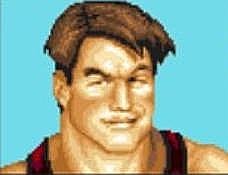 SARGE

Nothing flashy, just solid as asphalt.
Don't count on him for any 360, full
hang-time jams, but he hustles up
court and back, pulls down boards
with authority and gets pure net on
a lot of three pointers. No one will
ever outwork or out-hustle Sarge.
Not the best talent on the streets,
but he's respected for his tenacity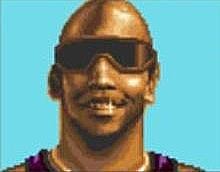 SMOOTHY

No denying, this man's quick as a hiccup.
Aside from minor wussing on rebounding,
there's nothing his speed won't make up
for. He can nail 'em from three, not bad on
"D" and he just about gets his chin inside
the rim when he's doing the monster-jam
thing. Hook him up with a guy like Newts
for 2-on-2 domination. Try knocking his
shades off; that is, if you can catch him!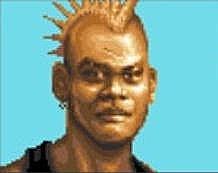 SPIKE

Double threat here. Try to take him
face up at half court and he'll blow
by you. Give him too much cushion
and he'll stop and pop from three
point land. Yeah, he's awesome
outside, but word is he dunks like
your momma. You're going to need
an inside guy like D-Train if you want
to get to the Promise Land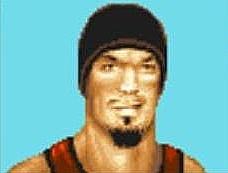 STONEWALL

This guy's a monster on the boards and
has a sharp eye around the paint. He
guards it like it were his booze. Big on
intimidation, low on finesse. The battles
for rebounding and interior supremacy
between him and Chilly, D-Train, Barkley
and Newts are legendary. Warning: stay
away or he might mistake your head for
the ball. Hope you have insurance!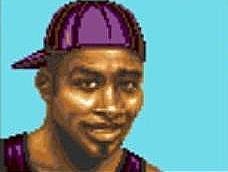 SWEET PEA

If you want to play long ball, this is your
man. He can knock down threes in his
sleep and he's not afraid to go through
people for the gorilla slam. He's sly on
"D" but his rebounding needs work. He
is a crowd pleaser, entertaining folks
wherever he goes. Blessed with NBA
sized talent, Sweet Pea sticks to the
streets where he feels he belongs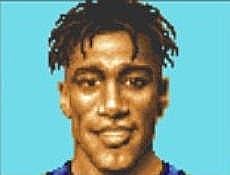 T-BONE

This guy will embarrass you from the
baseline. He'll smoke you from the
three point line. He'll stuff you, snuff
you, pick you clean and you won't
know what hit you. Guys who play
with him say he might be the best
there is. Guys who play against him
say he definitely is. There is nothing
he can't do. Pick him, or pay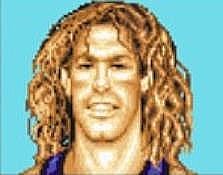 WILDMAN

Don't say anything about how fast
he is. Don't talk about him nailing
jumpers from 15 feet. Don't cry
about his weak rebounding, just
shut up and watch him jam. That's
what he's here for. That's what he
does. A wuss under the boards,
but a speed demon and a wizard
of the aerial attack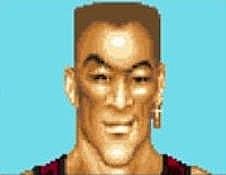 XAOS

Forget the name, this guy is worth
a look. He's a pretty good shooter
from inside 20 feet, but that doesn't
pay the rent. This kid is money for
his rocket powered shoes and his
nuclear ham. Get him some help
on "D" or you will, I repeat WILL,
be embarrassed. Crazy enough to
play with an earring, or dumb...


BALLIN' ALL OVER THE STATES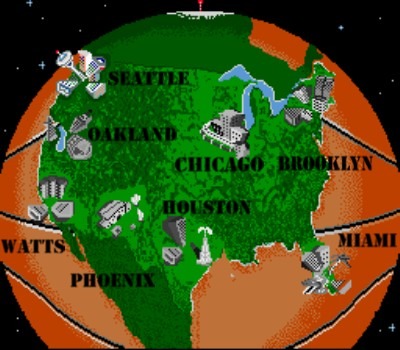 There are eight locations to slam and jam in. Aside from Phoenix, they all take place in the streets, the blacktop, just like how it was in the good ole days, and still is to this day. Let's take a quick tour, then, shall we?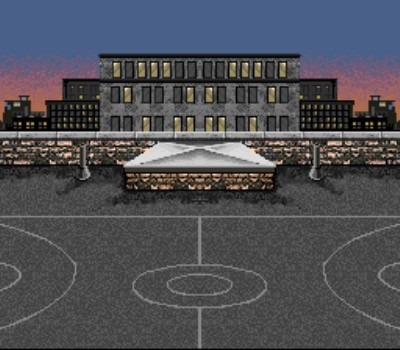 First we have wonderful SEATTLE, whose rooftop blacktop has seen many battles, bruises and blood. Occasionally, those living in the apartments nearby will glance in for a dunk or two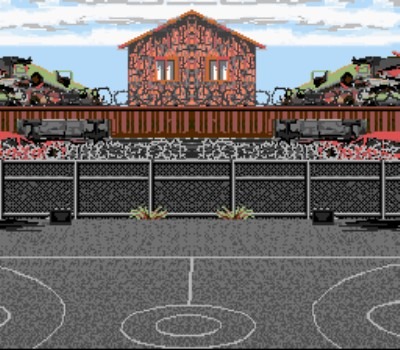 Next we have OAKLAND. Ball is played right outside a junkyard. Better bring your A-game, or you'll quickly join the heap of garbage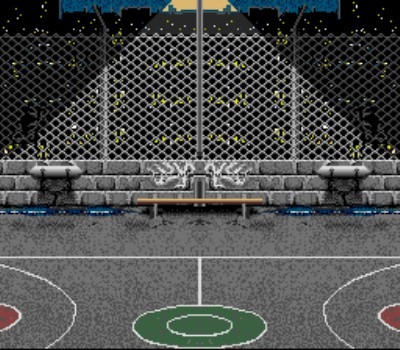 WATTS is a residential district in southern Los Angeles. Hoop it up in the schoolyard at night, where a single street lamp oversees the intense action. Don't bitch about how you can't see, just shut up and jam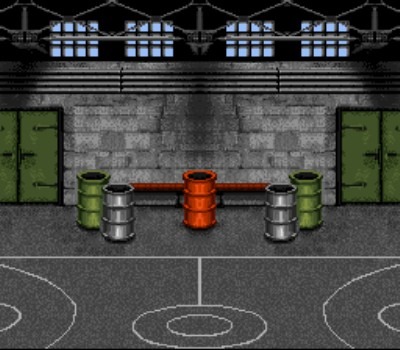 In HOUSTON the street ballers go at it in this abandoned warehouse. The best players come here every weekend to stake their claim as many on-lookers stop by to scout and watch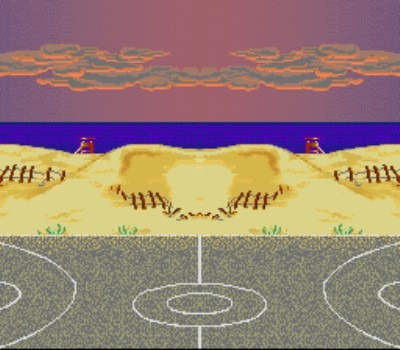 It's always a good time
in MIAMI, unless you're getting your ass kicked on this beautiful court. Here the ladies size up the very best of the best. While some will play for their affection, others just want to win at all costs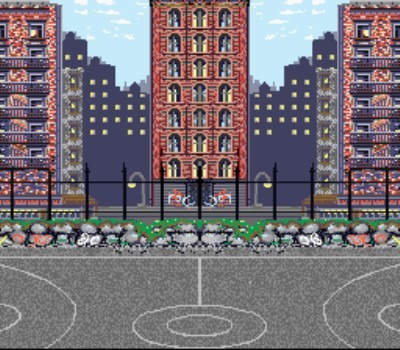 In the ghetto of BROOKLYN, players compete in heated 2-on-2 tournaments. This is where names are claimed, legends made, and faces broken. If you can't handle the intensity, go back to your driveway, rook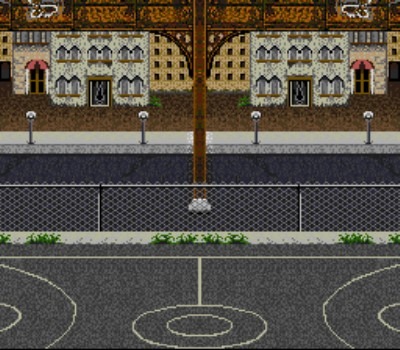 Next stop sees CHICAGO, where street ballers play by the L-Train. Another infamous blacktop, it is a spectacle nearly 24/7. Rumor has it Michael Jordan has a go here every summer, and everyone claims they've taken him in a game of 21. Most you know are just BS-ing, but there's always one you're never quite sure of...








Last stop of the grand tour is PHOENIX where Sir Charles Barkley himself will invite you to play in his Arena if you earn it. Few have balled here, and nobody, NOBODY, has ever beaten Barkley in his own building. Will you be the first?





Hope y'all enjoyed the grand tour. Be sure to stop by the giftshop and tell 'em ole STEVE sent ya! *mad laughter á la LARGE MARGE*

[AHEM -Ed.]

Sorry

OUCH! If fate should take you here, where few have gone, this is what awaits you!

WHERE AMAZING HAPPENS

Let's check out some of the action on offer!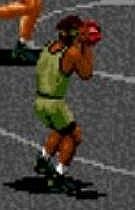 Funky-D is renowned for his three
point shot. Dude lets those threes
fly like no tomorrow. You thought
"Thunder" Dan Majerle could bomb
haymakers from everywhere on the
court? You haven't seen NOTHING
yet til you see Funky D in action!
He makes Thunder Dan look like
SHAQ from downtown!

Wide open, hand in face, it don't matter. Funky D knows how to shoot the three!























Nothing but net. Just another day at the office for the Funkster

Let's check out what's going down in Oaktown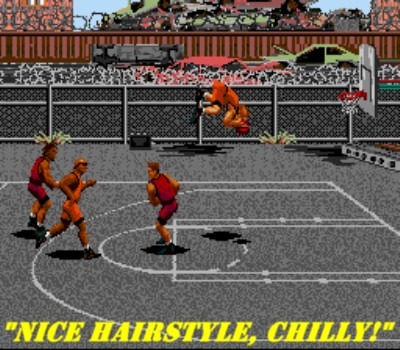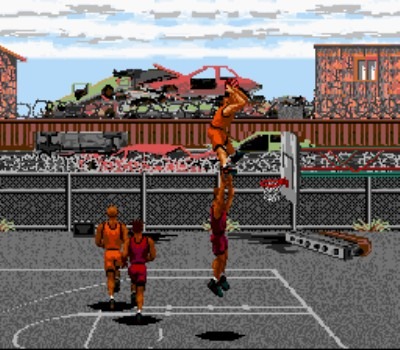 Wildman doin' what he does best: throwing down!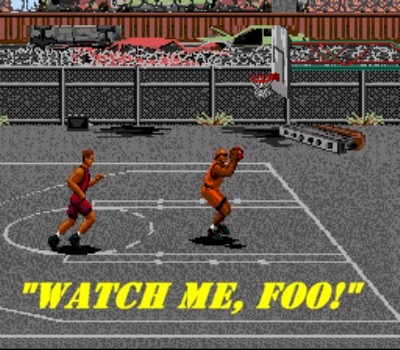 Smoothy, not to be outdone, wants in some of the action as well

Fast and compact yet still enough points for style, Smoothy jams before the comp blinks

Time to head out to WATTS

Sweet Pea with the larger, but slower, windmill jam. Pray Newts doesn't take you out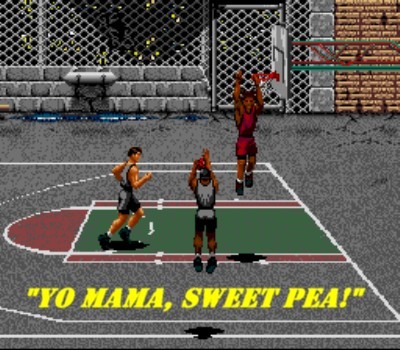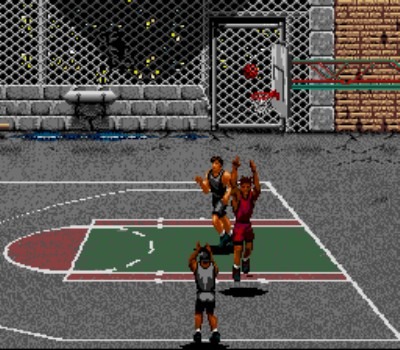 Sweet Pea is nearly automatic from outside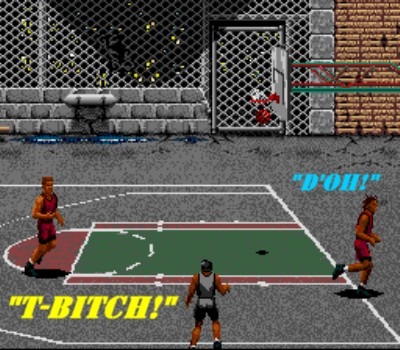 And he doesn't mind bringing the trash talk to boot!

What's up in HOUSTON?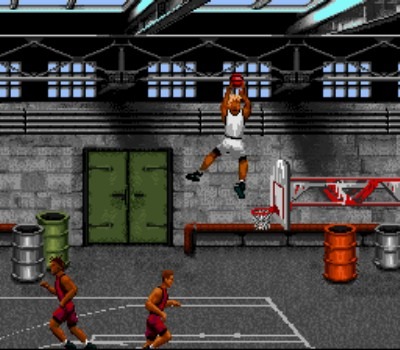 Spike is! Kid gets up so high his mohawk can almost touch the skylight

What's shakin' in BROOKLYN?

Dane ready to flush it down with two hands on a nasty reverse jam





That Dane, AKA Barkley's
running mate, is something
else. You can rely on him
for just about any and every
thing. He can handle the rock,
pass it on a dime, D you up,
rebound and he holds his own
in the dunking game as well.
Try as you might, you will not
find a major flaw in his game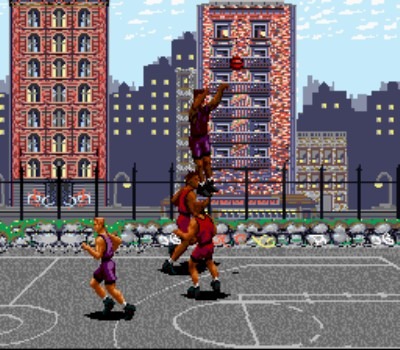 Kid can really shoot the rock, too























T-Bone knows that is good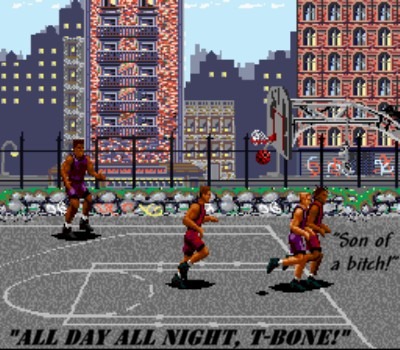 T-Bone fans out there, relax, he'll get his


Speak of the devil... it's T-Bone. Arguably the best player in the game behind Barkley, T-Bone is like Dane but even that much better. A king of all trades, he's got every basketball tool the scouts look for in the ultimate player. He is the LeBron James of the streets. A Mr. Do It All,
T-Bone could lead an NBA team to the promise land tomorrow if he wanted to. IF he wanted to. So why hasn't he? Unlike others who haven't had the breaks or the big bucks, T-Bone has been offered numerous contracts from pro teams desperate for a star. Word on the street is, T-Bone was born on the blacktop, and he'll play there til the day he dies. In the mid '90s, as the urban legend goes, he issued an open challenge to any NBA player to step on the blacktop to play him one-on-one. One NBA superstar, unnamed, took T-Bone up on his offer. And legend has it, T-Bone schooled him 21 to 9. The locals claim it wasn't even close. It was "like watching God play basketball," they ushered in hush tones

Every few months, scouts come out with a contract. And every time, T-Bone sends them home heartbroken. He is truly the best player to have never played in the pros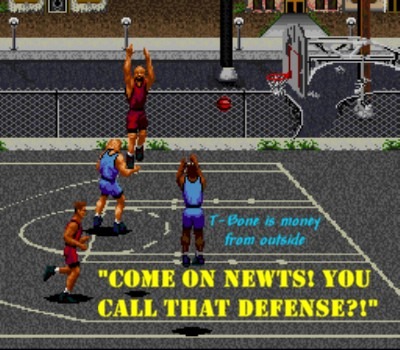 T-Bone: The LeBron James of the Streets

His jumper is smoother than a baby's ass and a pimp's game, combined

His infamous jaw-dropping AROUND THE WORLD jam has to be seen to be believed!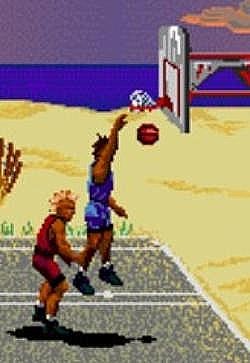 They say it is the ONE dunk that nobody can swat. Even the great Barkley has been rejected on a slam dunk attempt, but never T-Bone on his trademark jam, or so the legend goes


Newts, D-Train, Chilly and Stonewall, they have all tried, and none have ever succeeded


Eyewitnesses say one time T-Bone was ballin' it up in Miami, and he ended the game with his signature jam. They say when he did, the beach stood still entirely for a moment. Not a wave crashed, not a soul moved and not even a sound. The only thing that made any noise was the basketball bouncing violently on the blacktop following the vicious slam heard 'round the world

T-Bone can jam with the best of 'em... it just isn't fair, is it?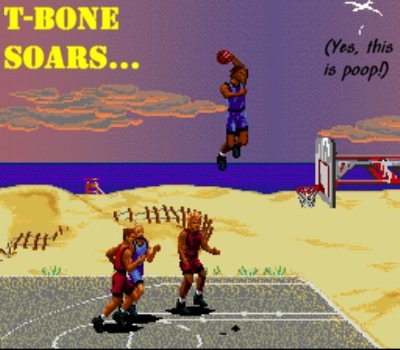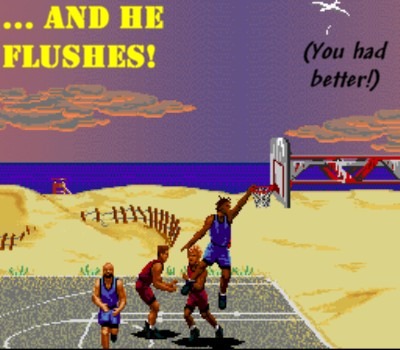 GODZILLA VS. BARKLEY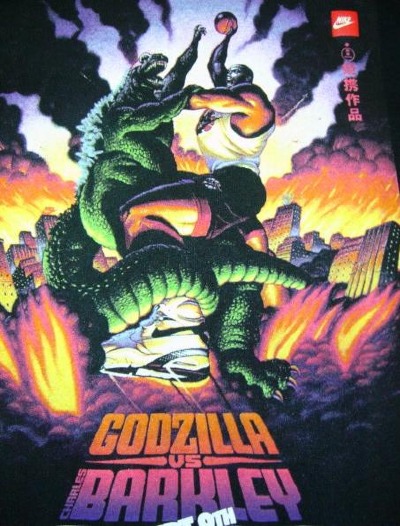 You know, there are times in my life when I get that feeling in the pit of my stomach. I don't know if it's ESP-related or some crap, but I swear to you there were moments where I had this sense of knowing what was about to happen. As a kid, I
have been able to sense earthquakes moments before they occur. But
I wouldn't dare call it a premonition, as it isn't always bad. Case in point, some time in 1992 I was watching TV as usual. Commercials were playing and somehow I got this strange feeling I would
see Godzilla on my TV. Imagine my shock and jubilation when the Godzilla vs. Barkley commercial came on for the very first time. Once again, my gut called it. I had no idea how, all I knew was, I loved the commercial to death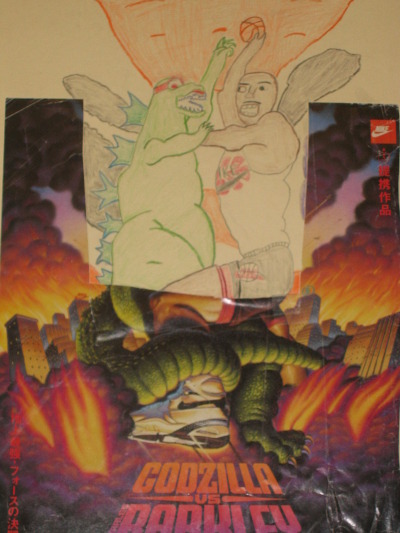 I was really excited, thinking they were going to make a movie of this or something. My mom even bought me the t-shirt, which made me the coolest kid at school. (My friends and classmates loved reading the profiles for Barkley and Godzilla printed on my tee. I've long since donated the shirt to charity, but I recall Barkley's favorite meal being mom's home cooking!). In middle school, I drew a picture
of the fight for a drawing class. I can't draw to save my life (remember the awful Fighter's History drawings? Yeah). But I had a blast drawing this all the same, and to this day I still have it tucked away in my box of memories from the yesteryears. Good times

Godzilla vs. Barkley Trailer (0:38): undefined.
Godzilla vs. Barkley Commercial (0:30): undefined

REDEMPTION

As I blew the dust off my old drawing, the wheels started to turn. What if, somehow, I could show Chuck this? And in the process, score an interview with the Round Mound of Rebound?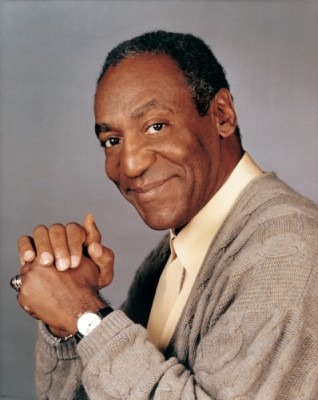 Back in college, I attended a meeting regarding our graduation. One of the topics was to get nominations for potential guest speakers. Everyone rattled off highly respected professors and mentors within our department. And that was nice and all, but I wanted to aim for that proverbial pie in the sky. "What about Bill Cosby?" The room fell silent. When they realized I was being completely serious, the ceremony coordinator asked if I knew how to reach Mr. Cosby. "I know someone." That someone was the basketball coach, who goes way back with Bill. I'll never forget that Wednesday afternoon when I received the phone call. I was having lunch with an old girl friend at TOGO's when the call came. Unfortunately, Bill was out of the country at the time, his PR people informed me. They added he would have gladly done it had it been otherwise, for what that was worth. It was a close brush with fame, but alas,
it just wasn't meant to be

This Barkley ordeal was a chance at redemption. One thing led to another, and I got in touch
with Barkley's PR people. I also asked if I could interview Barkley about his SNES video game. Imagine my shock when I saw the following in my email box!

From: Charles Barkley's PR people
Sent: Tue 3.18.08 9:05 AM
To: Steve


Your Godzilla vs. Barkley drawing was sent to Charles, in addition to your request for an interview for his old video game. It was well received. We can set something up for next week. Charles is very busy, but he said he can swing 10-15 minutes.
On March 26, 2008, I found myself interviewing Charles Barkley. I thank him endlessly for the following Q&A session:

Me: I know you're busy, so thank you for taking
the time


CB: Hey, you gonna give my game a good score, right?


Me: Sure. Of course...
so, have you ever, before hand, seen or heard of RVGFANATIC?


CB: Never in my life


Me: Real quick, what was the Godzilla gig like?


CB: Fun as hell. The Japanese people love me, and who can blame them?


Me: Do you mind fielding a few general basketball questions before we get
to the video game?


CB: Fire away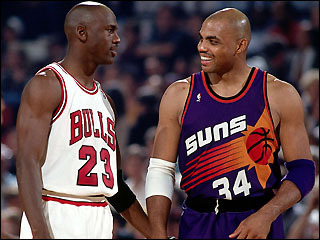 Me: You've played against both Michael Jordan and Kobe Bryant. Many think Kobe's this generation's MJ. How wide is the gap between the two?


CB: I think Kobe's great, he fantastic, all of that. But people who think he as good as Michael was, they must never have seen Michael, because if they did, they wouldn't say such a thing. But for this era, Kobe is as close as you gonna get. And I like Kobe, he's a tremendous talent, but Michael? Come on now!
You know I love you, Kobe!

Me: You've had such a wonderful career. Ever wake up in the middle of the night and get that itch?


CB: Sometimes I used to, y'kno. But now, it's mainly an itch from a bug bite or something *chuckles* Yeah, those days are over with. I'm happy where I'm at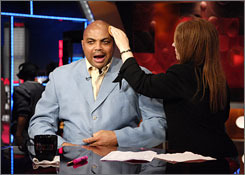 Me: Speaking of which, I love your work on TNT with Ernie and Kenny. Just brilliant stuff. It seems like you guys have too much fun at times. What is it like being on that show?

CB: It's great, aside from the lousy pay and some jackass studio people who think they know it all. But man, lemme tell you something, I get to work only one day of the week, I have some good people looking out for me, and best of all, sitting next to two losers like Kenny and Ernie makes me look really good! *chuckles*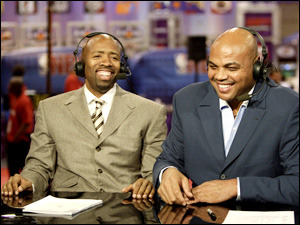 Me: Good ole Kenny. You gotta love that little tar heel bastard. What's it like working with a guy like Kenny?


CB: Hell, torture, like a root canal. *chuckles* Naw working with Kenny
is interesting. He's got this real strong "brother in the man's office" professional side, but really he just a kid at heart. A goofy, UGLY looking one *chuckles*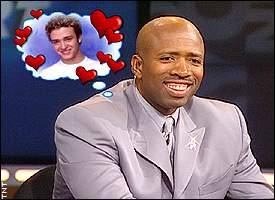 Me: I remember that time you guys played that little joke on Kenny about Justin Timberlake hitting a jumper in his face...


CB: Oh yeah he had that coming, that little bastard. They always trying to clown the Chuckster so any chance I get, I'll get him. As long as I'm around, HE'LL NEVER LIVE THAT DOWN! YA HEAR ME, KENNY?! NEVER!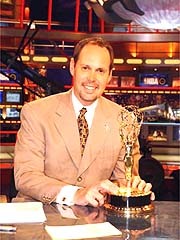 Me: What about Ernie? What's it like working with him?

CB: Ernie who? Oh you mean that middle-aged white boy riding my coat tails? Oh OK, that Ernie. Naw Ernie is just wonderful. People stop me on the street all the time to ask me if Ernie is really black, or if he's white

Me: And you tell them what?

CB: That he white as hell. White as Wonder Bread *chuckles*

Me: He keeps you and Kenny in check, eh?

CB: That he does. Naw listen, he's one of the best in the business. I'm really happy for his success. Well-deserved

Me: I know your time is precious, so let's jump to the game now. What are your memories of it?


CB: I was never a big game player, even then, but I saw an opportunity to get involved with a basketball game that I wanted to have my style of play on it. Physical, fast, no rules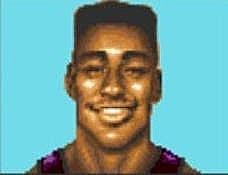 Me: Were the 15 street ballers real? Your partner in the game was Dane. Was he legit?

CB: Most of the players in the game were really real, others based off players I seen on the streets. Dane
was real. He and I used to ball growing up. There was nothing the kid couldn't do. He and I used to rule the blacktops. For years nobody could beat us. He could have made the NBA, but he made some bad choices along the way. You see kids like him in the 'hood all the time. All the talent in the world, but then they get caught up in something they shouldn't have, or they simply get caught at the wrong place, wrong time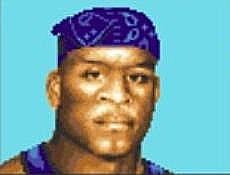 Me: That's too bad. Any others you have a story about?

CB: Hmmm. Oh yeah, Chilly. In every ghetto there's a bad mutha like him. You didn't ever want to cross his path, and he played ball with reckless abandon. He made sure you walked away with a few bruises, if you could walk away at all. If you can play him, then you know you're a man. Every 'hood has a Chilly. Every single last damn one of 'em, and that's the way it
should be. Kids these days are too damn soft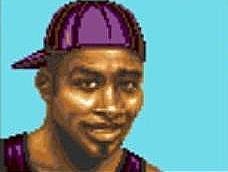 Me: My bro's favorite player was Sweet Pea. What's the lowdown on him?

CB: Sweet Pea. Yeah, he was real. Real annoying!
But real good, too. That damn foo always wore a cap backwards, thinking he was so damn cool. Man, what a shooter that kid was. The crowds ate his ass up. Ton of talent, big heart, and the bigger the crowd the better he played. He used to steal kisses with the honeys on the sidelines as he dribbled the ball up. I ain't never seen that before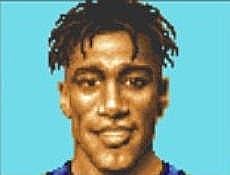 Me: My favorite from the game was T-Bone. Now in the game he was an amazing do-everything kind of player. Was T-Bone based off a guy you knew?

CB: Oh yeah, T-Bone, yeah he was. My main man Dane was good, he was great. But man, T-Bone, he was something else. He was ahead of his time. He was like the T-Mac of the streets. 6'8", could do everything really well. Cocky as hell, too. But whew could he back his shit up. The best player I ever saw who never made it to the NBA

Me: To bring the interview to a close, I'm going to read the names of the people who worked on the game with you. Just fire a comment when a name strikes your fancy


CB: Shoot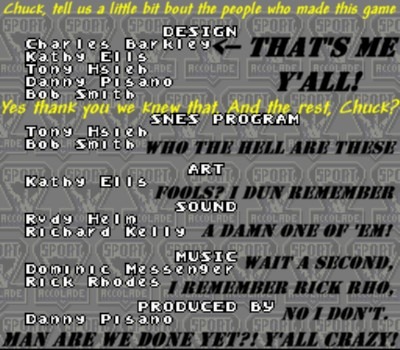 Me: Haha, we're done. Thanks, it was a real honor


CB: You got it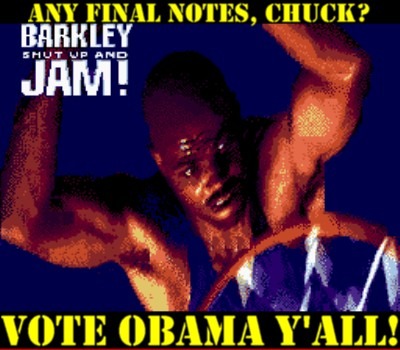 April FOOLS!

[... Lame-a-zoid -Ed.]

Sorry I couldn't resist. But seriously, not to leave you feeling totally cheated, here is a LEGIT (this time I promise) design session held with the Chuckster from back in the day

SHUT UP AND JAM! DESIGN SESSION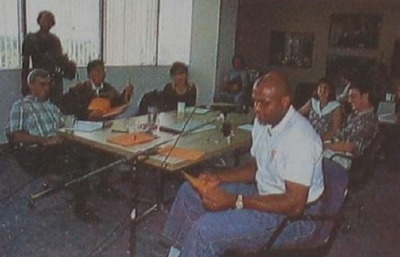 "So this is what you people do? What's the world coming to?" Thus, amid much laughter, did Charles Barkley start his visit to Accolade. When the day was done, Barkley's style and personality were part of the product and the design team was happy to have met such an individual who cuts through the "image is everything" athletic Public Relations bull. Refreshing

The morning began with an overview of competing products. While Barkley is not a big video game player, he already knew what he wanted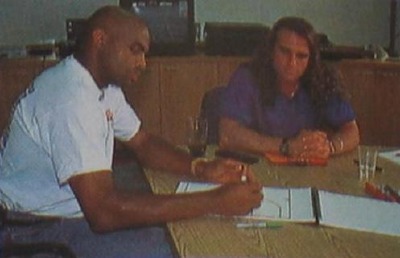 "I think it would be great to be different," said Barkley. "You don't want the same old boring thing"

The basic premise put forward by the design team was a two-on-two game, and within a tournament, a number of games played around the country in different locations. The games would be played in the streets and it was this point that Barkley emphasized

It was immediately clear that the NBA star felt very strongly that the roots of basketball
are in the neighborhoods and playgrounds of America, not in the $200 courtside seats
of the NBA. "Basketball is a playground game," he told the game designers. "It's where
I got my start and it's where the game of basketball originated." He told them about players
in his old neighborhood who had as much or more talent than guys playing in the NBA, but
who just hadn't had the breaks or the bucks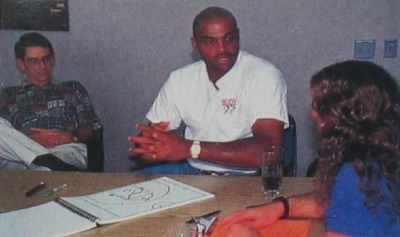 "The level of talent is just tremendous," he said. "It's more passionate on the street and people just play because they love the game. We used to play all day in the streets. It's tremendous basketball, because you have to compete at such a high level. With ten guys on the side you knew if you lost you wouldn't get to play for a long time"


"Basketball has gotten away from its roots," Barkley explained. "I love the street game. LOVE
IT. When you go to the neighborhoods there are legends -- people just known by their nicknames"

Teamwork was another item Barkley mentioned. "It's important to work as a team. You have to have teammates to help each other. The street game is more passionate. This game will be based off
of my personality. I play physical. I play hard. I play aggressive. I want the players to work together. I want the game to be fun"

Each of these suggestions, along with basic Barkley moves such as the thunder dunk have been incorporated into this game. Interestingly, Barkley had no burning desire to beat other celebrity endorsed products. "I just want to put out a good game"

HOOK IT UP!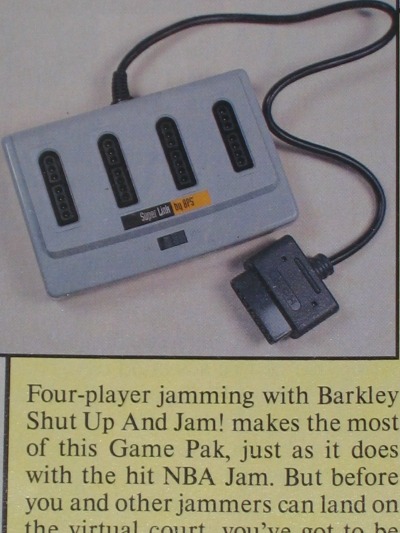 Shut Up and Jam! allows for four-player games. The computer is a real push-over. For the most fun and challenge, there's nothing like hoopin' it up with and against three buddies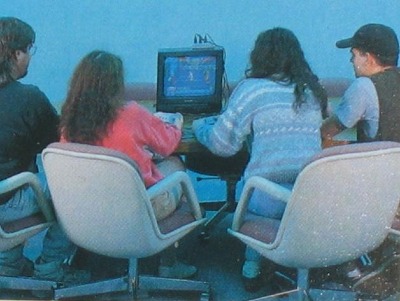 My bro and I, along with our friends from the neighborhood, we used to play four player Shut Up and Jam before competing in some real life 2-on-2 in my backyard. Ah those were the days. We squeezed lots of fun out of the game. Probably the most anyone could have

WILT WHO?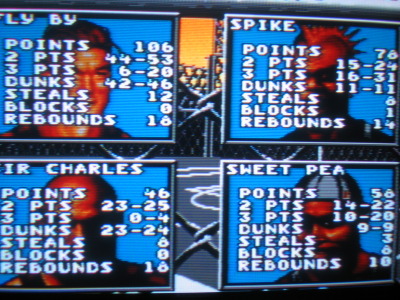 What an insane game... I was Fly By




















WILT WHO?! 106 points, baby!

STREET BALL MEMORIES

From playing hoops in my backyard as a youth, to ballin' on the blacktops as a teenager, I have fond memories of the game. I remember, growing up, wanting to always prove myself to my older bro. He used to ball a lot and I kind of picked up on that

My favorite thing about the game is that it possesses a beautiful purity. At the heart of the
game lies a bigger message. Case in point, 1997, I was in the 8th grade. At lunch one day,
I was playing one-on-one with my friend, Simon. These four 7th graders walked nearby, and
we noticed three of them bullying this one hapless kid. Seeing the three of them pushing the defenseless kid around pissed the hell out of me. I looked at Simon and without saying a word
I knew he knew what we both knew [Wait, what? -Ed.]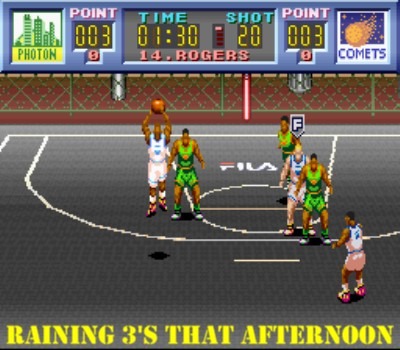 I challenged the three
7th graders to a little
game of 21. Three-on-three basketball. Simon and I, of course, would take the helpless kid. He was not much of a baller, but I had enough confidence in Simon and myself that we could take these cocky sumbitches. Long story short, Simon was the Newts of the team, and I was Sweet Pea. Man, nobody could hit the glass like Simon. Dude was a BEAST on the boards. He cleaned up like Dennis Rodman used to. And me, I was the three point specialist. That cloudy afternoon, I drained three pointer after three pointer. Hand in my face -- it didn't matter. I was a man on a mission. Not only did I want to beat those scumbags, but I had to defend the honor of that kid. Because
if there's one thing I can't stand, that's seeing a couple lowlives gang up on the smaller and weaker. Pick on someone your own size -- be a man

I was in the proverbial "ZONE" that idyllic, cloudy afternoon, swishing three after three

It was one of those afternoons I wished would last forever. The sky was blue with puffy clouds standing still overhead. Amid the usual lunch playground chatter of 7th and 8th graders jocking for social position and status on the hierarchy that is junior high, I was locked into my own world. Bombing three after three, the opposition had no answer

My team won going away. The three bullies bitched at each other before slagging off, disappearing around the corner moments later. Simon and I smiled at each other. The
little 7th grade kid came over to us, and he said four words to me that to this day I still
remember, with great fondness. He said:

"Thanks for the help"

Simon and I watched in silence as he walked away. Through basketball, in a way, we saved him. It was just one more reason for me to love the game as much as I did, and still do to this day

TRASH TALK

The ads for Shut Up and Jam! matched the trash talkin' intensity of one, Sir Charles. Take a look: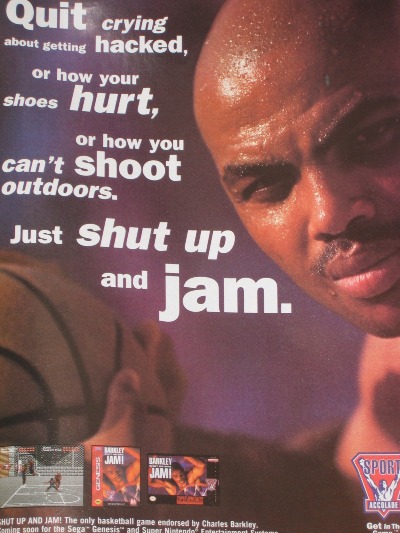 You're not gonna sit there and take that from him, are ya?!





This photo ain't blurry.


It's just how you're


gonna see me


after I knock


your sorry self


to the blacktop


and dunk


on your head


ten times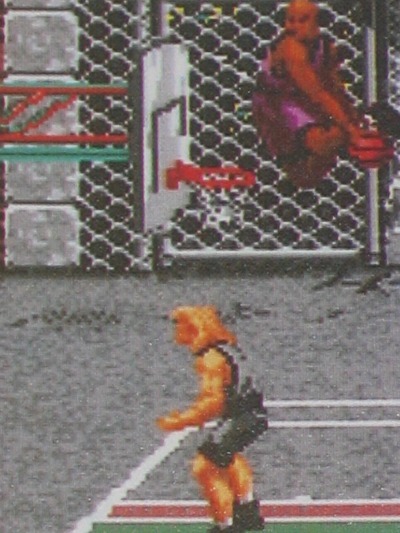 CLOSING THOUGHTS

Is Shut Up and Jam better than NBA Jam? No, not even close. But that doesn't mean the game is automatically bad. It might feel a little funky to you at first, and perhaps the roster seems a little meh-ish, but after a while it
just might grow on ya. Revisiting this was a very interesting gig. I liked it a lot then. It was a fun alternative to NBA Jam. Never could touch the greatness of Jam, but a worthy title nonetheless, especially when four are going at it. Flash forward some 12 years. Sure, it's not a great game by any stretch of the imagination, but damn if I still didn't enjoy myself. And to me, these days that's what I mainly care about. Is the game fun? In this case, hell yeah it still is. For me anyhow. Your mileage may vary. I can still pick
it up, kill 10 minutes and have a good time doing so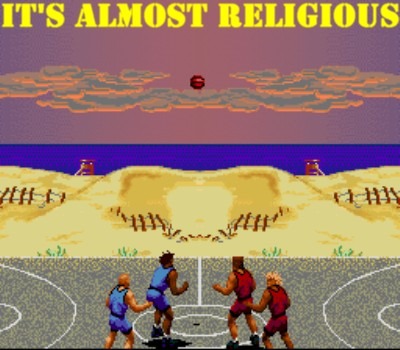 And that's important, since the graphics and sound are below average at best. The visuals are definitely NOT what you have come to expect from the SNES. It all kind of looks muddy, but in some respects I guess it reflects the gritty feel of street ball. Still, the animation could have been leagues better. Despite some awkward, stiff animation, thank goodness the game plays fairly fast and tight. There is some digitalized speech from Barkley, but you hardly notice it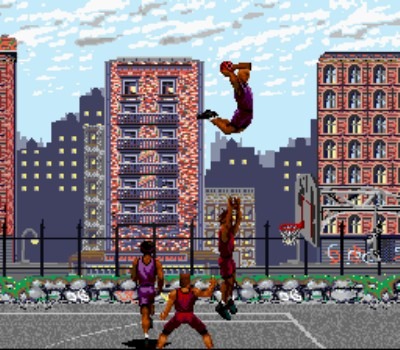 The gameplay is average. You shoot, you slam, you shove and you swat. You can run over the opponent, or when they go for the big jam, you can jump and knock their ass to the ground. It's not meant to be taken seriously, and when you just go with the flow, it can be oddly enjoyable. Trying out the different players and mix-matching them is part of the fun as well. Jump shots must be released
at the peak or you can expect an airball, which happens more here than any other bball title ever made. Annoying, but encourages ridicule ;)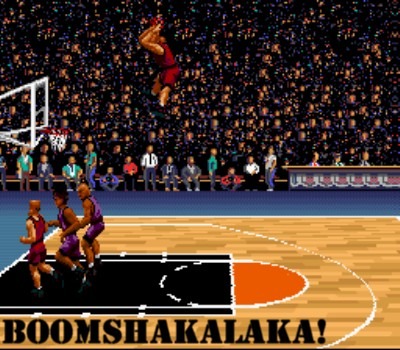 Although it may seem a lot like NBA Jam, it really kind of has its own feel. Sans the one arena, I dig the street ballers as well as the blacktop gritty atmosphere the game generates. It's just a bunch of dudes from the 'hood balling for a thirst to be the best. And even though Shut Up and Jam advocates the slam dunk, nothing beats weaving through the lane, kicking
it out to your wide open teammate for the sweet 18 foot jump shot. That swish is music to my ears. Let the trash talkin' begin!

A flawed game? Yeah. A fun, not-to-be-taken-seriously four player fest? I say yes. NBA Jam is 100 times more polished, but when you're tired of jamming in the gyms, and you want to take it to the streets where the REAL passionate basketball takes place, there's only one thing to do:


Graphics: 4
Sound: 4.5
Gameplay: 5
Longevity: 6

Overall: 5.0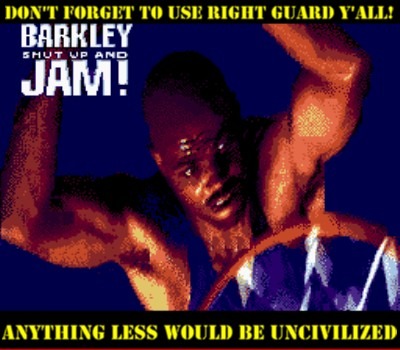 Sick-ass Charles Barkley Tribute (3:36): undefined