Written: 12.13.06
Acquired: 9.18.06
Status: Cart only
Price: $15

| | |
| --- | --- |
| Publisher: Zamuse | Released: 2.18.94 |
| Developer: Minato Giken | Scarcity: 3.5 |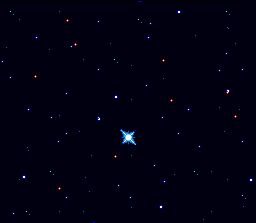 In a time of hostility and turmoil,
only one hero has the courage....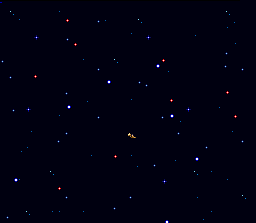 ... and the will of a
nation's indomitable
spirit...

HE IS....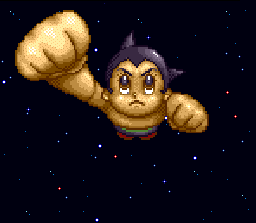 TETSUWAN ATOM!

Based off the classic manga/anime by Osamu Tezuka, this is, surprise surprise, an action
game featuring varied levels. Some are straight platforming romps. Others have you taking full advantage of Astro Boy's propensity for flight

A look at the first 5 levels (of 8 total)






LEVEL 1

Typical easy introductory level. He moves a bit stiffly, and his punch lacks range, but the game is largely tractable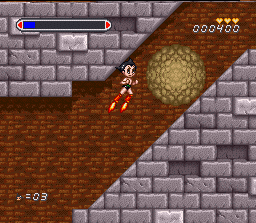 Ah the quintessential falling-rock-
trying-to-crush-you-like-Margaret's-
Pancakes bit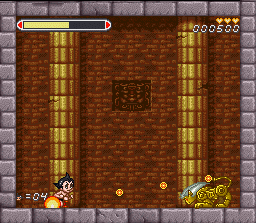 The 1st boss is a piece
of cake. Air dash it to
death (more on AD later)

LEVEL 2

You face many horrors inside this fright-filled haunted house. But judging by the vicious lightning outside, you just MIGHT.... be safer inside...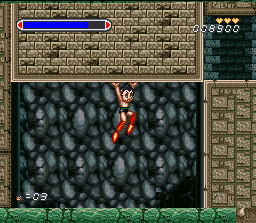 Well, I spoke too soon!

Luckily, you've the strength of 10 men!
Or something

[Or just me, hee-hee-hee... ahem -Ed.]

Crawl in that little space there so that the ball may sail harmlessly over your head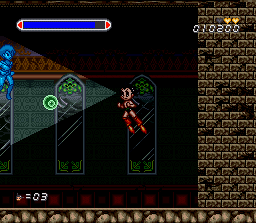 True to form, your bright-eye lamps
are put to use whenever in the dark.
This spirit boss requires several air
dashes before submitting to the foul
night

LEVEL 3





Pretty cool stuff here. The whole
stage curves around. Kill everything
on the 1st floor. Don't bother punching
-- go straight for the air dash. Once
you kill everything, repeat this process
on the 2nd floor




Air Dash on display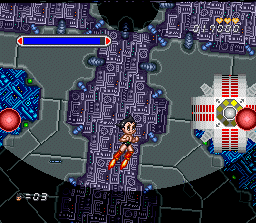 The 3rd floor is the boss
fight. Beware his 2nd form!

LEVEL 4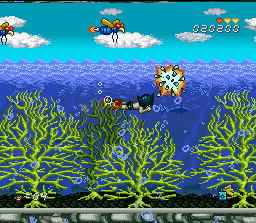 Swim or fly (air dashes are
disabled for this stage)





Robotic fishies... what will they think of next?

The spike sections are tricky. Occasionally, just to piss you off, the water current
goes against you and this force is incredibly strong. The school of fish zooming
by is a common visual effect when these tides occur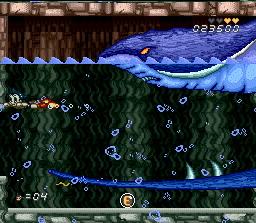 This is one bad mutha! Watch out
for its long limb and electric bolts,
and grab that energy refiller at the
bottom when you're down to one
heart left

LEVEL 5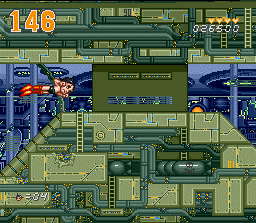 The force-scroller stage. Many
hazards attempt to slow you
down... permanently

MISC. NOTES

You begin with 3 hearts. Along the way extra hearts can be gained (notice in the above picture there are 4). Each heart accounts for two enemy attacks. Health refills and 1-UP's are also scattered throughout
The default controls are awkward (B = jump, A = punch, X = charges the flight meter). Thankfully it's adjustable
The flight meter must be charged before you can fly, and during flight slowly decreases. Pressing A during flight executes the powerful air dash (a fist-first dive). This attack grants you temporary invulnerability. Press A during an air dash to cease abruptly, otherwise you'll zip across til your meter is fully depleted
CLOSING THOUGHTS

This game has fans and critics alike. The fans cite it for good action, the critics blast it for not having enough. Go figure. I enjoyed it. If you're in the mood for a basic non-taxing action title,
this does the job adequately