Written: 12.5.06
Acquired: 9.2.06
Status: Cart only
Price: $11

| | |
| --- | --- |
| Publisher: Enix | Released: 3.25.94 |
| Developer: Daft | Scarcity: 3.5 |
There's weird, and then there's weird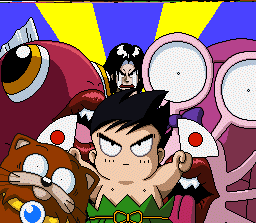 If there was ever a platformer
destined to stay in Japan from
the moment it was made, this
would win by a country mile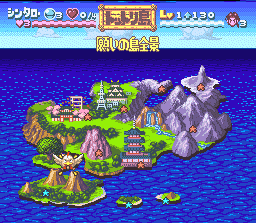 It combines an anime feel
(based off the anime after
all), Japanese wackiness
and standard platforming
101 techniques. There are
8 worlds to romp, with
multiple levels for each one

Nangoku has a level-up system... any time you kill an enemy a number pops in its place, indicating how many experience points you just gained. After a set amount, you level up.
This is pretty cool. A password system is also incorporated

Sweep kick, punch and jump kick your way to victory

WORLD 1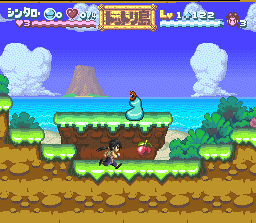 Nutthin' like a light morning jog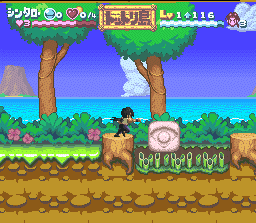 Punch these blocks for a
makeshift bridge to safely
guide you across deadly
bamboo spikes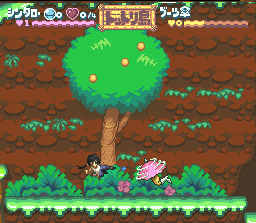 Yes, a mid-boss! An umbrell with, uh, one leg...

"A" enables your special power attack (limited)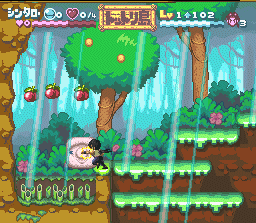 Rays brilliantly pierce through the forest

WORLD 2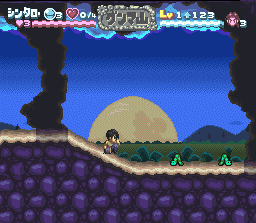 When Worms Attack, Part 2!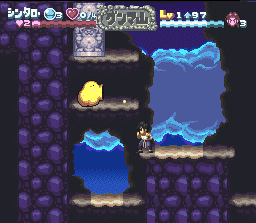 WHADDUP KIRBY!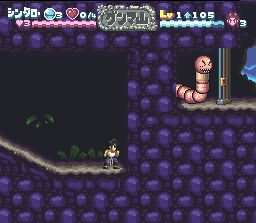 Hmmm, do we REALLY want
to unlock that sucka?

[Actually, you do. No, really -Ed.]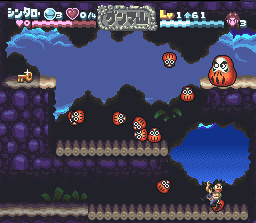 Mr. Potato Head's tough!

Grab the key and unlock
the imprisoned worm. It's
actually a helper believe
it or not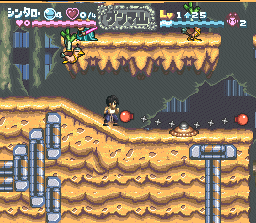 Level 2 of World 2

WORLD 3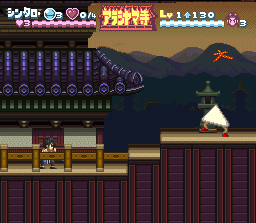 Prepare for plenty of Asian hi-jinx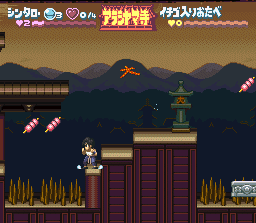 You're nimble 'nuff to safely
make the jump there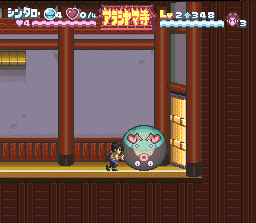 "I like to move it move it"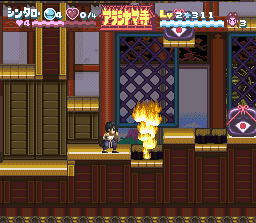 Mandatory flamin' bit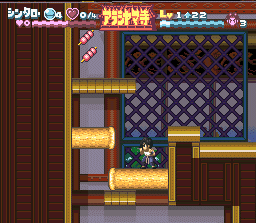 These moving pillars make for
a fun but DEADLY set-piece

WORLD 4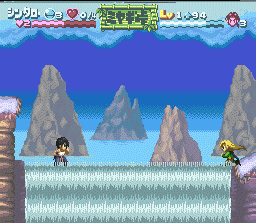 WHOA! LINK makes a special appearance!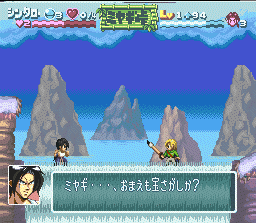 "Um.... did you take a wrong turn?"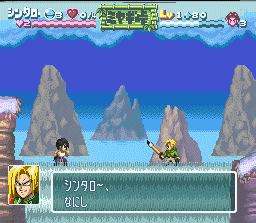 "Wait a sec, OH ****"

Link must have accidentally found a portal. How times have changed in a dozen years...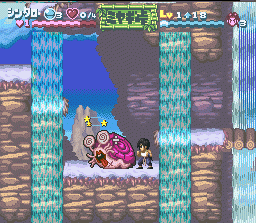 "I told you, rent was due last week!"

WORLD 5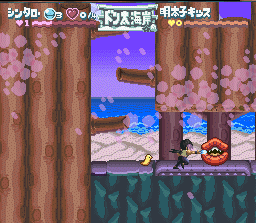 That little chick there is a baddie
believe it or not. Odd in'it?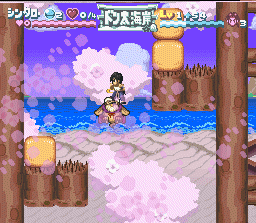 Of course.... of course

WORLD 6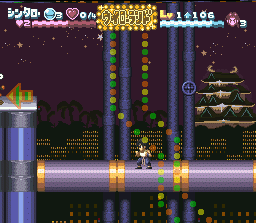 Ace backdrop for an ace motif

PACHINKO!

WORLD 7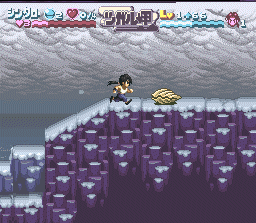 Oooh, them dreary clouds help
make world 7 very atmospheric
indeed

I'll leave the rest for you to discover. There's a lot more

CLOSING THOUGHTS

Beneath this strange world of offbeat characters lies a pretty standard, yet solid, platformer. Nothing new is found here, but it's enjoyable and everyone I know who has played it, liked it.
So too have I. Recommended