Written: 12.3.06
Acquired: 11.29.06
Status: Cart only
Price: $63.75

| | |
| --- | --- |
| Publisher: Varie | Released: 3.3.95 |
| Developer: Irem | Scarcity: 4.5 |
As SNES fans in-the-know will tell you, this is among Super Famicom's most wanted and hardest to find. Complete copies frequently scorch the magical $100 mark, and some plop upwards to $85 for a LOOSE copy

Madness! What is this hard-to-find game like that has collectors up in arms for?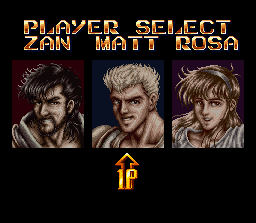 Select from Matt the powerhouse
ex-football star, Zan the really
skinny rough looking kickmaster
or Rosa the quick and small token
female

It's only 1-Player though (Arcade
was multi-play)

SOAP? WHO NEEDS SOAP?

The first thing I noticed about UC Cops is how dirty it looks. I don't mean this in a bad way... I kinda like it in fact. Gives the game a rough and grim tone. So many SNES games have that cute saccharine look. Not a chance here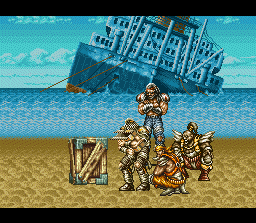 "My box -- MINE!"

Battle your way through rundown abandoned buildings, grimy festering docks and inauspicious underground tunnels to name but a few. Everything is in a deep state of decay. The enemies are bordering on being subhuman. A wretched decrepit flock of sideshow freaks. You can bet they haven't showered in months. Even the good guys appear unpleasant and a bit... dour

Little details like seen above are priceless. Crows fly off revealing in its wake two relics, who soon rise like zombies, so send 'em back to the hell hole they came from

HAVE A BITE

You don't consume hamburgers, or french fries, or drink beer to replenish your health in this game. Oh no. That would make too much logical sense. So what does one eat? You had to ask....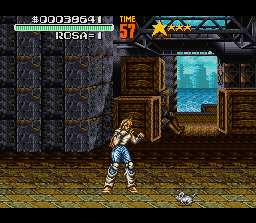 High in protein y'know

Anything small and alive is up for grabs. Mice, chicken, even snails! Eat 'em before they can scamper (or crawl) away. Disgusting and because your character mutters a gruffly "GOOD!" when swallowed, it's also a bit... creepy

EVERYTHING BUT THE KITCHEN SINK

While other beat em up's have knives to throw, UNDERCOVER COPS is quite unconventional...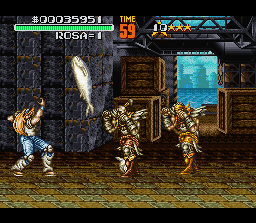 Hey, it works

Giant concrete pillars can be unearthed to deliver major pain






Take a close look at the TV screen, pretty clever of Irem eh...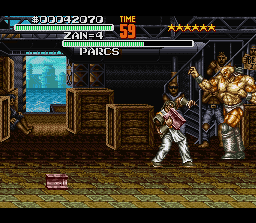 Use metal beams to soften ole PARCS up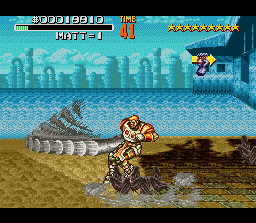 Nice rotation, good form Matt!

JOY TO THE WORLD

"Special Joy" moves can be executed, in exchange for a small amount of health of course

After Parcs, boss of level 1, takes a beating, he sheds his skin -- revealing a cold steel interior! Crush him, if you can, for the ultimate satisfaction

LEVEL 2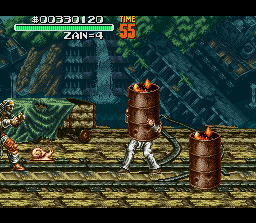 The beginning of level 2 is my
favorite in the whole game. Kick
the barrel of flames, or better yet,
heave it at the baddies





Make sure you don't let that snail get away!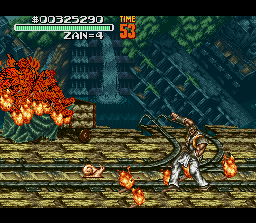 Upon impact it'll liberate
a flurry of flame torches.
WICKED!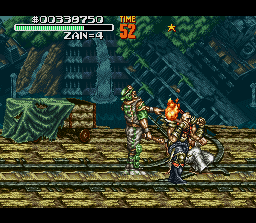 The scoundrels can toss the torches
as well, and if you're knocked down,
one rapscallion in particular enjoys a
moment of debauchery at your expense





The bat guy's a tough regular!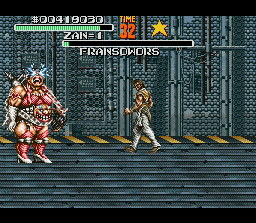 WHOA BABY!

LEVEL 3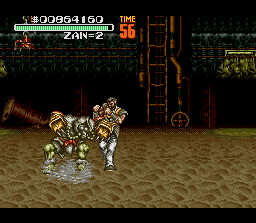 These underground diggers are
deadly when traveling in packs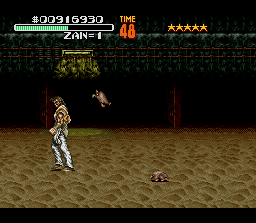 These suckers greet you with
a nasty little love tap if you're
in their path. They can't be
killed so just steer clear as
they mindlessly march on by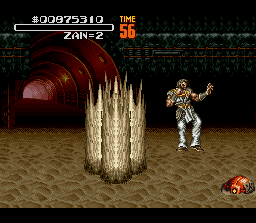 Mines pop up and erupts at will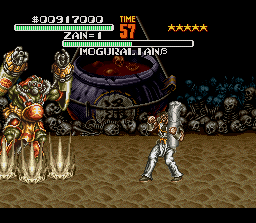 The end level guardian is a
monster born from malpractice...
and it wants you for dinner... not
as a guest but the main course
attraction!

ASSESSMENT DAY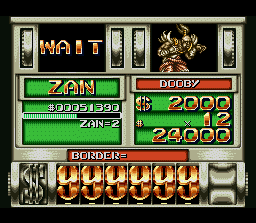 After each level your performance is
tallied up. Depending on how much
$$$ you earned, you'll regain a certain
amount of health for the next level, if
necessary

PARTING IS SUCH SWEET SARROW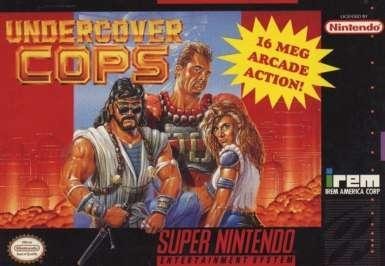 Scheduled for a US release, but never saw American soil

DEJA VU

Being a huge World Heroes fan, I had a funny DEJA VU feeling 'bout Matt immediately. After conducting a series of strenous scientific studies I've concluded where Johnny Maximum's influence truly originated from...

[Wowwwwww -Flavor Flav]

Crazy huh?

TAKE A LOOK FOLKS


SNES vs. the arcade version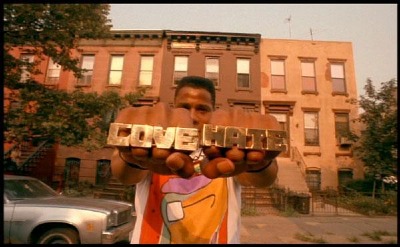 CLOSING THOUGHTS


Remember the Spike Lee movie "Do The Right Thing"? The character Radio Raheem sported a four-fingered ring on each hand -- "LOVE" on the right hand and "HATE" on the left -- to symbolize the struggle between the two emotions

That's how I feel about UNDERCOVER COPS. I love the fact that it was released and I love how twisted it is.... but I hate the missing multiplayer option. It reeks of laziness. It should be a better port, though all in all, it's pretty solid

If anything, it's a nice collector's item... a conversation piece. Personally, I think it plays pretty well, but it doesn't do anything you can't find in a more affordable beat 'em up. So is it worth the big bucks? Only you can decide that one...