Written: 12.1.06
Acquired: 9.24.06
Status: Cart only
Price: $17

| | |
| --- | --- |
| Publisher: Sunsoft | Released: 10.28.94 |
| Developer: Sunsoft | Scarcity: 4 |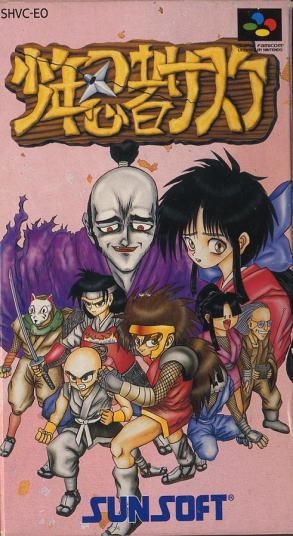 Released by Sunsoft,
this is a wacky sprawling
no-levels-per-se-having
beat em up with some
RPG-ish traits thrown in
for good measure. The
music is very catchy.
During fights it's upbeat
and frantic. During town
scenes calm and mellow.
In either case, there's a
decisively oriental flair
backing it

Reminds me of a mix
between GANBARE
GOEMON (Legend of
the Mystical Ninja)
and RIVER CITY
RANSOM, MIGHTY
FINAL FIGHT

Most of the game has you engaging in fights such as these. Coins crop up for each bad guy vanquished, which in turn can be used in shops for exchange of goods (e.g. food, weapons) or even saving your progress (that too will cost ya)

[Damn @#!$%^ shopkeepers -Ed.]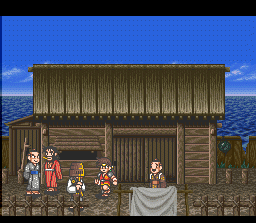 Villagers pass by innocently

Y'ALL GON' MAKE ME LOSE MY COOL!
[UP IN HERE! UP IN HERE! Sorry -Ed.]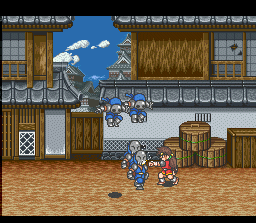 Ye ole trusty fist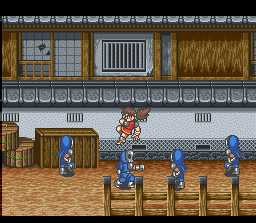 Ye ole trusty foot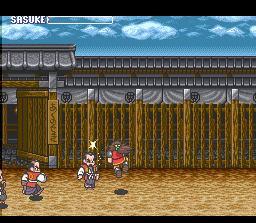 Flying shoulderblock

Weapons include a sword and shurikens to name a few

This jump kick can be repeated multiple times without landing. One time I was able to kick this boss character here 22 (!) consecutive times, before he managed to botch my efforts. It's silly, but effective!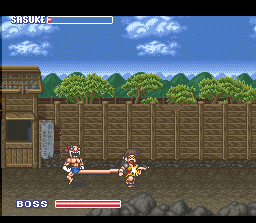 Did I mention how weird this game is?

I GOT PLACES TO SEE...


Make your way through a multitude of landscapes; some are cool-looking, others a bit creepy and a few even mythical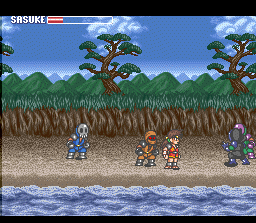 Quite atmospheric if I do say so myself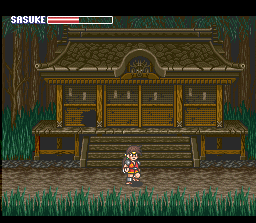 No Soliciting!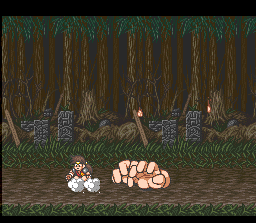 Need a hand?

Warthogs can do a number on you if you're careless... the woods are packed with peril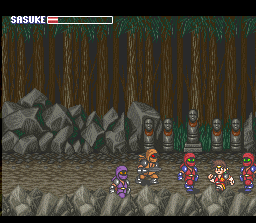 Those heads are a bit creepy...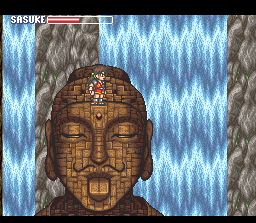 "Now open your mouth and say AAAAH"

... AND PEOPLE TO BEAT


Along the journey you'll meet some straaaange cats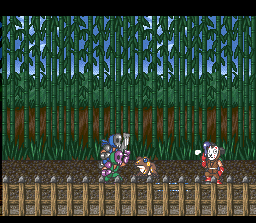 The cat mask wearing magicians can temporarily curse you

Uh yeah... no words could properly explain this scene... so let's move on...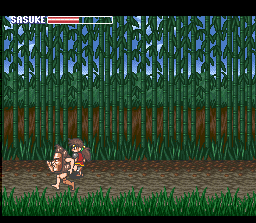 O_o ... wow, just when you
thought you seen it all...
THIS comes along

A WISE MAN ONCE SAID...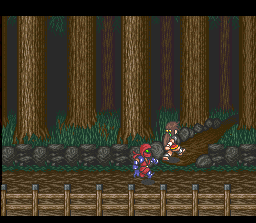 Two roads diverged in a yellow wood,
And sorry I could not travel both
And be one traveler, long I stood
And looked down one as far as I could
To where it bent in the undergrowth;

Then took the other, as just as fair,
And having perhaps the better claim,
Because it was grassy and wanted wear;
Though as for that the passing there
Had worn them really about the same,

And both that morning equally lay
In leaves no step had trodden black.
Oh, I kept the first for another day!
Yet knowing how way leads on to way,
I doubted if I should ever come back

I shall be telling this with a sigh
Somewhere ages and ages hence:
Two roads diverged in a wood, and I —
I took the one less traveled by,
And that has made all the difference

Unlike traditional beat em up's, Shounen has multiple paths; you're free, for the most part, to go where you please

A ONCE WISE MAG SAID...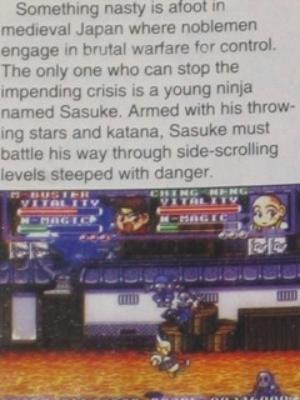 DOUBLE YOUR PLEASURE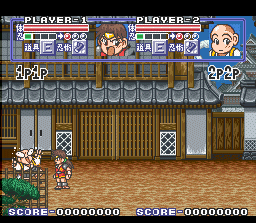 Wail away on your partner as much as you like!

CLOSING THOUGHTS

Initially I didn't care for this game much. A friend likes it a lot though, so I gave it a 2nd shot after he urged me to do so. I came away with a much more favorable impression. It's a nice little game. The catchy phrase "GANBARE GOEMON meets RIVER CITY RANSOM or MIGHTY FINAL FIGHT" is pretty dang close. Not a must-have, but it's a nice-to-have game if you like the theme. Keep in mind -- there are some RPG-ish elements and Japanese text to work through, but neither are extensive