Written: 11.29.06
Acquired: 10.11.06
Status: Cart only
Price: $19.50

| | |
| --- | --- |
| Publisher: Poppo | Released: 2.10.95 |
| Developer: Arcade Zone | Scarcity: 4.5 |
What kind of sick twisted game on the innocent ole Super NES would allow you, the sadistic bloodthirsty gameplayer, to partake in such boisterous barbaric brutality?

[Adventures of Yogi Bear? -Ed.]

If you answered Iron Commando, you're smarter than the average bear

[Har har -Ed.]

This is one of the harder to find beat em up's on SNES. In the handful of months which I was feverishly looking for a copy, I never found one. I was forced to summon my hired gun in Japan to scour the shops for me. And of course, he worked his magic touch and came through. This was part of my last "great package" I'll ever get... (see Jessie's Girl for more)

Is it worth the hype? Let's take a closer look...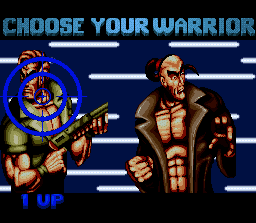 Pick from Jack or Chang Li
(no relation to Chun-Li)

Tackle the gangs alone or
with a friend

The levels are varied and diverse... take a look:

THE CITY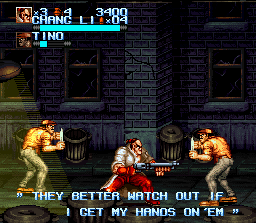 In the 1st level quotes occasionally appear at the bottom. It lends a B-Movie feel to the game and oddly, only appears in this stage

Iron Commando has a myriad of weapons at your disposal. 9mm guns, rifles, machine guns, knives, baseball bats... I'm shocked there wasn't a chainsaw as well!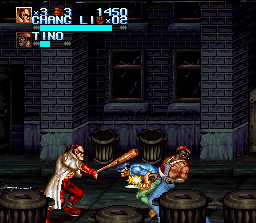 Now THATS what I call a double play!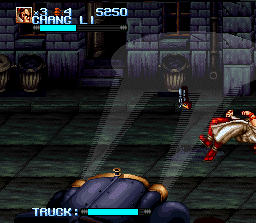 Regardless of what you do
this 1st boss truck will ram
you. Lovely, isn't it?

THE ROAD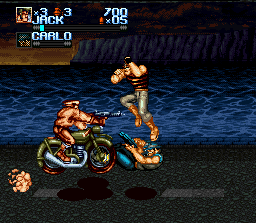 2 things are required in this stage...

[Run em down shoot em down? -Ed.]

1. Constant maniacal laughter

2. Born to Be Wild by Steppenwolf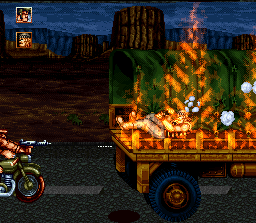 That'll teach 'em...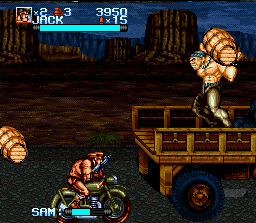 ... or maybe not

I'm such a sucker for big bosses and obstacles that flash when hit... there's something 1987 about it...

THE FOREST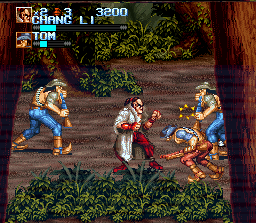 Rejects from SUNSET RIDERS!

THE WAREHOUSE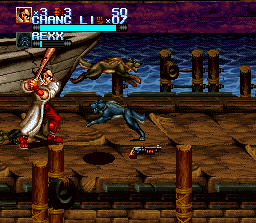 BATTER UP! "Oh the indignity!" sez Nintendo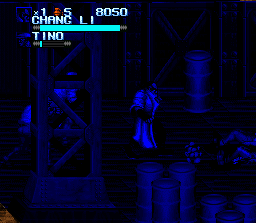 From sunny exterior to this
flickering warehouse interior
you go. It's a nice effect
wouldn't you agree? Notice
the SLIVER of daylight in the
bottom left hand corner

After a brief jaunt, you'll face "Mr. Soukoban" Big Tom. He is the "warehouse keeper" y'know

Jack: Have a Knuckle sandwich, Jack!
Big Tom: Wait, YER JACK!
Jack: HA! Psychobabble won't work on me, I'm too dumb! *punches*
Big Tom: OOOF!

THE TEMPLE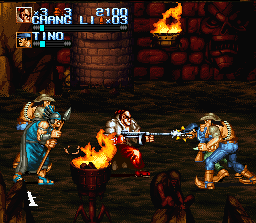 Iron has one of the most bizarre
enemy rosters you'll ever come
across in a beat 'em up... talk
about your gaggle of freaks and
weirdo's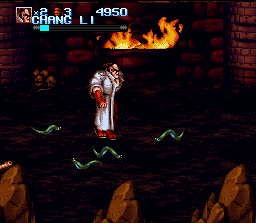 These serpents are unmercifully
cheap and annoying. You'll hate
'em even more than the Medusa
Heads in Castlevania. Yes,
they're that bad




[SNAKES ON A GROUND! -Ed.]

After the freakshow, you have to contend with this crazed inhuman maniac. Not only that but the spikes on the left are constantly moving toward the right. A most deadly proposition indeed...

THE BEACH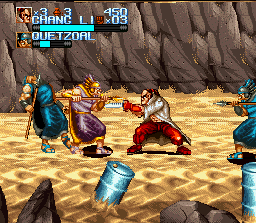 A fun little DID YOU KNOW fact:

These cats here were all extra's
for the music video BEAT IT

THE MINES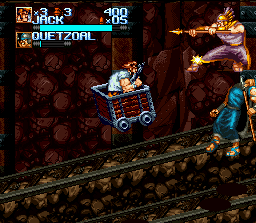 SHOOT 'EM ALL! TAKE NO PRISONERS!

THE CAMP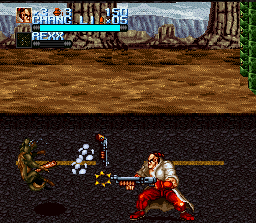 Oh jeez, the animal cruelty...

THE JEEP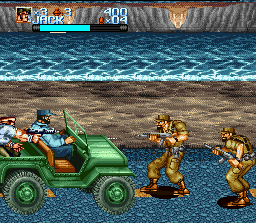 Like sitting (er, standing) ducks!

THE ROBOT

Yikes! I don't think this is exactly Mr. Roboto! Hit him with everything you got! Regular enemies walk in as well, so kill them to gain more weapons, but beware the robot's laser eye and giant frisky hands. This fight lasts an eternity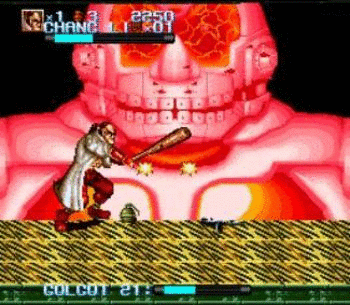 GOOD LUCK!

SO IS IT GOOD OR BAD?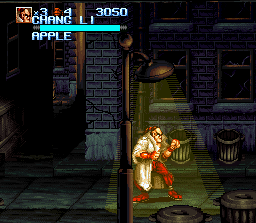 Nice looking graphics eh? I feel
like I'm at the arcades. It just
doesn't have the "typical" SNES
look. It's visually distinct, and
the weapon choice is pretty cool

But here comes the "but" part.... it's a quarter-muncher, pure and simple. Even on Easy, the game's hard. You suffer countless unavoidable hits as enemies surround you. It makes it difficult to really get into a flow

The damage distribution is horrible. Doing a 3-hit combo barely ticks their health. What gives? This dragged the game down for me

You're probably assuming weapon damage ratio to be better, right? Sadly, it isn't

CLOSING THOUGHTS

Cheap mandatory hits and poor damage ratio are my two biggest disputes with the game. If you can look past that, it can be a decent good time, with unique graphics and an almost B-Movie feel. The 2 player mode is a big plus

Still, one can't help but feel IRON COMMANDO should be awesome; a beat em up for the ages, a brawler lionized by a legion of fans.... rather than merely being "not shabby" or "it's pretty good, BUT..."