Written: 11.17.06
Acquired: 10.11.06
Status: CIB
Price: $44

| | |
| --- | --- |
| Publisher: Datam Polystar | Released: 7.14.94 |
| Developer: Success | Scarcity: 4.5 |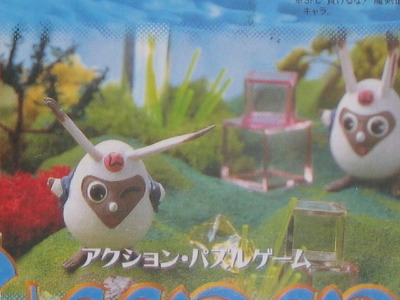 Slated to be released in the States as CYBER SLIDER, the furry little guy was replaced by a robot devoid of any charm or personality. It was canned. Thankfully this version is available in all its original glory. The title character is a likable fuzzball, who awakens when you press start

PEEK-A-BOO! I SEE YOU!









*cough*

IT LOOKS LIKE EITHER A PLATFORMER OR A PUZZLER

But of course. In this case, puzzler






SO HOW DOES IT PLAY?

You move Keeper around a five-by-five grid arranging stones. Your goal is to match 3 (or more) like-colors or like-shapes, vertically or horizontally

Like-shapes work...

... as does like-colors. Keeper goes HURRAH!

In addition, players have the option of choosing a girl or boy. The stone designs, the default being sea-related things, can also be switched to letters of the alphabet or fruits. It doesn't change the gameplay but it's always nice to have choices

Typical nice-looking clean-cut princess.... as for the boy... er, best not to ask, si?

WHAT CAN YOU DO WITH GIZMO?

Well...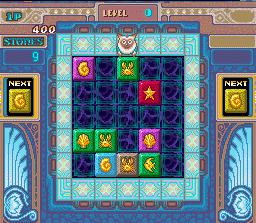 You can move around the
borders of the 5x5 grid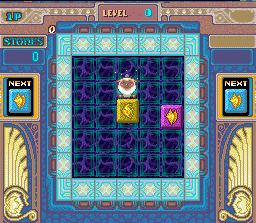 Keeper can push blocks
using the D-Pad. Y pulls,
B jumps




Poor little guy! Look at him sweating

Players can jump ON stones and move around ON them to strategically push another stone elsewhere, provided there's room

WHAT MODES OF PLAY ARE AVAILABLE?

1P regular
Grid starts out empty, every 3 seconds 1 stone appears, once the grid fills up it's game over
1P puzzle
You're given pre-placed stones and must clear them all
2P regular
You and a friend play on the same 5x5 grid, helping each other out
2P VS
1st one to clear a set amount of stones win (customizable from 1 to 99, default being 30). There's also an option for "attack mode" which allows one player to stun the other for a few seconds if they can push a block over 'em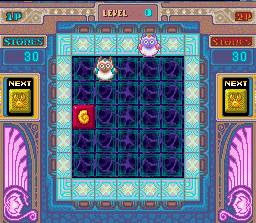 1st to clear 30 wins

The 1 Player Puzzle mode has 60 pre-designed stages. A password is granted after each completed level. Those who enjoy contemplatively staring at the screen until inspiration breaks with a resolute "A-HA!" will especially love this

A look at the first couple, then

#1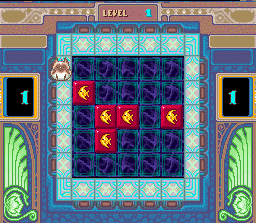 Just don't connect 3 on accident

Other that that, it's so easy even
Keeper enjoys a quick little nap!

#2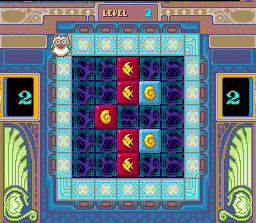 5 reds, 2 blues...

Think like-colors, young jedi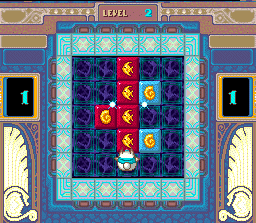 Excellent, now think like-...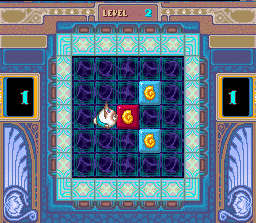 Ah, you're catching on

#3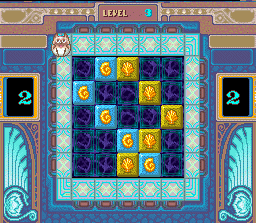 5 yellows, 5 blues...

Just a matter of separating 'em...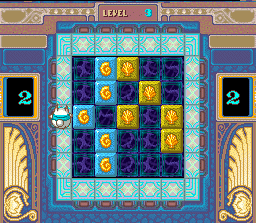 1 down...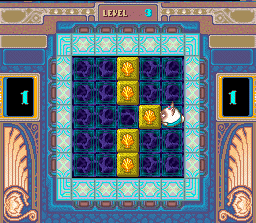 TOUCHDOWN!

#4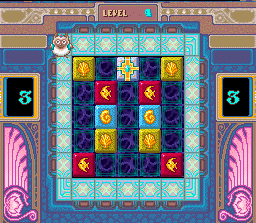 That funky square acts as a wild-card

And since there are only 2 blues...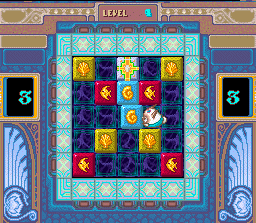 ... Bingo

1 set down...

.... 2 to go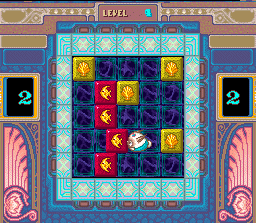 Now with only 4 reds and yellows...

Whichever color 1st doesn't matter

Just make sure you connect all 4 and not 3...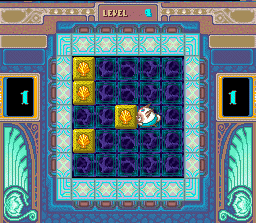 HURRAH!

CLOSING THOUGHTS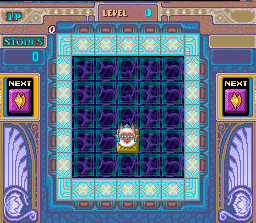 Fun, charming and possesses the potential to be addicting

KEEPER is simply, er, a keeper

[Oh dear... -Ed.]

Took me ages to find, but it was well worth the hunt. Puzzle fans will dig it!


What, tough guy?