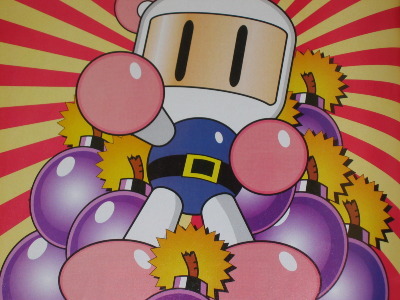 After Super Bomberman 2 came out on SNES, the madness did not stop there. Super Bomberman 3, 4 and 5 all enjoyed releases over in Japan
(3 also received a PAL release). Starting with Super Bomberman 3, the biggest difference between 3-5 and 1-2: 3-5 featured 5 players, a mad bomber option and the aid of animal friends. Some may say that takes away from the purity of Bomberman, but hey, you can always stick with 1 and 2. Here's a look at 3-5...
Bomberman: Still Bombing After All These Years!

SUPER BOMBERMAN 3

Written: 6.15.08
Acquired: 5.27.06
Status: CIB
Price: $20

| | |
| --- | --- |
| Publisher: Hudson | Released: 4.28.95 |
| Developer: Hudson | Scarcity: 3 |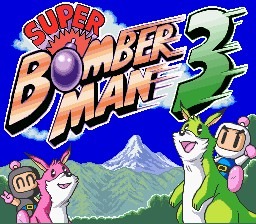 Super Bomberman 3 introduced SNES players
to a five-player option, as well as mad bombers
(players who lose early can bomb off on the
sides to keep everyone happy until the end)
and those loveable (or not) animal friends, which
when found, not only gives the player an extra
out, but certain animals possess certain talents
as well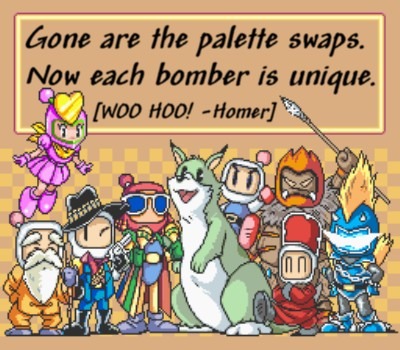 Blue Bomberman fans, I sympathize with you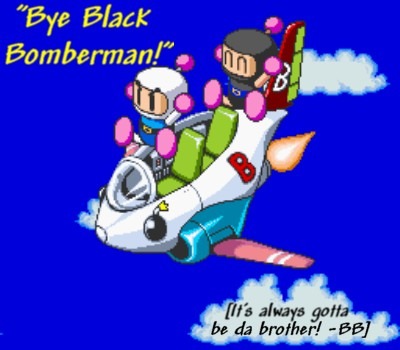 Yeah WASSUPWITDAT!?!























Super Bomberman 3: now more culturally aware than ever!

Of course, the crown jewel of any Bomberman title is its battle mode. So let's jump to that without further ado (Note: there's a weird graphical glitch at the top, ignore it)

BATTLE ARENA ONE

Ye ole classic plain stage... every Bomberman game has this as stage one it seems

BATTLE ARENA TWO

You can push the blocks around to protect yourself from blasts, or eliminate an unsuspecting bystander by moving the block at the last second!

BATTLE ARENA THREE

I like this stage. The geysers in the middle will blast you off, and there are two openings, one up top and the other on the bottom, that players can run in and out of. I also love the wavy underwater visual effect, and how even the bomb's flames will be all wavy... ace!

BATTLE ARENA FOUR

Four trick doors allow you to "teleport" to another trick door on the map. In the 2nd pic you can see my guy in the act of doing such. I hope there are no alligators down there!

BATTLE ARENA FIVE

Ah you gotta love this stage if for nothing else but the opportunity to blow the igloo's
roof sky high. It does nothing really, but it sure is a cool little sight gag. Certain parts
on the ice are weak and ready to give way, so watch out

BATTLE ARENA SIX

The mandatory Bomberman arrow stage, where kicked bombs follow in the direction
the arrows point. The four arrows in the middle changes position to keep you honest

BATTLE ARENA SEVEN

Like stage 4, there are four teleporting points on this map. You can see my little guy in
the 2nd pic there on his way down. That big nasty block in the middle is a feisty one....

BATTLE ARENA EIGHT

Riding the mine cart destroying all and any blocks in the way = FTW big time.
Fun little stage with good imaginative touches

BATTLE ARENA NINE

Your standard seesaw stage where bombs can be chucked around as seen in pic 2

BATTLE ARENA TEN

Ah yes, the hidden overpass stage that many Bomberman fans love so much. Who could ever forget the classic tunnel and roof battle zones of Super Bomberman 1 and 2? This one is just as cool. I love dropping bombs under the thicket and getting the dodge outta town! Nothing beats killing some unsuspecting fool this way! =D

SUPER BOMBERMAN 4

Written: 6.15.08
Acquired: 8.12.06
Status: CIB
Price: $24.99

| | |
| --- | --- |
| Publisher: Hudson | Released: 4.26.96 |
| Developer: PRODUCE! | Scarcity: 3 |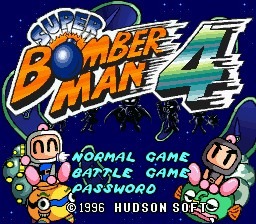 On a hot summer evening in August of 2006, I drove to my cousin's place so I could spend some quality time with them. OK, perhaps not so on this night. You see, my computer was in the shop at the time, and the SB4 auction was ending on this particular Saturday night after library closing hours. My cousin David was playing Resident Evil 4 on GameCube when I came by. I brought along Mario Tennis Power Tour for his sister to play; she had been begging me to bring it over. I placed my max with some six hours to go, and left to attend to other matters that evening. The next morning I was surprised to see I had won, as I expected someone to overtake me in the closing seconds. I got lucky!
Bomberman SFC trilogy was completed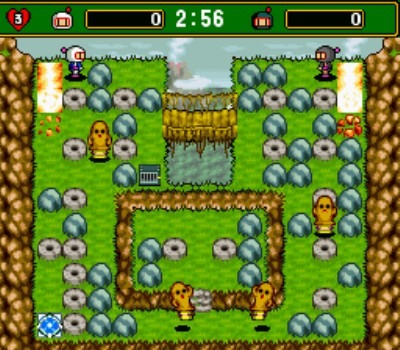 Hey there's good ole Black Bomberman. As always you have the choice of playing the normal 1-2 Player game where you (and a friend if you wish) tackle map after map of low-tier baddies before encountering a big boss. It's OK, but it's not where the real meat of the game lies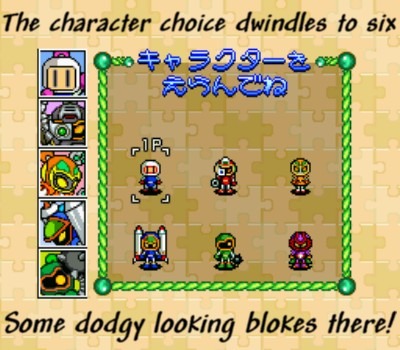 Once again gone are those samey Bombermen. 3-5 dumped them and took the route of including some weird looking bombers. I would guess that's one reason, among others, why these sequels never saw American soil. The bombers are a bit heavy on the Japanese side of things

Onto the battle zones!

BATTLE ARENA ONE

It needs no introduction by now. Ooh look at those tasty flames

BATTLE ARENA TWO

Those funky dust clouds (or whatever they are) alters the speed of the bombers at
given intervals. You will go really fast or really ssssssllllloooooowwwww...

BATTLE ARENA THREE

Watch out for those wandering deadly robotic orbs... they'll induce all sorts of nasty
side effects on anyone who comes into contact

BATTLE ARENA FOUR

Killer stage. You gotta watch the edges! Press the appropriate direction on the D-Pad
to reel yourself back in safely. Not a lot of room for error in this war zone...

BATTLE ARENA FIVE

It's the free-for-all power zone! Very rare that battles last too long here

BATTLE ARENA SIX

Certain spots cause you to slip and slide rather quickly

BATTLE ARENA SEVEN

All right, another overpass-type stage, but this time with arrows added in for good measure! One of my favorite stages of them all -- it's frickin' sweet

BATTLE ARENA EIGHT

What a funky stage. Hit the jackpot and icons galore fall from the sky. Bomb away
to play. If nothing else, an entertaining gimmick and a unique entry in the series

BATTLE ARENA NINE

Another seesaw stage. I don't know why, but seesaw arenas never excited me much

BATTLE ARENA TEN

This stage has an interesting gimmick as well, which I will explain a bit below. By the way, those wine glasses? Must be among Bomberman's most memorable blocks to blow up







Hey notice those two bombers staring at you? Who the heck are they!? Only on this stage can you transform into one of them, by collecting the proper icon (one of which can be seen in the upper left hand corner). It's pretty cool and gives you a 2nd life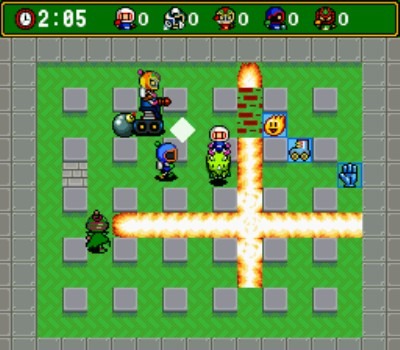 Speaking of 2nd lives, here's a more 'traditional' one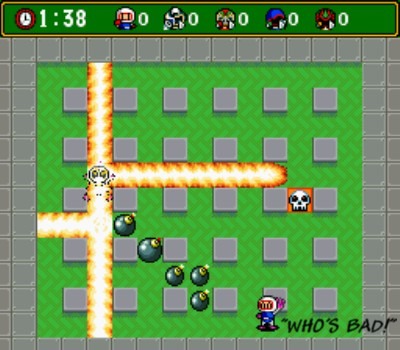 "The word is out, you're doing wrong..."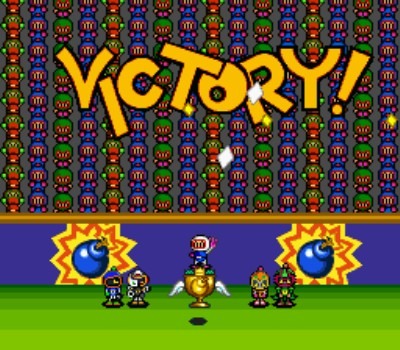 For he's a jolly good fellow... and so forth

SUPER BOMBERMAN 5

Written: 6.16.08
Acquired: 7.26.06
Status: CIB
Price: $34.95

| | |
| --- | --- |
| Publisher: Hudson | Released: 2.28.97 |
| Developer: Hudson | Scarcity: 3 |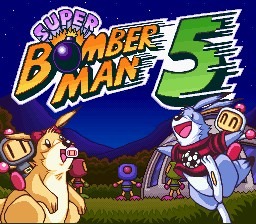 The SNES Bomberman legacy
concludes with Super Bomberman
5. I overpaid for my copy a little bit
(at least at the time anyhow), but
that's OK. As a Bomberman junkie,
it was well worth it. SB5 boasts the
best graphics of the lot, and also the
biggest character roster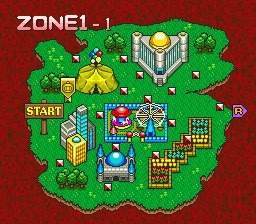 A map in the 1 Player
mode highlights where
your next destination
lies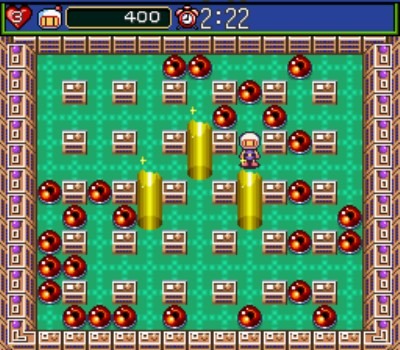 Aw how nice, you even get a choice of 3 exits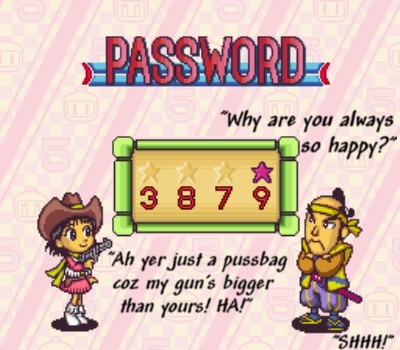 Every Bomberman game has a password screen and this is no different. That code there actually enable a "fight all the bosses" mode




Once again our funny looking
friends return. This one is the
biggest guy I've ever seen. Talk
about WIDE LOAD!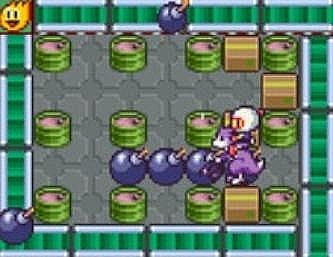 And as any Bomberman
player knows, they are
handy for supplying us
with one extra out as
well as a unique talent.
For example, this purple
hare thingy can tip his
top hat and reveal a
flurry of bombs all at
once. Nice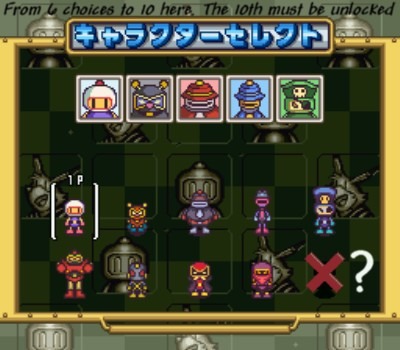 More choices than ever, SB5 holds back not

As always, it is the battle mode that matters most in these games, so let's take a look...

BATTLE ARENA ONE

The standard classic plain stage

BATTLE ARENA TWO

Next to the stages with overpasses that obscure the playing view, the conveyor belt ones are my favorite, as there's just something really cool about seeing a bomb moving along
a belt until BOOM!

BATTLE ARENA THREE

And speaking of the hidden overpass, here it is! Looking lovelier than ever. Easily one
of my faves. You gotta keep your eyes peeled at all parts of the playing field at all times

BATTLE ARENA FOUR

I hope you're not afraid of the dark! A very gimmicky stage... this one will bring out
the excuses in your gaming group, better believe that!

BATTLE ARENA FIVE

This is a neat looking little stage where everyone moves at breakneck speed

BATTLE ARENA SIX

Hey wait a second... yup, SO popular from SB3 that it's back in SB5! Once again you can blow the roofs of the igloo's sky high, but watch out for the cracks in the ice as well as
the rolling snow ball of death

BATTLE ARENA SEVEN

Just your standard arrow stage. Some arrows change directions

BATTLE ARENA EIGHT

Another favorite that they pulled from SB3... once again you can ride the mine cart.
Better get out of the way!

BATTLE ARENA NINE

You can move those colored buttons around. Meh, I didn't care for this stage much

BATTLE ARENA TEN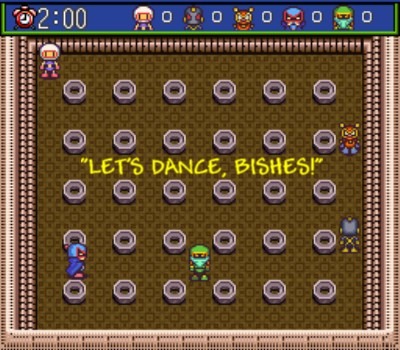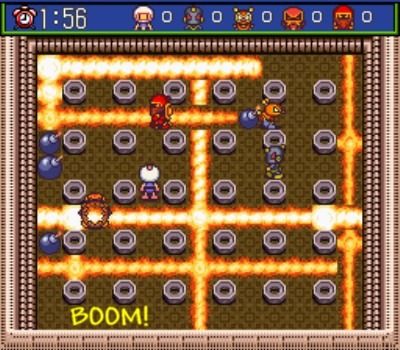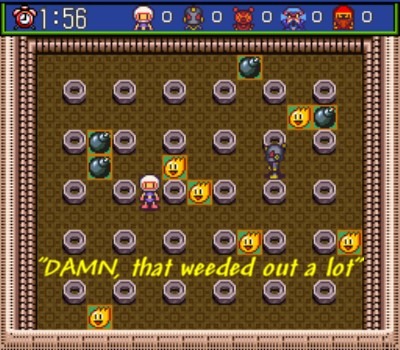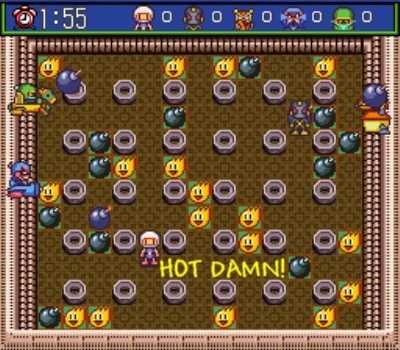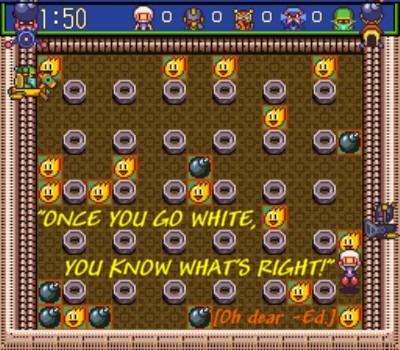 SUPER BOWLING MAN

The winner gets to bowl to win a prize icon for the next round, if you choose to enable
this option that is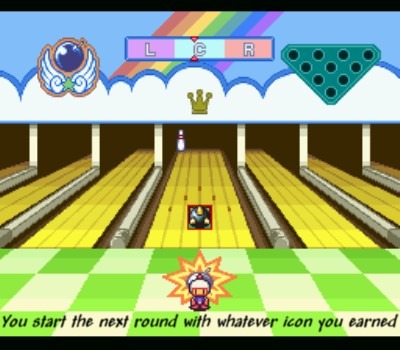 And you can expect everyone else to whine about it too!

LET THE BLOCKS HIT THE FLOOR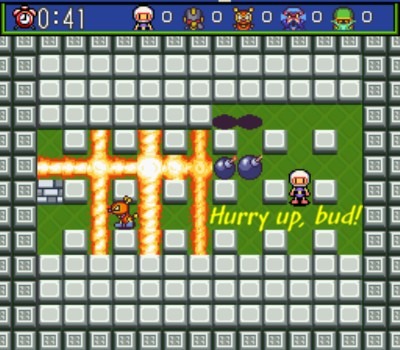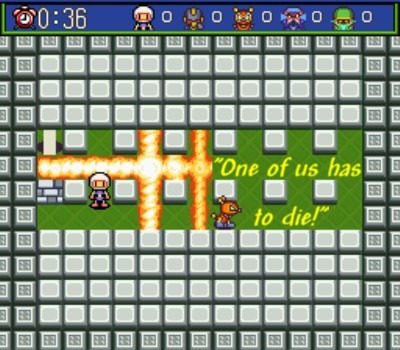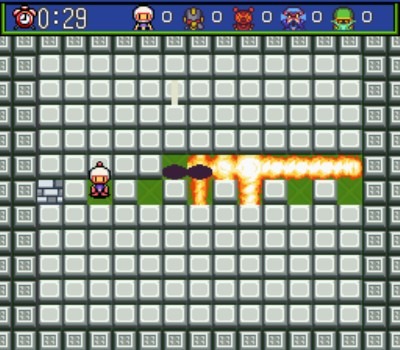 What a way to go out, eh?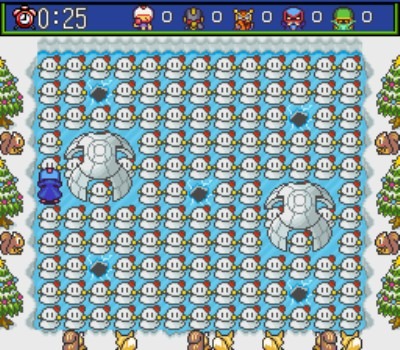 HOLY CRAP, you can't cut it any closer!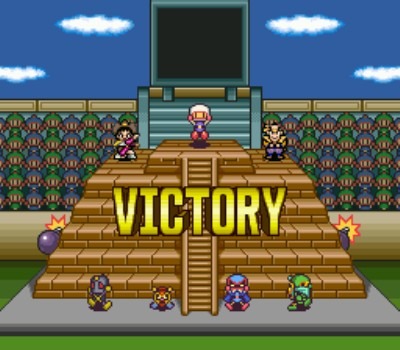 Can you claim victory?

MY TOP SIX STAGES FROM SUPER BOMBERMAN 3, 4 AND 5

I enjoyed these six the most from the thirty war zones scattered across 3, 4 and 5

SEND IN THE CLONES!

Super Famicom saw four Bomberman-esque clones. Spark World was the most blatant
of the lot, and Bakuto! Dochers is the worst in my opinion. Otoboke Ninja Colosseum
and Super Tekkyu Fight! are the most different, but in the end you can't help but think Bomberman. SW, ONC and STF! are worth looking into. Skip Bakuto! Dochers, though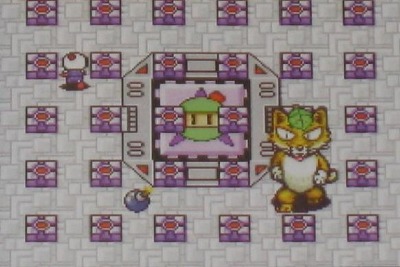 CLOSING THOUGHTS

Nothing groundbreaking in 3, 4 or 5, but diehard fans won't care. Aside from mad bomber, animal friends and an added 5th player option, it's still the same ole Bomberman you have always loved. From these three I like 5 slightly over 4, and 3 falls in last. Unless I got a 4th friend visiting, I'll probably still play 1 or 2 over 3, 4 or 5. There's just something 'pure' about the first two that I really like. But, being the Bomberman fiend that I am, I just gotta have all five -- for having choices is the spice of life. Bomberman fans can live without 3, 4 or 5, but let's face it, why would you want to? You might not need all three SFC Bomberman games like I do, but Super NES Bomberman fans owe it to themselves to own at least one of 3, 4 or 5. I still prefer the original two that came out stateside, but it's nice to have these in the ole library as well. Never know when ya might have a fourth bomber buddy visiting, after all

Check out the original classic on SNES right here: Super Bomberman